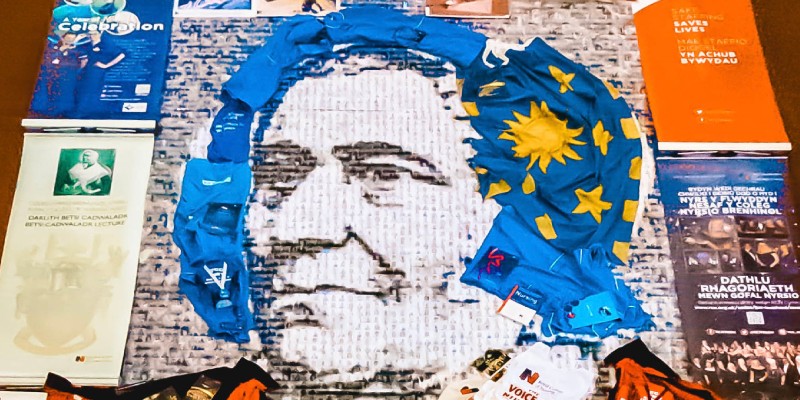 The foundation of the artwork depicts an image of Betsi Cadwaladr, made using photographs of RCN Wales Nurse of the Year finalists since the awards were launched in 2012. Nathan Wyburn, who specialises in creating iconic celebrity portraits and pop culture imagery, has used a variety of memorabilia from RCN Wales' history to develop this striking piece of art.
The mementos featured on the exhibit include a history of RCN Wales from the construction of Cardiff Headquarters Ty Maeth to the revolutionary Nurse Staffing Levels (Wales) Act 2016 that has been enacted to protect patients and staff. In addition, the piece also features a photograph of Denise Llewellyn MBE FRCN, current RCN Wales Board Chair, as a ward sister in Singleton Hospital, Swansea; the RCN Wales Board Chair chain; and a photograph of Helen Whyley, current RCN Wales Director, with fellow third year nursing students at Morriston Education Centre, Swansea, after she had received her final grade in 1996.
Betsi Cadwaladr has been championed by RCN Wales and Professor Donna Mead OBE FRCN as "Wales' own nursing heroine". Betsi was buried in a pauper's grave in London in 1860; in 2012 RCN Wales and Betsi Cadwaladr University Health Board campaigned to raise money for a proper memorial for her. Since 2006, RCN Wales has held biennial Betsi Cadwaladr lectures; in this year's presentation, Professor Donna Mead shared a newspaper article featuring Betsi in the top 50 greatest Welsh people.
Helen Whyley, Director of the Royal College of Nursing in Wales, said: "Nathan has created such a distinctive image to help us mark 2020 International Year of the Nurse and Midwife. The combination of Betsi Cadwaladr, the intrepid nurse from Bala who worked tirelessly to care for injured soldiers in the Crimean War, and our Nurse of the Year Awards alumni, who represent the very best of nursing in Wales today, is very special indeed. The artwork features many significant items from the course of RCN Wales' history, and I am honoured that it includes the buckle that was given to me by my proud parents when I received my nursing degree. Nursing professionals work so hard each and every day – in particularly challenging conditions this year – it is particularly special to be able to recognise them through this unique piece of art."
Denise Llewellyn MBE FRCN, RCN Wales Board Chair, said: "In the International Year of the Nurse and Midwife 2020 the RCN Wales Board is delighted to have commissioned this extraordinary piece of artwork by Nathan Wyburn- that captures the commitment and passion of our members and the history of the Royal College of Nursing in Wales then, now and into the future - encapsulated in the image of Betsi Cadwaladr a Welsh nursing heroine from our past known for speaking " truth to power." Our thanks go to Nathan for creating this superb tribute to nursing and nurses in all health and social care settings across Wales . A true testament of leadership, care, compassion and dedication that is the nursing profession."
Nathan Wyburn, artist, said: "Betsi Cadwaladr is widely perceived as one of the most influential people in Welsh history. In this, the Year of the Nurse and Midwife, myself and RCN Wales were inspired to honour her and all nurses with this unique piece of art which has been created using a digital collage technique using photos of nurses, alongside iconic memorabilia from RCN Wales history. As a proud Welsh person, it has been an absolute honour to create the artwork for RCN Wales. It is definitely one of my favourite pieces of work I have created in 2020."
The artwork will be on display in RCN Wales' Betsi Cadwaladr seminar room at Ty Maeth, Cardiff.