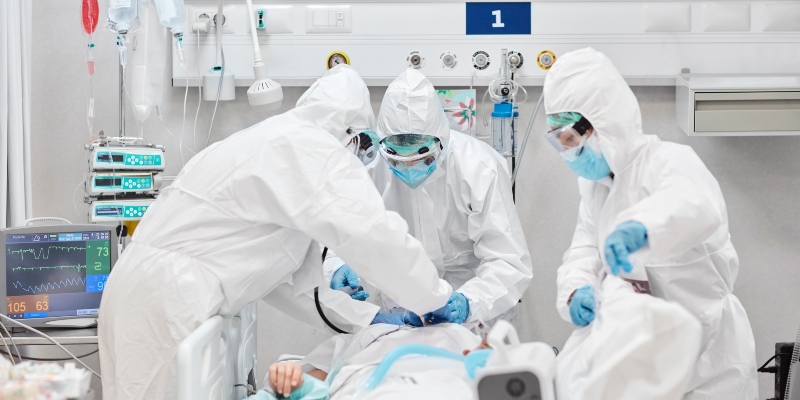 Dear Mr Bywater
We are writing to register our significant concern about a reported directive by NHS England to NHS trusts in the Midlands to allow nurse-to-patient ratios in their critical care services to be further lowered in order to meet the surge in demand for critical care beds arising from the increasing number of COVID-19 admissions.
On 11 January, the Health Service Journal (HSJ) reported that a letter had been sent on 9 January to trust boards in the Midlands by NHS England saying they needed to "dilute nursing ratios beyond the current ask of 1:2".
As you will know, the 1:2 ratio of trained critical care nurses to Level 3 patients – compared to the usual 1:1 – has been accepted as permissible on an emergency, temporary basis since last November when NHS England and NHS Improvement, in conjunction with Health Education England, issued guidance on workforce models for hospitals during COVID-19.
The UK Critical Care Nursing Alliance (UKCCNA), of which the Royal College of Nursing (RCN) is a member, was consulted on these changes, and we note the high degree of openness and transparency with which the changes were consulted upon and have since been communicated.
The concerns we are writing to you to express today are as follows:
The apparent absence of any consultation on the further dilution of the critical care nurse-to-patient ratio and any public and stakeholder communication about the reported change to permissible ratios in respect of NHS hospital trusts in the Midlands. We would be grateful if you could explain why there appears to have been no engagement with relevant organisations, including the RCN, prior to this change of direction or since, and why, unlike the guidance adopted last November, there is no published acknowledgement of it. We would also be grateful if you would send us a copy of the 9 January letter reported by HSJ to have been sent by NHS England to trust boards.
The significant and adverse impact that any further dilution of critical care nurse staffing ratios could have on patient safety, quality of care, the workload pressure on staff and their health and wellbeing. We understand, of course, that increasing critical care capacity may be unavoidable in the current climate, but at the same time this must not make the further watering down of staffing levels the norm. We would be grateful if you would explain the actions you have taken and the advice you have given to acute trusts in the Midlands to assess and mitigate the clear and present risks to patients and staff of permitting this further dilution of staffing.
As we're sure you will be aware, the RCN has been campaigning for many years for the Government to address the acute shortage of nurses caused by its own short-sighted workforce policies and afford the NHS the levels of staff that it needs to provide safe and effective patient care.
We appreciate sincerely the truly Herculean effort going on, against that backdrop, to manage the consequences of the pandemic, but we are also mindful of the worrying experiences that many RCN members working in ICUs, critical care and other areas have been reporting to us since well before the current surge – about the unrelenting workload pressures they are facing and their high levels of exhaustion and anxiety, the latter echoing the findings of research published by King's College London earlier this week showing the substantial burden of mental health symptoms reported by ICU staff towards the end of the first wave of the pandemic last summer.
We wish to reiterate that reducing the ratio of specially-trained intensive care nurses to patients must only be done if it is absolutely necessary; the very last, reluctant resort, not the norm.
Furthermore, the professional judgement of nursing staff must be heeded if, at any point, they consider staffing ratios to be insufficient for a specific clinical caseload based on presenting levels of patient acuity and safety. Staff must also be supported to raise and escalate patient safety and psychological concerns accordingly.
We seek your urgent assurance that your reported direction to hospitals trusts on revised critical care nurse to patient ratios makes these conditions and provisions clear.
In the spirit of being open and transparent, we have arranged for this letter to be publicly accessible on our website and social media channels as an open letter.
We look forward to receiving your reply at your earliest convenience.
Yours sincerely,
Lindsay Meeks
Regional Director
RCN West Midlands
Dr Sheila Marriott
Regional Director
RCN East Midlands