Mike Adams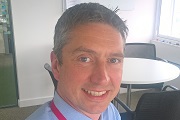 Mike Adams is the Regional Director of the RCN in the West Midlands, having taken up post in August 2017.
Mike trained as a nurse at the Queen Elizabeth Hospital Birmingham between 1992 and 1995 and worked for several years at Selly Oak Hospital in general and respiratory medicine.
In 2004, Mike moved to work in nurse education at Birmingham City University and held various roles as a lecturer. He also spent a number of years focusing on practice learning and student placements across various professional groups as well as nursing.
He later became Associate Head of School for Nursing and Midwifery at BCU and was heavily involved in managing the changes affecting nursing students and staff in recent years.
Mike says: "Whilst my career has been in nurse education in recent years, I have always needed to maintain close links with health care practice partners, so I've been aware of the experiences and challenges faced by people in the nursing profession throughout this time.
"In my previous role at BCU I was a stakeholder governor of Birmingham and Solihull Mental Health NHS Foundation Trust. I found this experience to be absolutely inspiring, seeing how much nurses and other health care professionals achieved in supporting vulnerable service users and their families in times of huge demands and severe financial pressures.
'Best decision'
"Becoming a nurse was easily one of the best decisions I have ever made. I have enjoyed my career thoroughly so far thanks to the fulfilment that being a nurse offers - whether it's caring for people in practice, supporting students in training or showing support and compassion to colleagues or family members."
Mike grew up in Halesowen and has lived in the Harborne area of Birmingham since doing his nurse training, and is a season ticket-holding supporter of West Bromwich Albion football club. He says of the latter: "I realise this may alienate some of our members, but please try not to hold this against me - I feel it's something I have no rational control over!" He is also a keen concert goer and tries to attend at least one music festival a year.

On his role with the RCN, Mike adds: "It is a privilege to hold the post of Regional Director. I am very aware of the challenges and stresses that many of our members face day to day and I am totally committed to carrying on the good work that's been done in the West Midlands to support our members and champion our profession, and to explore new ways of engaging and supporting members.
"My ambition is to help grow the RCN community in the region so we can work together to improve people's working lives. This, I believe, will ultimately help to improve patient care.

"I am a strong believer that kindness and understanding can be applied to any situation and, as nurses, we should always try to show this in how we interact with and care for patients, service users and each other."
Follow Mike Adams on Twitter
Mike is on Twitter @MikeAdamsRCN