Digital senior charge nurse Joan Pons Laplana created an award-winning game encouraging NHS staff to get vaccinated against the flu and has adapted it to boost uptake of the COVID-19 vaccine
Back in 2017, I was the lead nurse in charge of trying to improve the uptake of the flu vaccine in my trust. At the time, around only 35% of staff had the vaccine. Excuses for not getting it included that they'd already had flu or they were worried they would get flu if they had it. I could hold sessions about it or email a few bullet points about why it was important, but I knew I needed something to get people interested.
It was my teenage son who suggested a digital game. I didn't think I'd be able to do anything like that – I'm a nurse, not a game creator – but I decided to look into it. I had a brainstorm with colleagues about how we could make something interesting, informative and encouraging and the idea of a bee came to me (the flu injection made me think of a bee sting).
I'm a nurse, not a game creator
Working with education game creators Focus Games, we developed a digital quiz Flu Bee which is a series of questions dispelling myths about the flu jab. When completed, you get a score and it's meant to be something interactive that you can share with a friend, a bit of competition and fun. At the end of the game is information on where to get the vaccine and a booking system.
We had a campaign to rollout the game, I even dressed as a bee at work to get people interested! It worked – in less than a year, the uptake of the flu vaccine in my trust doubled to 70%. It was so successful, it won awards for patient safety and health care innovation and has been used by more than 30 NHS trusts and 300 care homes.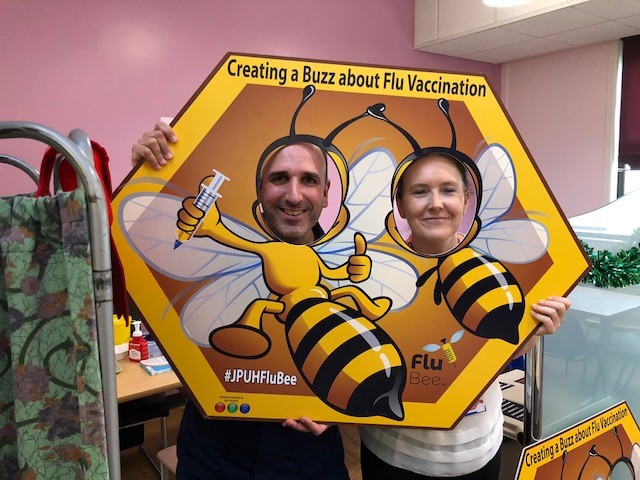 Joan Pons Laplana and colleague promoting the original game, Flu Bee
The Corona Bee game works in the same way. It's the same format with similar questions that focus on what the COVID-19 vaccine does; what's in it, how many doses, with information presented in a positive way. It can be played anywhere on any device. The questions are random, using up-to-date information that's been verified by clinicians. NHS England has been involved in its development and the game is available for everyone to use, not just health care staff.
Among people that have used the game, 50% indicated it changed their mind about getting the vaccine
The Corona Bee game launched at the end of last year. As the COVID-19 vaccine is completely new, there is some hesitancy among NHS staff. The speed in which the vaccine has been developed puts people off, and again, people think they are immune as they might already have had the virus, which isn't the case. Among people that have used the new Corona Bee game, 80% have said it helped them understand vaccines better and 50% indicated it has changed their mind on whether to get it.
The idea behind both games is to improve patient safety and protect nursing staff.
Main picture is a stock image