When clinical nurse specialist (CNS) Jonah Rusere heard his hospital was abandoning a procedure he'd been involved with for much of his nursing career, he felt devastated. But as one door closed, another opened - eventually leading to national acclaim for his pioneering work.

"With just two weeks' notice, I was to lose a skill I'd become very good at and felt I'd mastered," Jonah recalls. "You can imagine how I felt. It was a very unhappy time in my career."

His skill was carrying out transrectal ultrasound (TRUS) guided biopsies used to help diagnose prostate cancer. Jonah had been performing the procedure since he moved to Guy's and St Thomas' Hospital in 2014, after spending eight years at the Royal Free Hospital, both in London, where he was also a CNS in urology.
Expanding skills
Knowing that there was already a nurse-led biopsy clinic at Guy's inspired his move.
"In my previous job, I was so interested in what happened during a biopsy that I'd been assisting doctors for four or five years. It became a goal of mine to take the next step," says Jonah.

Once at Guy's, he asked to shadow the nurse, building his knowledge. "I knew all the theory from assisting, but I didn't have the practice," he says.

Eventually his competences were signed off and he began running his own nurse-led transrectal biopsy list, with support from more experienced colleagues.

Then in August 2017, he learned that TRUS biopsies were no longer to be carried out at Guy's and St Thomas' Hospital, with effect from the following month.
I knew all the theory from assisting, but I didn't have the practice
Instead, transperineal biopsies were going to be performed, but traditionally these were done by a doctor in a theatre, under general anaesthetic. The decision to switch was based on the risk of infection, plus the possibility of missing significant cancers.
It felt like the end of the road for an aspect of Jonah's work where he had become highly accomplished. Then he discovered that one of the hospital's urology consultants, Rick Popert, was using a different device that would enable these new biopsies to be performed under a local anaesthetic.
"I asked him if it would be possible for him to teach me the new procedure. To my delight, he was very happy that I'd shown interest. Straight away he began teaching me, alongside his registrars," says Jonah.
Performed in outpatients, the new PrecisionPoint system removes the need for complex equipment and a general anaesthetic. Other advantages include reducing waiting times for patients, improving their overall experience, virtually eliminating the possibility of biopsy-related sepsis and improving diagnosis.
It's rare for a nurse to train consultants, but I really enjoy it
Empowering other nurses
After performing the new procedure for around a year, Jonah was employed by South East London Accountable Cancer Network in 2018 to lead on TRexit (the move from transrectal biopsies to transperineal biopsies) and standardise the biopsy process across the region.

He started to teach others – including consultants, registrars and nurses – initially in South East London hospitals. Since then, training has expanded outside the capital, with more than 170 hospitals seizing the opportunity.

"We've done such a good job of getting rid of TRUS biopsies, working with the hospital that introduced the new technique," says Jonah. "It's rare for a nurse to train consultants, but I've really enjoyed it," he says.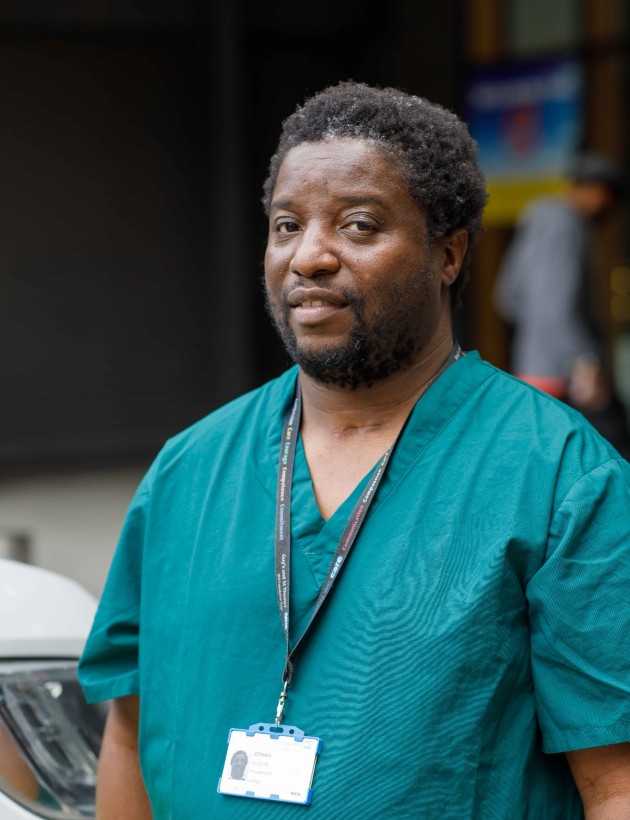 Jonah Rusere
We're trying to create a nationwide movement
Jonah has been particularly active in making sure nurses are trained in the new procedure. "I realised that many were left in the same position I'd been in, deskilled by the move from transrectal to transperineal biopsies," he says.
As a result, Mr Popert and Jonah now run a day-long training course at Guy's Hospital, one specifically for consultants, the other for nurses and registrars.
It's a very unique position to help drive change, and I feel very privileged
"I didn't want nurses to feel uncomfortable," he says. "If they were on the same course as a consultant, they may have felt they couldn't ask questions or their knowledge was not as great."
Once they've completed the course, nurses are also invited to shadow Jonah and his colleague Grace Zisengwe on their nurse-led biopsy list at Guy's Hospital. It's an opportunity for one-to-one teaching, plus there's continued support once they begin to carry out the procedure themselves.

"We're trying to create a nationwide movement, where we will stop the whole country from doing TRUS biopsies," says Jonah.

"It's a very unique position to help drive change that is making such a difference to patients' lives - and I feel very privileged."
What is a prostate biopsy?
There are two main types:
A transrectal ultrasound (TRUS) guided biopsy is carried out under local anaesthetic. It involves inserting a needle through the wall of the rectum into the prostate. Infection is more likely with this procedure, including the possibility of sepsis. Antibiotics may be prescribed to help prevent infection, but it may still occur.
A transperineal biopsy involves inserting a needle into the prostate through the skin between the testicles and the perineum. In the past, this was more usually done by a doctor under a general anaesthetic. Jonah has been instrumental in training increasing numbers of nurses to be able to do this procedure under a local anaesthetic.
Fast facts
According to the charity Prostate Cancer UK, more than 47,500 men are diagnosed with prostate cancer every year.
It is the most commonly diagnosed cancer in the UK, affecting one in eight men in their lifetime.
Around 400,000 men are living with and after prostate cancer.
There are three main risk factors – being aged 50 or more, having a family history of the disease, and being black – around one in four black men will get prostate cancer in their lifetime.
Words by Lynne Pearce. Pictures by Rob Anderman