While Labrador retriever Teddy is Julie Young's family pet, she has also taken on another very important role – as an animal assisted therapy (AAT) dog.

"When we got her as a puppy, she was so relaxed I wondered what she would be like on the wards," says Julie, an advanced nurse practitioner. "I wanted to see if she could improve people's wellbeing."

Since last September, Teddy has been a regular visitor to patients with dementia at St George's Park Hospital in Morpeth, run by Cumbria, Northumberland, Tyne and Wear NHS Foundation Trust.
Being with Teddy gives their walk a purpose
Patients can pat and stroke Teddy, but Teddy's presence alone can stimulate conversation, improve mood and encourage reminiscence. Some patients accompany her on a walk.
"For those who are reluctant to exercise, being with Teddy gives their walk a purpose, encouraging them and making them feel included and valued," says Julie, who has worked with people with dementia her whole career.
"We have one patient who has become very fond of Teddy. She is able to throw the ball for her and she's asked for photographs to show her family."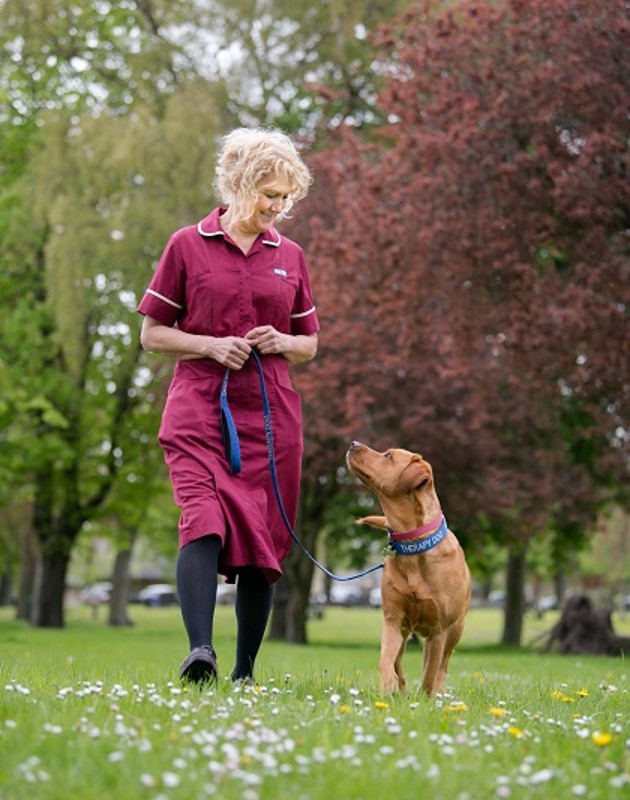 Above: Julie and Teddy on a walk
Puppy love
Staff are reaping the benefits too. "They're really welcoming and make such a fuss of her," says Julie.

Teddy accompanies the pharmacy staff on their weekly walks, as well as spending time with the physiotherapists and activity co-ordinators. "It's been important to get her used to other staff, who can take some responsibility for her, so I can do my job at the same time," explains Julie.

Looking after Teddy's own wellbeing is also paramount. She attends weekly companionship dog training, where she practises basic skills, alongside learning to be sociable.

"At work, I can see when she's flagging and then it's time to go," says Julie. "We try not to do too much with her and always make sure she has a quiet spot where she can rest. She's still only 14 months old, so it's about keeping it fun for her too."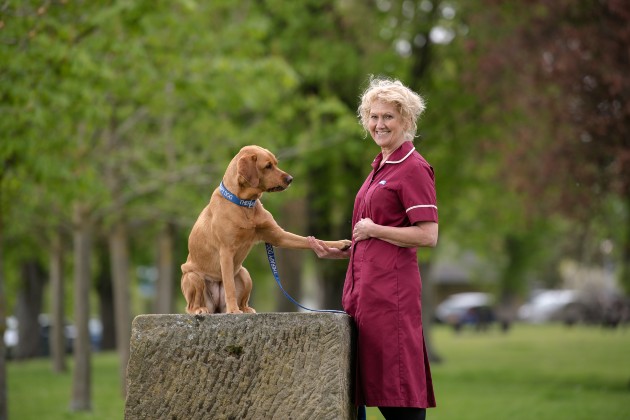 Above: Julie and Teddy
From the beginning, the trust has been very supportive of the initiative. "I wondered whether I'd be able to do it, given all the risk assessments that were needed," says Julie.
This included looking at the client group, the impact of COVID-19, and Teddy's behaviour. Julie's proposal highlighted the potential benefits, looking at whether the dog's presence might reduce agitation for some patients, improve communication and reduce loneliness.
Mood enhancing
Results are currently being collected, based on scores given pre-intervention, during and afterwards.

"We're trying to get some measurements in place, so we can track a change in mood," says Julie. "For some patients, it's very obvious and really quite incredible. At the beginning I didn't think it would have the impact it has, but it's snowballed."
Teddy has had a particularly positive effect on those whose engagement was limited.

"They begin to build a rapport with the dog, which improved their communication skills," says Julie. "We had one patient who wouldn't get out of bed and was quite withdrawn, with a low mood, but he developed a relationship with Teddy and would get up to see her. Teddy brings fun and makes people smile."
Patients' perceptions can change when they develop dementia
Intervention and therapy dogs can make a huge difference to the lives of those living with dementia, says Wendy Preston, the RCN's Head of Nursing Practice.

"Their tactile nature can help people tremendously, bringing back lots of good memories," she adds.
However, a cautious and careful approach is needed. "A love of animals is individual and for some, a dog can trigger fear," she says. "It's vital staff are aware of that possibility.

"Even if someone has loved animals throughout their life, their perceptions can change when they develop dementia. Nurses need to skilfully observe that patients don't become distressed or intimidated."
RCN guidance on working with dogs
The RCN's revised protocol, Working with Dogs in Health Care Settings, was published in December 2019. Its overall aim is to highlight the precautions that should be taken when dogs are brought into health care settings, providing clear guidance on necessary safeguards to protect residents, patients, visitors and staff.

"There has been a significant growth in the number of working therapy dogs," says the guidance. "Given that we know dogs can make a significant difference to the lives of people with a range of disabilities and conditions, this is a positive move. However, there are rightly a number of concerns being raised about bringing a dog into a clinical environment and these need to be addressed."

Sections include:
understanding the types of dogs that may visit health care settings, including assistance dogs, animal assisted intervention (AAI) and visiting dogs, and patients' pet dogs
guidance for health care professionals on deciding which dogs can visit
guidelines for managing key areas of risk, including infection prevention control, allergy management and health and safety
AAI in high-risk clinical areas, such as emergency departments and oncology.

See the RCN's Working with Dogs in Health Care Settings publication for more information.


Top tips
Evidence your proposal and have some way of evaluating your intervention, says Julie. "Think about what you want to achieve by bringing a dog into the clinical setting," she says.
Make sure you carry out a robust risk assessment first, including checking patients, their relatives, and staff are happy and there are no allergies. "You have to be respectful that it's not for everyone," Julie advises.
Bear in mind it's a big responsibility. "I found it quite stressful at first, but I've begun to relax now," says Julie.
Words by Lynne Pearce
Photography by Simon Veit-Wilson