In the early 90s, I started working as a care assistant in a nursing home for people with learning disabilities. It was my first job in care work, and I had no idea what I was letting myself in for.

It was here I met Belinda, who had come from Jamaica to England on the Windrush with her parents – her dad to work as a train driver and her mum as an enrolled nurse in a hospital.
When I started at the home, Belinda was my buddy, assigned to teach me how to care for those who lived there. She taught me so much more than how to wash and dress people – although she did that very well too – and to this day, I still use some of the hints and tips she shared with me.

At bath time, she always used two towels underneath the person. When they were hoisted out of the bath, the first towel caught most of the water, so we could pull it free and discard it, with the second towel already there to dry them.
I still use some of the hints and tips she shared with me
She frequently sang to the residents too, which had a lovely calming effect on everyone in the home. It was my first insight into the therapeutic use of music, when delivering personal care to people with cognitive impairment.

Belinda was one of the most patient women I have ever met. She not only tolerated 18-year-old me, but encouraged me to be myself. She accepted that I was a youngster, a bit naïve and full of the ignorance of youth.
As a child, I was labelled "curious", and this has never left me. I was constantly asking Belinda about her culture, her experiences in Jamaica, different hair styles, food and clothing. Belinda's answers always came with a smile.

She had some amazing stories about family trips and baking fish on the beach. She taught me how to oil hair, combing and braiding it neatly. Together we organised a "Jamaica day" at work, where she brought in home-cooked food and families and relatives came for a buffet and dancing.
We ate so much, danced our socks off and at the end of the party, Belinda gave me a small bottle of Jamaican rum to take home. She warned me not to drink it all at once…
I feel blessed and privileged to have worked alongside her
She explained why she wore such bright colourful clothes and what those colours meant to her and her ancestors. Whenever we took the residents shopping for clothes, she encouraged them to choose vibrant colours, saying they made everything feel better.

Belinda remains one of my favourite colleagues. I feel blessed and privileged to have worked alongside her, with the chance to learn so many important skills from her.
Sally Wilson is the RCN Professional Lead for the Care of Older People and Dementia.
Join the celebrations
The true extent of the work carried out by the nursing support workforce is often hidden and their value underestimated.
This year we want to break down some of the preconceptions about nursing support workers and get to the heart of who they are, what they do, and why they're essential to the nursing workforce.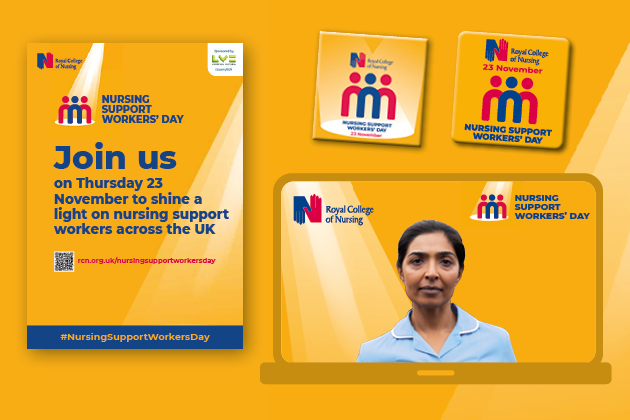 This year's RCN Nursing Support Workers' Day – on Thursday 23 November – is an opportunity to shine a light on the contribution nursing support workers make in your organisation.