"Meeting new care assistants on their first day when they're often quite nervous, then seeing them a couple of months later relaxed and happily interacting with our residents is a wonderful thing," says Ashton Rea, who works at Parkmanor Oaks Care Home in Northern Ireland.
"It's also great to see the rapport they build with fellow staff – we're like a family here. There's a lot of trust."
Ashton's worked at Parkmanor for about eight years. Her current role as a supervisor involves overseeing the care staff, inducting new starters and supporting their training, and working alongside registered nurses to help ensure staff meet the company's standards.
"Leadership comes fairly naturally to me," says Ashton. "It's something I enjoy. I like to have a plan for the day, and I always strive to bring out the best in people.
"A few of the staff are doing their NVQs at the moment and I'm as hands on as I can be, making sure I'm around to answer any questions. I like to always see the potential in people."
We're like family here. There's a lot of trust


Ashton says she feels lucky to have been supported by the care home managers to maximise her own skills. "I wouldn't have had the confidence to get to where I am without their belief in me," she says. "They've taught me so much. I see the positive changes they've made to residents' lives, and I want to be able to do that too."
Ashton recently won the Health Care Support Worker Award in the RCN Northern Ireland Nurse of the Year Awards 2022. She was commended for her leadership skills, and for her work during some of the darkest days of the pandemic when she provided exceptional care and support to residents and their families.
When a resident died, Ashton washed and dressed them, and with the help of her team, placed the body in a coffin as funeral directors weren't permitted to do so this at the time.
"It was very hard as we had to act as undertakers. Our roles became more fluid, and you did what needed to be done," says Ashton.
It's ok to feel what you feel
"It's a lot mentally to deal with, and it's important to understand that it's OK to feel what you feel. Looking after each other's mental health was at the forefront of everything – it still is. Our bond as a team really strengthened."
Ashton says being an advocate for mental health is a priority for her and that sharing her own experiences can help staff feel more comfortable opening up to her if they need to.
"As a supervisor, people need to know that they can confide in you and that if they come to you with a problem, you'll do something about it," she adds.
"We should never shy away from discussions around mental health – it's something we all need to be open about. An important part of my role is monitoring how people are, so we can spot if they need support."
Building relationships
Ashton says being able to put a smile on the residents' faces is what motivates her the most. "It's a great feeling when you know someone's habits and what they like. You build a friendship and it's really enjoyable."
It can be challenging of course, especially when patients are unwell and in the end stages of care. "You become attached, and you do start to see them as your own family. It's hard to process but we are a very close team, and we support and rely on each other through the difficult times.
"Being a good team member is all about being a good person and caring for each other the way you would want to be cared for," Ashton says. "That's what we do here."
It's a great feeling when you know someone's habits and what they like
When it comes to helping make sure residents get the best care, staff wellbeing and good communication are key. "It's also important to praise staff when they do a good job. Saying thank you to people for their work so they feel appreciated and valued."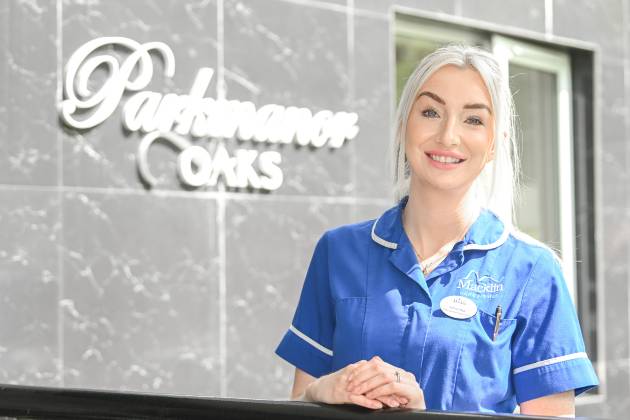 Ashton is most proud of her work as a "touch care champion" and helping to implement the electronic system at the care home which has helped streamline communication.
Touch care, Ashton explains, is an online system that is used by care staff to record the daily living activities of residents. She trains staff in its use at Parkmanor and across six other homes within the company.
Ashton also created an information booklet to help staff get used to the system and make the whole process a lot smoother.
"Everything care staff do is well-structured. The nurses can access our notes and we can access theirs. The system was hard to get used to at first and changes were needed, but I'm so proud of where it's got to and how efficiently it now works."
Skills for life
The skills Ashton has gained at the care home will be taken with her when she starts her nursing degree in February. "I love working here and will take so much of what I've learnt with me throughout my career."
Is there any advice Ashton would give to someone considering working in a care home? "I would say be yourself and give it your all. It's extremely rewarding and it's busy, but there will be lots of laughs.
"It'll be tough some days, but it'll be worth it – sometimes you'll dance and play games, and you'll be lucky enough to hear the most incredible stories about people's lives. Take in as much as you can."
Further information
The RCN Care Home Network provides members with a supportive environment to share best practice, offer solutions and help improve care. It's for nursing staff who work in homes for the entire age range, across all clinical needs.
If you're interested in a career working care homes, check out our care home journey resource, which helps you understand more about nursing roles as you follow a resident's path from pre-admission to end of life.
Care Home Open Week, which takes place between 27 June and 3 July, is an initiative started by Championing Social Care. It provides an opportunity for the public to meet care home residents, learn more about social care, and take part in activities.
Words by Sophie Goode. Photos by Marie-Therese Hurson