How one student's viral video raised £41k to fund her nursing degree
Naana Aisha's dream to become a nurse has involved hard choices. After being told she couldn't get a student loan because of a historical visa issue, she worked flat out as a carer for a year to self-fund her nursing degree.
Then, upon starting her course last October, she moved into her dad's flat share to save on rent, sleeping on the sofa and using the dining room table to study. Meanwhile, she continued to work 15-hour shifts three times a week to afford the fees. "It was a choice between that or not going to university," she says. "I chose nursing."
You just do what you have to do to get by
What got Naana Aisha through those tough times was the hope that things would get easier in her third year when she believed she'd become eligible for financial support. "I just wanted to be like a normal nursing student, having a chance to focus on my studies," she says. "When you have to save £1,000 a month to pay university fees, you just do what you have to do to get by."
But a spanner was thrown into the works in March when Naana Aisha discovered that, in fact, she would have to self-fund the full three years of her degree. She says she'd been misinformed by student finance officials previously and that the news left her "broken".
Breaking point
"It was like all that hard work had been for nothing. I felt so let down and emotional. I had tried so hard to help myself but all I could see was how much more money I would have to save. I was at breaking point.
"I don't know what compelled me to do it, but I picked up my phone, hit record, and let it all out. It wasn't rehearsed. I just had to say what I was feeling. I wasn't even asking for money at that stage. Just help. I was so desperate in that moment."
Naana Aisha shared the video on Instagram and within hours it had gone viral. Though her followers are friends and family, the video got picked up by a meme page with millions of followers. It was suggested she set up a GoFundMe page and Naana Aisha reignited one she created previously that had raised about £200.
The response this time was phenomenal. The fundraiser has received more than 2,700 contributions, with the total amount donated standing at nearly £41,000. Model and actress Cara Delevingne was among those who gave money to the appeal, donating £2,000 with the words: "You are a gift on this planet, and I hope your dreams come true."
I have been given a chance by everyone
"I'm just so overwhelmed and thankful," says Naana Aisha. "You see this sort of thing happen to other people, but I never in a million years thought it would happen to me. I have been given a chance by everyone."
Naana Aisha has already used some of the money as a deposit for student accommodation in Leicester for September. She plans to use the rest on fees and living costs.
"The money means a chance to focus on my studies," she says. "I can live in the same city as my university, go to the library and spend time with other students without the pressure of having to work all the time.
"If I could give any advice to other nursing students who are struggling, it is to speak out. Don't hold everything in or try to cope with things on your own. It is so hard, and you'll end up getting burnt out. Speak up and you'll be surprised by how many people are willing to help you."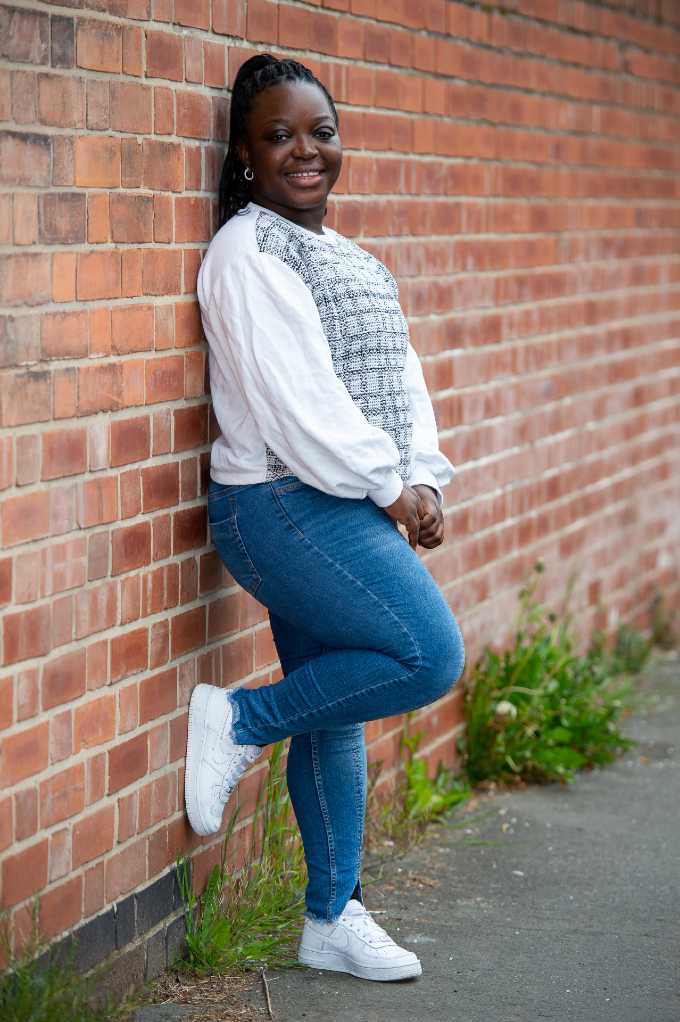 Why couldn't Naana Aisha get financial support?
Naana Aisha grew up in Ghana but has lived in the UK since she was 11. When she turned 18, her father's visa no longer supported her, so she was detained by the Home Office before being granted leave to remain. Her visa status meant applications for funding were unsuccessful, while an attempt at receiving a university scholarship also failed. She is currently on a rolling visa, which allows her to stay in the UK for two and a half years, after which she can apply to remain indefinitely.