"I've always used doodling as a way to switch off and forget my stresses for a while," says former nurse Janette Astles from Edinburgh.
An RCN learning rep and endoscopy nurse for several years, Janette felt the pressure of working during the pandemic and retired from nursing at the end of 2022.
My doodles represented a silent scream
Following this, Janette decided to take part in an RCN online workshop creating a giant doodle wall to be displayed as part of the RCN's exhibition Unmasked: Real Stories of Nursing in COVID-19.
"As well as retiring, I'd been dealing with bereavement, so it felt good being with like-minded people with similar nursing backgrounds and sharing our work," says Janette. "The workshop was collaborative, a shared experience and a way to show how it felt to be on the front line, not just during the pandemic and lockdowns – though this obviously amplified everything – but during every shift."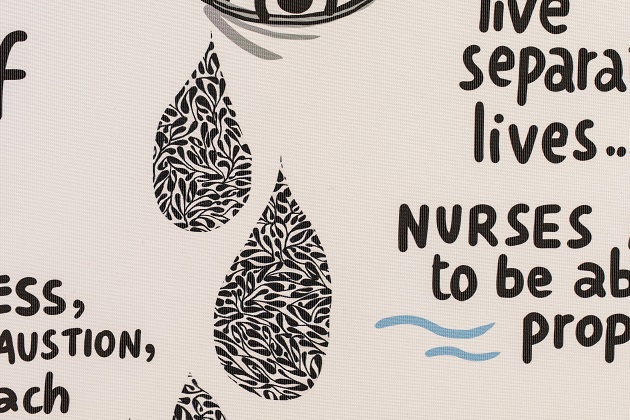 Above: Janette's doodles form part of the exhibition
Contributing to the project allowed her to feel connected to her experience caring for others through the most difficult circumstances.
"My doodles represent a silent scream – the chaos, the mess, the fear, as well as the unity and support of other staff, all coming together in a swirling pattern," says Janette.

"We did what we had to do, what we'd trained to do, but it all came at a cost for so many of our nursing and care staff colleagues and I think you can see that from the drawings as part of the doodle wall."
Simple and therapeutic
Artist Federica Ciotti led the doodle workshops to allow nursing staff to share their frustrations, thoughts and fears of working during the pandemic.
"Research has shown that doodling activates the brain's reward pathways, regardless of the end results," says Federica.

"In this sense, doodling is a self-therapeutic activity—a simple, accessible, and affordable source of reward for our brains. Similar to mindfulness techniques, it involves being present in the moment, paying attention to the lines and shapes you're creating and letting go of distracting thoughts. This can promote relaxation and mindfulness."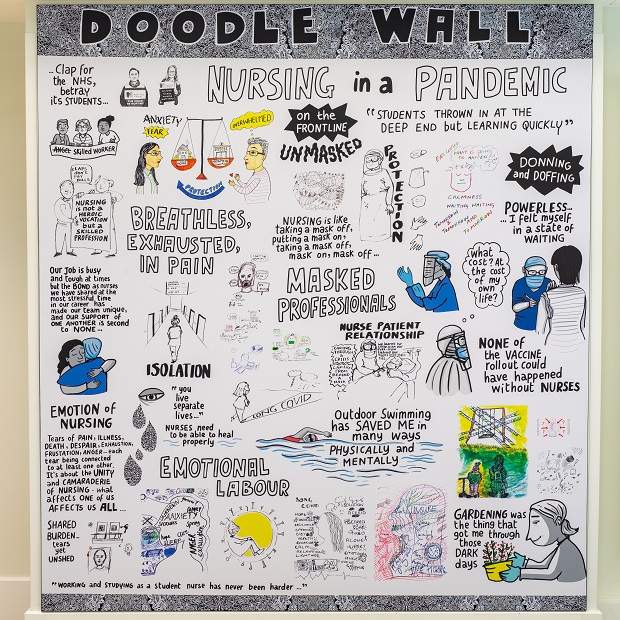 Above: The doodle wall forms part of the RCN exhibition
Tips to get scribbling
Just do it. Get some paper and something to draw with, then let go of any judgment and focus on enjoying the process rather than fixating on a perfect end result.
Start with simple shapes, lines, and patterns. Experiment with different sizes and shapes, try various patterns, and consider adding colour.
Keep a doodle journal. This can be a great way to explore and experiment. With practice, you'll develop your unique style.
Positive health benefits
Several studies indicate doodling offers both physical and mental health benefits. It increases blood flow to the brain, especially in the prefrontal cortex, which regulates higher functions such as thoughts, feelings, and actions. Doodling enhances memory, creativity, focus, and concentration, all while reducing stress.
"Common misconceptions often label doodling as a mindless and distracting activity," says Federica. "However, research suggests the opposite. Doodling, especially in a structured manner, can enhance someone's ability to concentrate. It keeps the mind engaged and prevents it from wandering during tasks or meetings, ultimately leading to improved focus and productivity."
There are no right or wrong ways to doodle
Doodling could be particularly useful for nursing staff as it can relieve stress after a demanding shift and could have similar benefits to journal writing in allowing you to reflect in a non-judgmental way.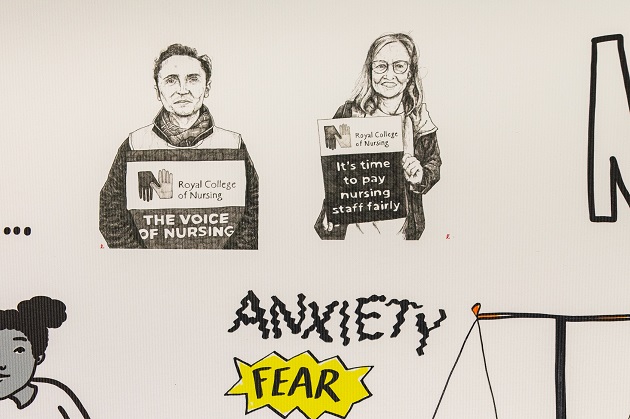 Above: One nurse artist immortalised two striking RCN members on the doodle wall
"Doodling's advantage lies in its freedom," says Federica. "There are no right or wrong ways to doodle. This freedom can boost creativity and encourage exploration of new ideas and concepts. It's a way to occupy your hands and mind in a soothing manner, which can be particularly helpful during moments of distress or when you need to unwind."
Words: Susan Embley
Images: Rob Anderman
Visit the RCN doodle wall
Our exhibition Unmasked: Real Stories of Nursing in COVID-19 moves to Edinburgh from November 2023 to April 2024. It explores the crucial role nursing staff played in caring for people during the COVID-19 pandemic and in past pandemics.
As well as the doodle wall, the exhibition includes Michael Rosen's patient diaries. The poet and children's author contracted COVID-19 in March 2020 and was put into an induced coma for 48 days. The nurses tending to him kept a diary and wrote him letters of hope.
Objects on display include items from the RCN Archive, St Barts Health Archives, the British Red Cross Museum and the Old Operating Theatre, as well as personal loans that reflect nurses' experience of pandemics throughout history.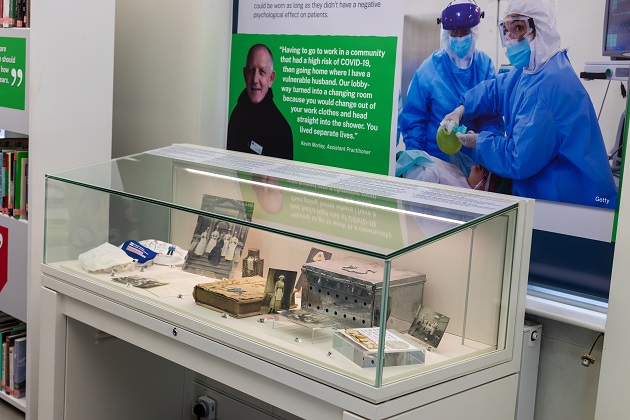 Above: The exhibition contains nursing artefacts from historic pandemics