On 8 December 2020, May Parsons, a matron at University Hospital Coventry, became the first person in the world to administer a COVID-19 vaccine to a patient outside of clinical trials. She did it early in the morning, as cameras flashed and the world watched.

"I assumed it was going to be the first in the West Midlands," May says. "I didn't realise until afterwards that it was the first in the country, never mind the world!"

May, who has worked in the NHS for nearly 20 years since moving to Britain from the Philippines, was the perfect nurse for the job. As part of the hospital trust's peer vaccinator programme for the flu jab, she's set the record for the most vaccines given by an individual for three years running: "I've managed to do 140 vaccinations in a day by myself. We celebrate it as a team though!"

Yet it wasn't until the day before the historic moment that May discovered she would be in the spotlight. When the first patient, 91-year-old Margaret Keenan, was confirmed, May spent the day getting to know her. "I went to see Margaret to build a rapport with her, making sure that she was aware the vaccine was new, and that there'd be a lot of press there. I don't think I left her until 7 o'clock that night, making sure she was OK," May says. "She was keen to have it – she wanted to get back to normal, see her grandchildren and the rest of her family."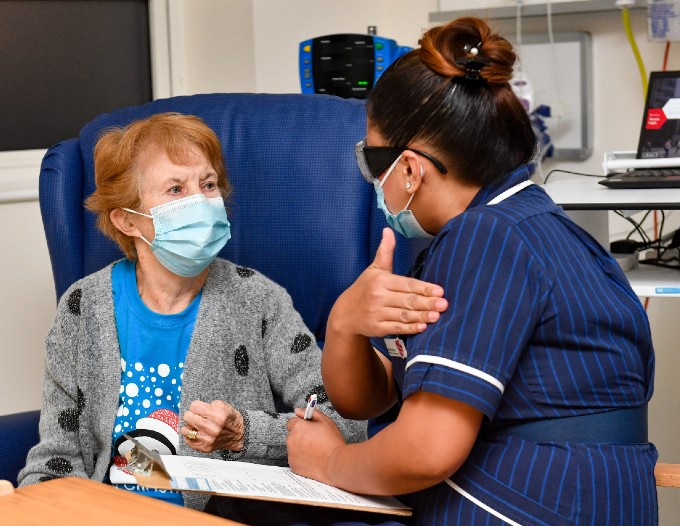 Above: May talking to her first vaccine patient, Margaret
To help Margaret prepare for the unusual experience of being vaccinated on camera, May arranged extra things to make her feel comfortable – a top to wear in her favourite colour and a touch of hairspray. "That's part of looking after her holistically, making sure she knows you care," May says.

Being in front of cameras was new for May too and added pressure to the routine task. Yet that groundwork building a bond with Margaret helped calm her nerves. "Margaret gave me focus. The nurse in me kicked in, where the patient is first. All I was worried about was her," she explains. "After, when everyone was asking me questions, that's when my voice shook!"
Spotlight on nurses
The moment highlighted the crucial role nursing staff are playing in the COVID-19 vaccine programme. Including Margaret, 100 patients were vaccinated at University Coventry Hospital on the first day and May continued vaccinating in the days following.

She's also been involved in the logistics of the rollout: "At times, I was managing the vaccination hub – the flow, mixing the vaccine. Because I'm a matron, I've also been involved in the staffing – recruiting people, training them, making sure they're assessed properly and have the right information to give to patients. Staff are supported and know who to turn to if they need to answer any out-of-the-blue questions."

As May did with Margaret, reassuring patients is central. "We're the people who give direct patient care," May says. "As a nursing profession we have a relationship with patients where they trust us. It's important for the rollout because we want them to be able to say, 'Tell me straight, what will this do to me?' I say to my family: I'm not going to tell you to have it if I wouldn't have it myself. It's all about integrity."
I'm not going to tell you to have it if I wouldn't have it myself. It's all about integrity
Beyond the vaccine, nursing staff have contributed at every stage of the COVID-19 pandemic. "In the first wave, I was in ITU for the first weeks," May says. "The worry was that I was going to pass it on when I came home. I was living in constant fear for a month or two. I'm guessing it was the same for everyone."

Filipino health care workers, as well as staff from other black, Asian and minority ethnic (BAME) backgrounds, have been disproportionately affected by COVID-19. "I'm hoping that people value the sacrifices we make and the risks we take to keep their families looked after," May says. "Obviously in the Filipino community and BAME communities we've had the highest deaths, but we are still here, we haven't stopped working."

Representing all these workers, and all of her Coventry colleagues, felt important to May when she administered that first vaccine: "It was nice to highlight the contribution we make and the nurses and health care workers who have sacrificed so much during this pandemic. We are only human and at times, a little thank you is enough to save someone.

"I was proud to represent the nursing community and I wanted to represent this hospital – the hard work everyone does here is tremendous – and show how proud I am to be one of them. I felt privileged to be able to do that. It still hasn't sunk in!"
May's tips for tackling needle phobia
Calming conversation

"The distraction of chatting is really good. Some people will still want you to say 'sharp scratch' or 'I'm going to give you the injection now', but keep talking. Get them to talk to you about what they do during the day, or if they're retired what they used to do, things like that."


Distracting activity

"For those who are really worried, if I'm injecting their right arm, I ask them to tap their opposite foot and count out loud while they're tapping."


Honesty policy

"For someone who's extremely scared, honesty is the best policy. Tell them exactly what to expect and that there's no shame in being scared. In the COVID vaccination bay we have a bed, so they can lie down, relax and if they faint, you're making sure they are safe."