RCN Fellow Dame Elizabeth Anionwu was the first sickle cell and thalassaemia specialist nurse in Britain.

She talks about her inspiring career, the obstacles she overcame, and the discrimination that black nurses still face today
Why did you go into nursing?
I was in a Catholic children's home in Birmingham until the age of nine and it was here that I knew I wanted to be a nurse. I had eczema and it was so painful when the nuns used to rip my dressings off. But there was one nun who used what we would now call distraction therapy – she'd say words that sound rude to a child, such as "bottom", and it would have me in such fits of laughter that I didn't feel the pain. I thought she was the most fantastic woman in the world.

I discovered she was a nurse and decided that was what I wanted to do with my life.
What hurdles did you have to overcome to become a nurse?
When I was 16 or 17, I applied to four London teaching hospitals to do nursing. All of them asked for my photo plus the name of my father and his occupation, but I didn't know it as I hadn't met him at that point. I had seven O-levels with good grades, and I didn't get a reply from any of them. I couldn't understand why I didn't even get any feedback. That was the first barrier.
For my memoirs I interviewed many colleagues to see how they viewed me and one of them who I trained with – a good friend of mine to this day – commented she was worried about what my future would be like in nursing as a black woman. We all aimed to be ward sisters – that was the natural career progression – and in the late 60s she hadn't seen any black ward sisters. At the time, I hadn't fully observed that.
It was tough. We know there was a lot of discrimination. There still is.
How did you feel when you started your training?
I was quite shy. I didn't really get confident until my final year – there was always butterflies in my stomach when I had to change my ward. I used to spend a lot of time in the sluice [dirty utility room] sterilising the bed pans. It was my safe place when I needed to be alone. What helped me with shyness was when I found the ability to chat to patients and ask them about themselves. Making people laugh always helped me enormously.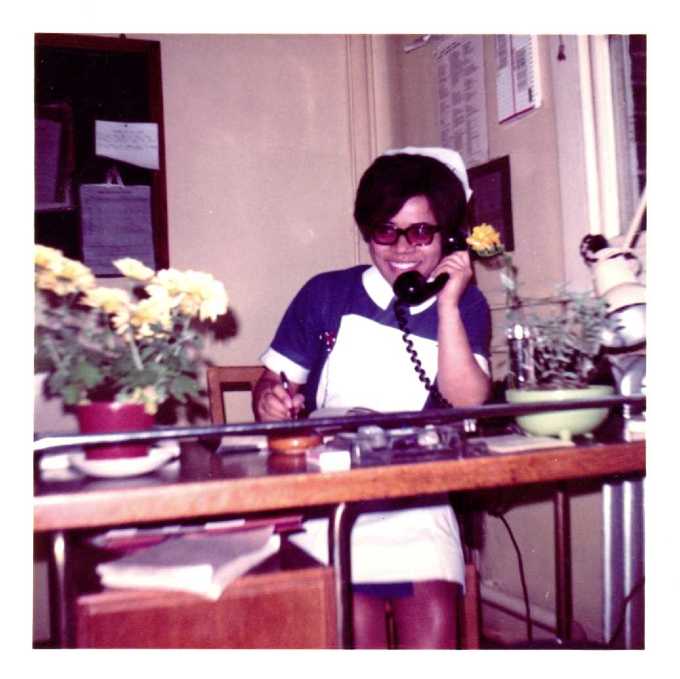 Elizabeth as a staff nurse in 1968
When patients are so-called "difficult" you just need to find things in common. There was a lady I cared for once who I discovered had Irish heritage. I told her about my Irish/Nigerian roots and that I did Irish dancing as a child. She couldn't believe it. There was nobody around on the ward, so I showed her some of my Irish dancing. That really got her laughing.
What are your biggest achievements?
Being the UK's very first sickle cell and thalassaemia nurse specialist. And helping to establish the Sickle Cell Society.
When I was a health visitor in Brent there were several families with young children who had sickle cell anaemia. I recall a mother whose child was having severe pains and she was utterly distraught that she couldn't take the pain away. I felt helpless and ashamed as I didn't know anything about it myself. That feeling turned to anger that grew deep inside my belly for the lack of preparation we'd been given as nurses to care for people with sickle cell disease. I had to educate myself and do something about it.
The desire became even stronger when, in 1972, I found my father and discovered one of my cousin's had sickle cell disease.
Dig a little deeper and it's often personal reasons that drive people to fight for things
You successfully co-led the campaign for a statue of Mary Seacole – the first named memorial statue of a black woman in the UK. Can you explain its importance?
This image of my granddaughter says it all...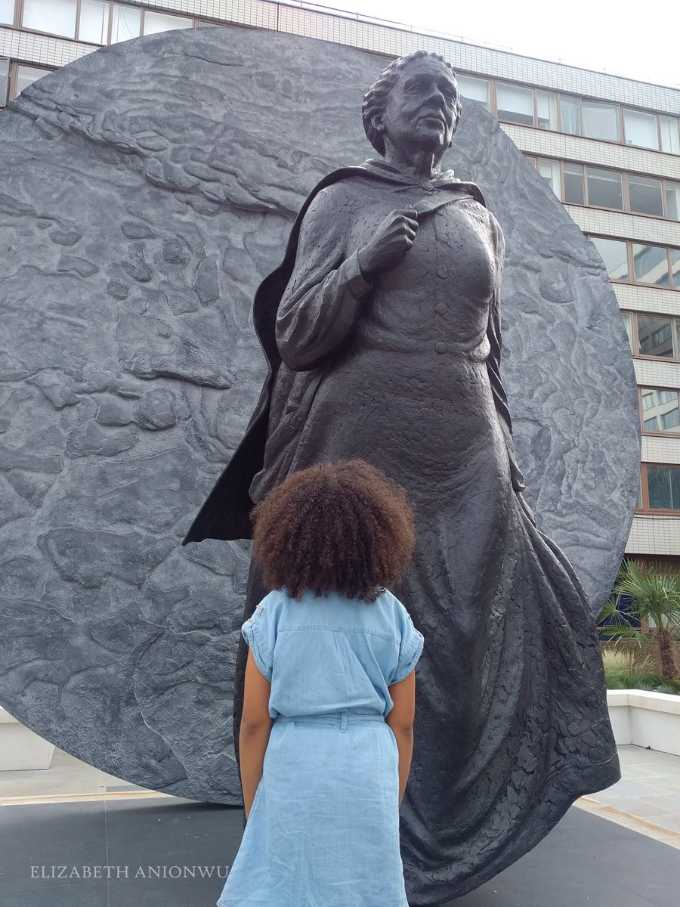 Elizabeth's granddaughter looking at the Mary Seacole statue at St Thomas' Hospital
Dig a little deeper and it's often personal reasons that drive people to fight for things. My personal reason is growing up in a totally white environment, not seeing anybody like myself. As a child I used to wonder: why am I not seeing characters like me in children's books? Why don't I see people like me on TV?
The statue at St Thomas' Hospital is a person of mixed race, a nurse, she's feisty and she's a woman. We needed to raise a lot of money and it was tough. It took over 12 years to get there, but once we'd built up momentum we knew we could do it. The moment it was unveiled was so wonderful, the sun was shining. I'll always remember it.
In what ways do you feel black nursing staff are discriminated against in the NHS?
From the personal perspective of a black nurse, the evidence is clear that many have been deprived of promotion prospects and not always been treated with dignity and respect, just because of their skin colour. I am not talking about all nurses but a significant number. They are seeing others with less qualifications rise above them. The ultimate insult is that they are often then asked to train those who have been promoted.
The responsibility here lies with the directors of nursing, those with the powers to promote. They need to have an open-door policy, go out and reach black nurses and all BAME staff working for them who feel they have not got to where they should be, and look at where those individuals are in the organisation and who is at the top. They need to act quickly. It's not a glass ceiling for black nurses, it's a brick wall.
What concerns me the most is the high proportion of BAME nursing staff who have died or been very ill from COVID-19.
Many BAME staff don't have the confidence to raise concerns about their safety. And they wonder why nurses are angry about this? The sad fact is it has caused illness and death – it's one thing to not get the nursing promotion if you're discriminated against, it's another thing to lose your life.
It's one thing to not get the nursing promotion if you're discriminated against, it's another thing to lose your life
What advice would you give to a black student nurse starting out in the NHS today?
Hold on to what brought you into nursing. Hold on to that dream and surround yourself with individuals who care for you, but will also speak the truth to you, and have the humility and confidence to listen. Find an area of nursing that gives you energy because you need that to drive you on.
Have confidence in who you are as a black nurse and look for role models in literature, history and people you work with or have heard of, so you can see what others have done when you feel overwhelmed. Always speak to someone about any difficulties and remember the support of your family and friends. I have a daughter and granddaughter who give me support, as well as many friends.
Finally, study. Some black nurses feel they have to work that much harder. My response is: then do that. It will be worth it, as long as you look after yourself along the way.
Have confidence in who you are as a black nurse
Career highlights
RCN Fellow Dame Elizabeth Anionwu is Emeritus Professor of Nursing at the University of West London. Her 50-year career began at 16 as a school nursing assistant in Wolverhampton.
Elizabeth helped set up the UK's first Sickle Cell and Thalassaemia Screening and Counselling Centre in 1979 with consultant haematologist Dr Misha Brozovic. Elizabeth became the UK's first sickle cell nurse specialist and helped to establish the Sickle Cell Society.
In 2017, Elizabeth was honoured with a Damehood for her services to nursing and the Mary Seacole Statue Appeal (a campaign to have a statue of Jamaican nurse Mary Seacole erected at St Thomas' Hospital).
In 2018, as part of the celebrations for the 70th Anniversary of the NHS, Elizabeth was included in the list of the 70 most influential nurses and midwives in the history of the NHS. In 2019 she was presented with the lifetime achievement award at the Daily Mirror's Pride of Britain Awards.
Elizabeth is included in Patrick Vernon and Angelina Osborne's 100 Great Black Britons which honours the remarkable achievements of key Black British individuals over history.
This article was first published on 18 June 2020
Find out more
Main picture by David Gee