After working in the Nightingale Hospital in London throughout the time it was open, intensive care nurse Jess Moorhouse considers what might be done differently during a second wave of COVID-19 hospitalisations
We should all be grateful the Nightingale hospitals were there when we needed them, but right now, are they right for what we might be facing next?
In an evolving pandemic, we continue to learn every day and back in the spring the idea of putting coronavirus patients together into isolated buildings was a positive one.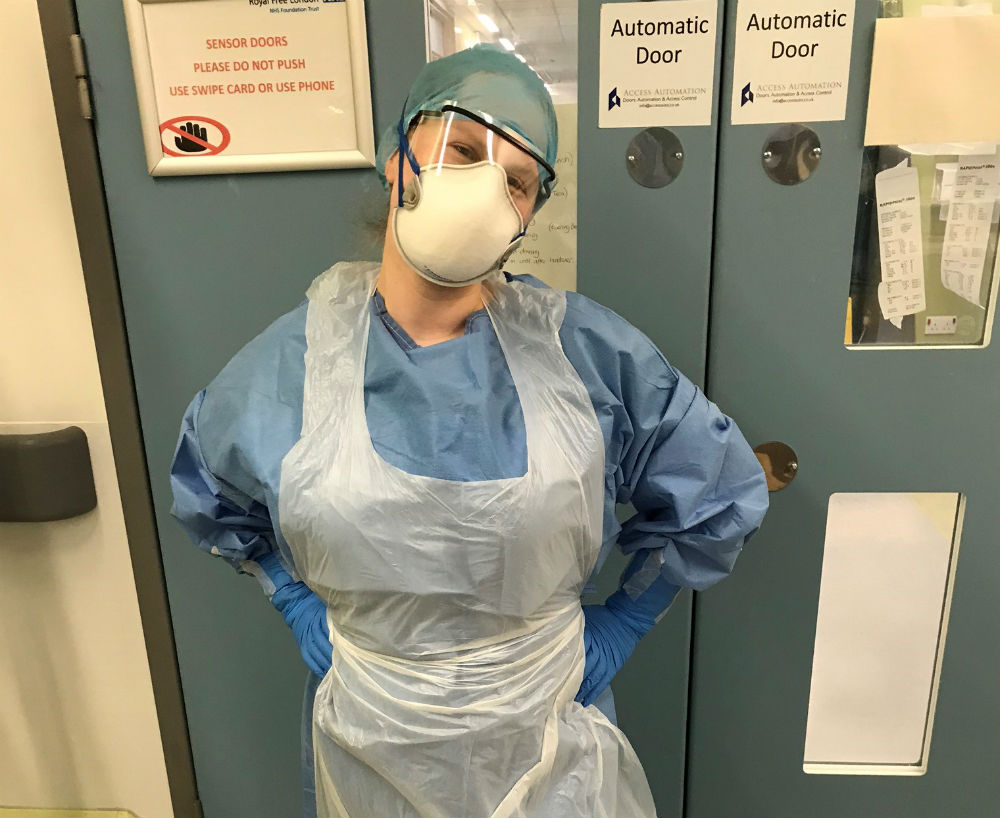 Jess Moorhouse
But throughout my time there I saw the challenges that nursing patients at the highest level of care (level three) in isolation in an acute hospital brought.
We were all working together but away from our usual, familiar workplaces and although medical and nursing staff from various specialities were there, we were physically distanced from other specialist care. It was also hard for families to come to visit patients.
New ways of working
While there were stringent policies, guidelines, procedures and protocols in place, we were all working differently. So much was new: a new environment, new workplace policies and a new team, many redeployed from settings other than an intensive care unit (ICU).
There was so much to take in, especially for staff not used to working in an ICU environment.
As nurses we can always remind ourselves of the fundamental principles of nursing care
However, we supported each other and bonded as a team of professionals. When uncertain, as nurses we can always remind ourselves of the fundamental principles of nursing care and especially through the structure of ABCDE approach to patient assessment, which is crucial in critical care.
However, the coronavirus pandemic continues to evolve and if we do have to go back to using Nightingale hospitals, I'm confident that we'd once again adapt quickly, especially those already with experience of working in this environment.
Being proactive
Other hospitals are planning new approaches to a second wave of COVID-19 too. In my own workplace we have a group planning for a second surge.
Advanced nurse practitioners are taking a lead, and those who redeployed from a different work area before have been given additional specialist training, after having to learn and adapt to ICU very quickly last time.
ICU is a unique environment and often requires highly technical support to care for patients. But each day you learn more, adapt and work as a team, and become familiar and adept at providing high quality care for patients.
We're currently discussing our nurse staffing ratios too. During the peak of the COVID-19 pandemic, an emergency nursing workforce response was required to match the increase in ICU bed capacity across the UK.
We're usually 1:1 for critical care nursing but it was 1:6 in the Nightingale, using a task-based approach to enable a workable model of care in exceptional circumstances.
This time around we have the chance to see if we can be proactive
If the pandemic evolves and staffing ratios are reconsidered, we, as critical care nurses, will need to consider our management skills for leading a small team of clinicians, managing a caseload, and accountability and delegation, instead of solely focusing on our practical skills of ICU care.
At the moment we may be treating a second surge of COVID-19 alongside managing the demand and delays of other planned treatment such as oncology.
Back in the spring we had to be completely reactive and focus solely on COVID cases, but this time around we have the chance to see if we can be proactive and try to meet some of the other demands on health care.
A tale of the Nightingale
I was on annual leave back in February when I received an email inviting me to train new starters at the Nightingale. I jumped at the chance and I worked there from the end of March until the beginning of May – the whole time it was open.
It was immediately clear that I was going to be working in a very different way there. Very senior nurses were working as junior nurses in the Nightingale to support the effort. It was daunting – but good for networking and there was a lot of shared learning.
Early on in my time there I volunteered for the role of nurse in charge on shift as I have 10 years of intensive care experience. I ended up in that role throughout my time there. On my own ward there are 34 beds but in the Nightingale, I covered 42 beds.
It was a challenging but positive development experience for me. My employer was extremely supportive – and I was given two weeks recovery time at the end of my stint there, which was very much needed.
To help me reflect on my experience at the Nightingale Hospital, I applied to do a presentation to the British Association of Critical Care Nurses conference which I called "A tale of the Nightingale". It was restorative to talk through it all and it made me realise how much I've grown as a result of my experiences.
Suman Shrestha, RCN Professional Lead for Critical Care, says:
One of the biggest challenges we're facing at the moment is the balance between elective surgical work, particularly relating to cancer, with COVID, flu and the pressures that the winter season brings. I don't think there is a single member of nursing staff out there who isn't concerned about the next surge.
All ICUs have a surge plan to increase their ICU capacity to meet the potential demand this autumn and winter.
The safety of staff and patients is essential
Most ICUs have received extra equipment such as ventilators and capital funds to create ICU beds. However, staffing these additional ICU beds will be difficult.
The dedication and determination of staff was one of the reasons why the NHS coped as it did during the spring. But it's also because we stopped everything else and just focused on COVID-19.
However, the NHS in England and the UK governments are keen for the business as usual activities to continue during the next surge, which means that the workforce who supported critical care in the initial surge will be busy with their own workload.
All trusts therefore needs to work strategically with clear escalation plans on how certain services needs to be scaled down to support critical care services.
The safety of staff and patients is essential so we must have the right number of staff to treat patients in the right places at the right times.