One in 10 women have endometriosis. It's a long-term, chronic condition that can affect anyone of reproductive age who has a uterus. Endometriosis can cause pain, distress and infertility and may require years of symptom management or even surgery. Yet, on average, it takes eight years from the onset of symptoms to get a diagnosis.

Deb Panes is a member of the RCN Women's Health Forum and an endometriosis nurse practitioner at St Michael's Hospital in Bristol, a specialist tertiary referral service for complex and severe endometriosis. "Often by the time women get to us they've seen a number of doctors and had many tests. They're frustrated that no one is able to give them a firm diagnosis."

While endometriosis awareness and care has improved in the past decade, with the number of specialist centres and nurses increasing, "it can be difficult to diagnose," Deb says.
I want to stress the invisibility of the condition. Just because patients look well it doesn't mean they're not suffering
Symptoms can include heavy and painful periods, chronic pelvic pain, pain during sex, painful bowel movements and urination, chronic fatigue and depression. Some patients find symptoms dismissed or misdiagnosed as, for example, irritable bowel syndrome (IBS).
While the endometrial growths themselves are benign, the symptoms they cause can be extreme, so an endometriosis specialist will assess and treat the symptoms. "Some people are in pain every single day," says Deb. "Obviously that can affect your quality of life."
Increasing awareness
Nursing staff everywhere could help cut the time it takes to reach diagnosis: "If you as a practice nurse or ward nurse come across a patient who opens up about their heavy painful periods, it's about listening and saying: 'That's not normal.' Ask yourself: 'How can I signpost this person to the right information?' Listen and be understanding, even if you don't have the answers," Deb says.
"I want to stress the invisibility of the condition. Just because patients look well and put across that they're coping, it doesn't mean they're not suffering with chronic pelvic pain."
What is endometriosis?
Endometriosis is a condition where tissue similar to the uterus lining (endometrium) is present outside the uterus. This can cause a chronic, inflammatory reaction and formation of internal scar tissue. Although the growths are benign, they can cause intense pain, chronic fatigue, heavy and painful periods, bowel issues and infertility. Endometriosis can be superficial or severe (where the endometrium are 5mm or thicker). Severity of the condition does not always correlate to severity of symptoms.
During her seven years as an endometriosis nurse practitioner, Deb has had countless emotional conversations with patients who'd previously been told they're exaggerating their pain, functioning too well for an endometriosis diagnosis, or even been advised to have a baby to cure their pain. "My role is about allowing people to open up, validating their symptoms and never telling them it's all in their head. Pain is individual to the patient."

Early diagnosis can be hugely beneficial: "Do a really good history, spot those symptoms, and enact trial and error – what might be a good treatment option, does the patient want to try it? Then, if it doesn't work, refer on to a gynaecologist or specialist for further input."
Treatment options
As an endometriosis specialist, Deb is able to support patients through their entire journey with the clinic – from initial assessment to pain management and, for some, complex surgery.
She takes a full medical history, manages medicines, and assesses which treatments would suit the patient's priorities. Hormonal contraception or strong hormone injections, such as Zoladex, can significantly reduce symptoms for many patients, but wouldn't be appropriate for someone attempting to conceive.


Patients often feel their endometriosis is out of their control, that it controls them
Pain relief is key and analgesics are commonly prescribed. "We've got a great pain clinic here with a holistic approach: clinical psychology, physio, acupuncture and more to help patients live with their pain, because not everyone wants to have an operation and not everyone wants to take hormones."
For some patients with severe disease, investigations including ultrasound scan, MRI and laparoscopy with biopsy can identify the extent of deep infiltrating endometriosis. These investigations can help Deb and her multidisciplinary team at the specialist centre prepare for surgery too. Endometriosis can spread through the pelvis, and sometimes beyond, with tissue growth on the bowel and bladder that may require surgical removal, leading to a temporary stoma.
Nursing staff can also advise on lifestyle changes, such as exercise and dietary changes. "That needs to be very patient-motivated, it's not prescriptive," Deb says. "But living well can make a really big improvement to their symptoms and have a huge impact on mental health too. That in turn can help someone manage their pain a bit better."
Psychological support
There is a significant psychological element to endometriosis. "Living with any chronic condition, especially a chronic pain condition, can have a huge impact on a patient's mental health," Deb says. "Patients often feel their endometriosis is out of their control, that it controls them."
Helping patients express their concerns and form strategies to manage their mood is crucial. In the initial stages of treatment, some patients may need support from their GP with anti-anxiety or anti-depression medication, others may benefit from talking therapies. "We need to unpick whether there are any underlying things going on. If a patient always talks about pain during sex, is there a history of sexual trauma or abuse? Could you signpost them to counselling for post-traumatic stress or to psycho-sexual services?"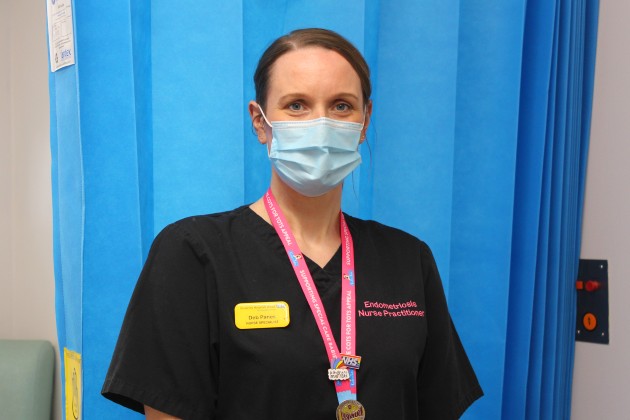 Above: Deb Panes in her Bristol clinic
Simply being there to answer questions or allay concerns is central to the role. During COVID-19, patients have suffered from a lack of social support, have had difficulty accessing regular GP or community services, and sometimes surgeries have been delayed. "Patients talking about suicidal thoughts have definitely increased over lockdown periods," Deb says. "It's not a little bit of low mood, it's this huge impact that managing a chronic condition has on their lives. For someone to say they want to end their life because of chronic pain is awful. But that's the reality for some patients with endometriosis."

Having a specialist nurse available to these patients is therefore invaluable. "It's a supportive role – offering guidance to patients and being their point of contact if they have questions about follow-ups, treatment plans or new symptoms, which is really important, especially during COVID," Deb says. "So many patients have told us how vital it is to have a nurse who they can get in touch with. Patients often feel more comfortable talking with nurses than they do with consultants. It really offers that opportunity to open up."
Words by Rachael Healy.