When Rohit Sagoo recognised that his community had specific health needs that weren't being met, he knew it was something he couldn't ignore. He had to act.
"I'd been reading research around the rates of obesity, heart disease and stroke in the Sikh community," says Rohit, who qualified as a children's nurse in 2001 at the University of West London. "I could see there was a real need to care for people and I thought I needed to do something.
"That comes from my father, who is my role model. He's always had the view that there's no harm in taking risks and you need to persevere."
Perseverance is key
In 2015, Rohit set up British Sikh Nurses, with the aim of bridging the gap between the NHS and the South Asian community. "It was on a shoestring budget, on my own, with help from my wife," he says. "I thought, let's do it and see where it goes. And people responded. It's been such a positive journey."
After raising the new organisation's profile on social media, attention escalated with the Department of Health asking for help to campaign for organ donation. Other issues followed, including increasing awareness of mental health, diabetes, hypertension and basic life support.
I thought, let's do this and see where it goes
"It was really about engaging hard to reach groups, including the older generation and those with limited or no English language," says Rohit, who is currently undertaking a funded doctorate until 2024 with the University of Bedfordshire, where he is evaluating child health provision.
Fighting the stigma
Tangible outcomes of his work with British Sikh Nurses include leading stem cell donation drives that have helped three patients find a match, with more than 10,000 people signing up to the register.

"There can be a stigma in South Asian families about asking for help," says Rohit. "We gave them a platform and gradually people started saying, can you help us? It opened up a massive doorway. That makes me so happy in terms of what I've done."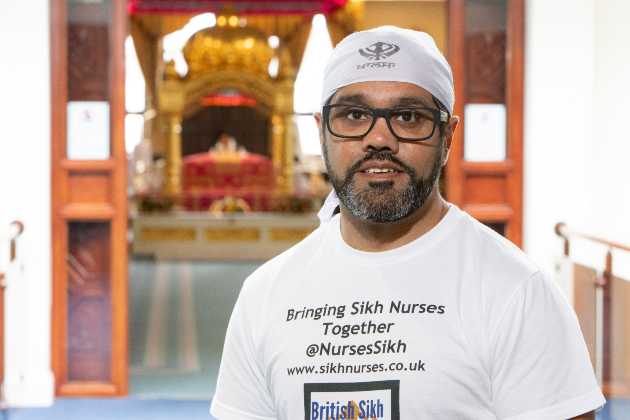 Key challenges include building trust in a community where mistrust in health care was common. "I've definitely become a trusted voice within the community," says Rohit. That role has come into sharp focus during the pandemic, where he has worked hard to overcome vaccine hesitancy, encouraging the community to have their COVID-19 jabs.
A myth-busting exercise
"There were lots of questions about what the vaccine contained and whether it was vegetarian," he says. "For us, it was a myth-busting exercise and we needed to reassure communities it was safe. At the beginning there was slow uptake and then suddenly people started coming forward."

In the past, there has been little research into the health of South Asian communities, and there can be distrust in Western health care, with its primary focus on prescriptions, he believes.

"In India, they don't just rely on medication," explains Rohit. "There are homeopathic and ayurvedic treatments. But in the West, there's much more reliance on pill-popping."
You can't be a bull in a china shop
Trying to reach South Asian communities is also much more complex than simply publishing leaflets in different languages, he argues.

"Will they be picked up or understood? You need to get the key information right and disseminated properly," says Rohit. "You have to be able to understand the culture, its nuances and how best to communicate. You can't be a bull in a china shop."
Lost for words
This autumn, his pioneering contribution was rewarded when he won the leadership category of the RCN Nursing Awards. "I was so surprised to win," says Rohit. "I met the other finalists and felt like I'd done nothing in comparison, as they were amazing. So, it was a real shock and I was lost for words."

Now he hopes it will raise the profile of his organisation further, increasing their gravitas. "This year I was the only person of colour to win an award," says Rohit. "I think it has both encouraged others to be nominated and to have more representation of black and Asian communities in terms of judges. I want to open up the door even more."
Top tips to inspire innovation and leadership
"If you spot a gap, don't be afraid to fill it," says Rohit. "And you don't need a massive budget. Social media platforms are free and they make it very easy to disseminate your messages."

Know your audience and who you're trying to engage with, he advises. "Make sure your voice is succinct."

Be honest in your communication. "You need to be trustworthy, with no mixed messages," says Rohit.

Remember that nurses have many, but often under-recognised, entrepreneurial skills. "We confine nurses to working in a ward-based job, but there are so many other things you can do. Look at your passions for inspiration," says Rohit. "We can undervalue ourselves and what we do."

Don't be afraid to take risks. "Because you just don't know where it might lead," says Rohit.
Hear Rohit talk more about his work and nursing for RCN Nursing Matters special Nurses' Day 2022 podcast: