When Nicola Treharne started out as a perinatal peer mentor support worker in 2019, it was a new role in a very small service.
"At the time, I was the only health care support worker in Wales doing this job," Nicola explains. "But I was supported by the specialist nurse and team lead to make the role my own."
To do this, Nicola liaised with other organisations, agencies and support workers in perinatal health care in Wales before developing a blueprint for the support she intended to provide.
I'm blown away every day by the people I see
Nicola wanted to offer complete holistic care, so she worked with psychological staff to learn mindfulness and relaxation skills and undertook training in improving the attachment and bond between mother and baby using baby massage, which she now teaches in antenatal and postnatal settings.
Tailored interventions
Now, women and their families across the three counties of Hywel Dda University Health Board are receiving crucial one-to-one care in their homes because of Nicola's drive, interest and passion in perinatal mental health.
Nicola's learnt other skills to deliver tailored interventions for each woman and family. These include working with families on emotional wellbeing, bathing, weaning, Millpond sleep training, safety in the home, bonding and attachment. She also organises baby essentials bundles which are given to families who are struggling financially.
"I'm blown away every day by the people I see," Nicola says. "I'm in people's homes at a very vulnerable time in their lives. For those who use the service, it can be life-changing."
Managing anxiety
Nicola also arranges visits to midwifery-led units with women to help them reduce their anxiety around the venue and birth, utilising guided self-help for self-compassion, hygiene, and low mood. She also accompanies people to mother and baby groups to help them settle into their surroundings.
Having a bad day does not make you a bad parent
"Meeting others with a newborn, especially if someone is particularly anxious when leaving the house, is very important. It gives them a sense of connection and community and the social interaction has positive outcomes for the whole family," she says.
Life experience
Nicola's life experience was crucial to making the role such a success. "My background is in nursery nursing and when I saw this role advertised, I thought it looked really interesting. It seemed quite a new thing to have perinatal support mixed with mental health and wellbeing," she says.
With vital experience now behind her, she's developed robust relationships with multi-disciplinary teams, and liaises with statutory and voluntary services in her day-to-day role. Nicola encourages families to seek support if they're struggling and helps people manage their anxieties and stress after the birth of a baby.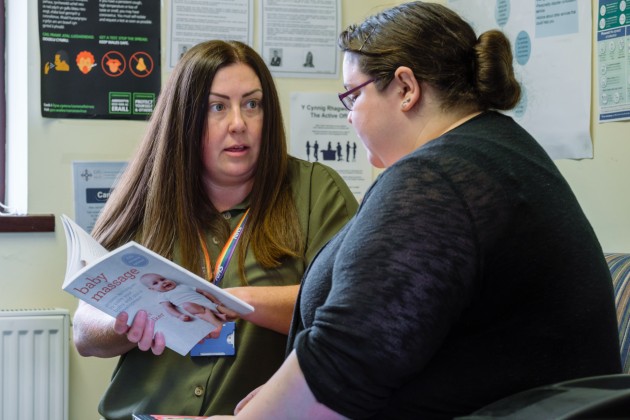 RCN award winner, Nicola Treharne at work
"I'm glad this side of care is evolving, and more awareness is being generated. People now seem more willing to discuss perinatal mental health as there's a lot of pressure on new parents to be elated or behave in a certain way.
"Having a bad day does not make you a bad parent. Some people have existing mental health conditions that might be affected when pregnant or just after birth, so we need to make sure people are referred to the service and given support quickly."
Award winner
Nicola's efforts earned her the accolade of winning the nursing support worker category at the RCN Nursing Awards earlier this year.
"I love my job so much that it's never a task to work. I was absolutely thrilled to win the award and feel privileged to be doing the work I do," she says.
Nicola's received a huge amount of feedback from the women and families she works with too. One special comment came from a woman who had been an inpatient in a mother and baby unit who Nicola worked with on her return home.
On discharge she sent a thank you card including baby handprints which read: 'Nicola, thank you for helping to make my mammy better. Your smile is fabulous, Lots of love'.
Images:

RCNi/Stephen Shepherd