On 5 April 2020, only a couple of weeks after the COVID-19 pandemic caused the UK to lock down, mental health nurse Yaw Mensah had to call in sick to work.

On the rehabilitation unit where he worked, there had been cases of colleagues developing symptoms and being advised to self-isolate. All over the country, infection prevention measures and PPE supplies were struggling to keep up with the unfolding crisis.
My shielding letter arrived when I was already in hospital. It came too late
Analysis would later show that among NHS workers in England during the first wave of the pandemic, registered nurses were twice as likely to catch COVID-19 than the general population. Meanwhile, non-white staff were at greater risk too.

Yaw's symptoms rapidly intensified. "The coughing was violent. It felt like there was a lion in me, my ribcage was shaking," he says. "I knew I had to go to hospital, so I called the ambulance."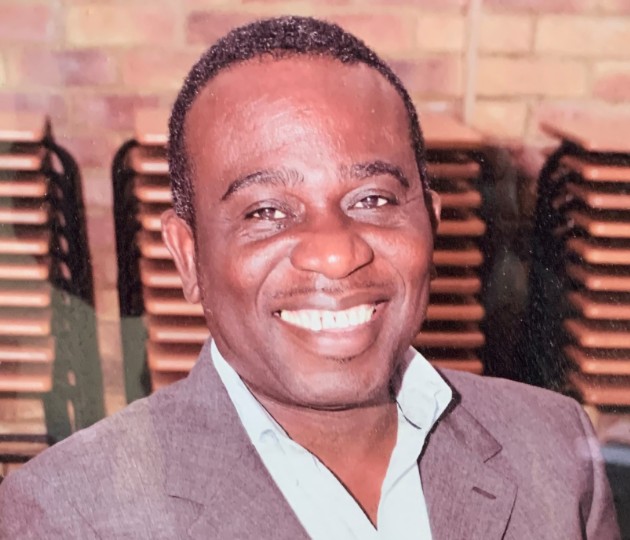 Above: Yaw Mensah
Yaw, who had previously been diagnosed and treated for lymphoma, would later find out he was classed as "clinically vulnerable". But the letter advising him to shield at home did not arrive in March 2020. "Unfortunately, my letter came when I was in hospital. If I had gotten it, I wouldn't have been going to work. It came too late."

He was taken to the Princess Royal University Hospital in Bromley and was admitted to a ward. His oxygen levels had plummeted to 81%.
The next day, Monday, Yaw felt weak and struggled to stay conscious. "Between Monday and Thursday I have lost memory of what happened," he says. "My oxygen levels were so low that my brain was not working properly."
Entering ICU
By Thursday, Yaw had deteriorated further. "I remember them coming to me and saying: 'We're going to take you to ICU and we will put the tube into your throat.' But I think I was so sick by then, I did not know what was going on."
In ICU, Yaw went into a coma, which lasted for 13 days. Despite being unconscious, it was an "intense" experience. Yaw experienced "critical care delirium" – a state of confusion and hallucination that affects at least two in three patients on ventilators.
I would dream a lot... it was like a madness
"I would dream a lot," he says. "Most of the time it was like a madness. It is hard to describe. I'd be going to parties, then I'd be in a coffin, then I would get so hot I would be crying and screaming for water, but no-one could hear me.
"I saw the devil. I saw God. Sometimes, I would go outside my body and wander around the ward. Then in the dream I would be fighting with the doctors, saying: take this catheter out of me! For me, it was real."
Through it all, he had snippets of what may have been consciousness, hearing distant voices and people saying his name. His surroundings incorporated themselves into the dream – nurses and doctors appeared in his mind, doing things he didn't understand, never listening to his requests.
Consequences of the coma
When he emerged from the coma, 13 days later, Yaw still struggled to think straight. "I felt like maybe I was having a nervous breakdown. I couldn't even remember my name, I couldn't remember where I live. You get so confused. You don't know where you are. In my mental state, I knew I wasn't making sense and I was scared that they were going to section me."
There were still hallucinations – at one point, desperate to find his phone to contact his family and friends, he imagined that the pulse oximeter attached to his finger was a smartphone screen that he was typing text messages into.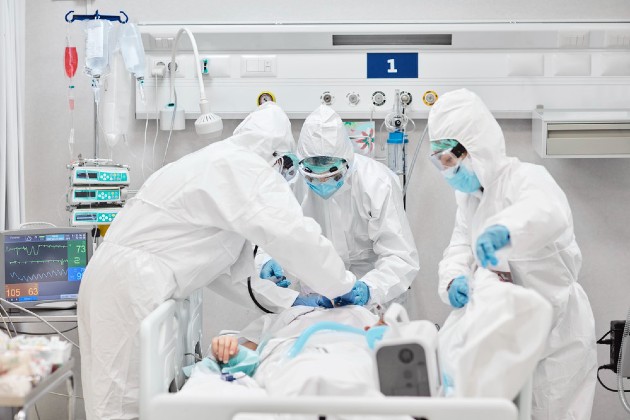 Above: nurses in full PPE attend to a COVID-19 patient in an ICU
After a few days, Yaw was transferred out of ICU and to a ward where he could continue his recovery. The physical effects of the illness and the coma had left him with a raw throat, unable to eat or speak, while his muscles had wasted away – he dropped from 90kg to only 77kg during that fortnight. His eyes were dry and vision blurry, his skin felt dry, and a scan found a blood clot in one of his lungs.
"That is where I realised the real impact of COVID-19," he says. "I tried to stand up and realised I couldn't walk. I felt like a 100-year-old man; I couldn't believe how disabling it was. I couldn't do anything for myself. Even when I was sitting down, I was so breathless."

Through it all, he received attentive care from the doctors and nursing staff, and a reassuring array of tests to make sure his heart and lungs were functioning correctly.
Before he was able to eat or drink, Yaw fantasised about the perfect cup of tea: "I would have bought a cup of tea for £100!" Eventually, he was allowed a chocolate drink: "That was the best thing I ever had, oh my goodness."
Gradual recovery
Determined to get back to his family and his work, Yaw set himself walking challenges. At first, he'd get out of bed, stand and take a few steps while holding onto furniture. He was given a zimmer frame and used this to go further. His heart rate would jump to 120 or 130bpm sometimes. Beta-blockers helped bring it down and eventually he was able to walk further still, going the length of the ward and even cautiously climbing a few stairs.
On 7 May, after nearly five weeks in hospital, Yaw was finally discharged. The next day, he was reunited with his sister and his two sons. "When I knocked on the door and my sister opened it, she said: 'Where is the ambulance?' She was expecting an invalid, she was so surprised. It was a miracle in a way."
You might think it's a flu virus, but the impact can be so bad, it can take a long time to recover
The virus affected Yaw's emotions too. When he came out of the coma: "I got very emotional. I got sad very quickly." Seeing the affect the virus has had on other health care workers has been tough too: "I would say I am mentally strong, but when I see people dying, nurses dying, doctors dying, it makes me feel sad. I felt: 'oh God, I could be dead myself.' It is emotional."
Yaw was supported by his manager to take a phased return and do jobs that would reduce his risk of exposure to the virus where possible. "They were so good to me and told me to take as long as I needed. When I came back, they had a welcome party for me."
Only one in five COVID-19 patients who were ventilated survive. Yaw was one of the lucky few: "You might think it's a flu virus, but the impact can be so bad, it can take a long time to recover."
Now, more than a year on, he feels he's made good progress. There are some lingering symptoms – leg pain, lower back pain and forgetfulness, which could be linked to his illness. He is happy to be back doing the job he loves and feels eternally grateful to the health care workers who cared for him in his time of need: "The hospital staff were so good, they worked so hard for me."
Words by Rachael Healy