The physical benefits of exercise are widely known, but running outdoors is particularly beneficial for mental wellbeing. In a recent study, 82% of UK runners said running helps clear their mind, while 78% said they feel more in control as a result of running.
For registered nurse Claire Flatt, running proved essential after she was diagnosed with cervical and breast cancer age 33.
Despite facing life-changing treatment, including a double mastectomy, intensive chemotherapy and radiotherapy over the course of a year, one of the first things Claire did after being diagnosed was to start a fundraising challenge.
"A lot of people just don't know what to do when a relative or friend gets a cancer diagnosis," says Claire, who is the lead for nursing, midwifery and allied health professionals at New Cross Hospital in Wolverhampton. "So I decided to set up #claireschallenge to encourage friends and family to take on a new challenge and raise money for cancer charities. I now take on a new challenge every year."
Claire was "not a runner" but started with a five-kilometre run raising money for Cancer Research UK.
"Once I started treatment, exercise was the only thing that kept me going," says Claire. "I got a dog and he meant I had to get out of the house, which really helped me to cope with what was happening."
Helping to heal
After her treatment, Claire went back to her job as a nurse lecturer but found it difficult to concentrate, suffering with brain fog, anxiety and panic attacks.
"I struggled to get the words out when teaching, which isn't great when you're standing in a classroom full of nursing students looking at you," says Claire. "I lost a lot of confidence."
Spending time on my own running really helped to process things
"When you're going through cancer, you're surrounded by consultants and other health professionals, but then suddenly, you're on your own and it's hard to go back to normality. It's hard mentally as well as physically. I continue to live with the late effects of treatment, which include early menopause, joint pain, fatigue and anxiety. People don't see that."
Claire found running helped her reduce the long-term side-effects of her treatment.
"Spending time on my own running really helped me to process things. Sometimes I would just cry by the canal while running, but it was cathartic."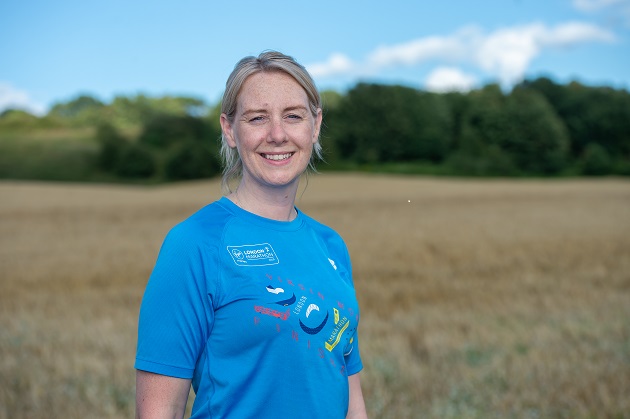 Claire Flatt, pictured by Steve Baker
Claire set herself a goal and just nine months after her final chemotherapy, she took part in the 2019 London Marathon.

"Running the marathon was incredible and gave me an amazing sense of achievement. People were shouting my name and it was very emotional as I was running down The Mall to the finishing line."

Thanks to running and her new clinical role, Claire, who has recently finished her training to be an RCN steward, has found increased enthusiasm for nursing. "I'm more focused and love my job. I feel like I'm almost back to where I was before."
Staying calm
Sharon Burfield, a deputy director for clinical education, cites running as a way to reduce depression and boost your energy.
Running increases blood circulation and affects the part of your brain that responds to stress and improves your mood. This causes a change that temporarily improves your reaction to stressful situations.
I lead a team of 70 people, running helps me to be calm at work
"When I was around seven years old, my mum was diagnosed with depression and was in and out of hospital," says Sharon. "This made me very aware of my own wellbeing and I realised at a young age that I need to take care of myself, physically and mentally."
Sharon runs outdoors around five times a week, fitting her runs around her family and work.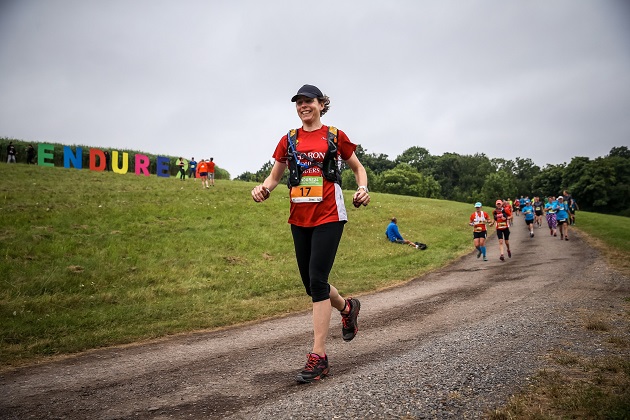 Sharon Burfield, pictured at Endure24 by Epic Action
"Over the last 18 months, running has been incredibly important, especially as I was working in ITU, which was very intense. During the first wave of the pandemic, it was more difficult to run as I was so tired but running makes me feel better and gives me more energy. I definitely feel grouchier if I miss running for any length of time."
Sharon has always tried to fit in exercise and eat healthily but running is something she feels is essential in managing stress and doing her job well.
"I now lead a team of 70 people and running helps me to be calm and measured at work. If colleagues see me taking care of myself, eating well and going running, it helps to be a good role model.
Running, especially when I'm outdoors and with others, allows me to get things off my chest. Just being outside in the fresh air, near a lake or the woods, makes me feel good."
A regular long-distance runner, Sharon is taking part in both the London and Manchester marathons in October.
"Marathon running gives a real sense of achievement, accomplishment and pride. It's my ambition to run a marathon at 100!"
Tips to get started
Join a running club. Many clubs are free to join and there are regular parkrun events all over the UK.
Set small targets. Getting your trainers on and out the door is often the hardest part. Try setting small, achievable goals. There are many ideas to get started including the NHS couch to 5k training programme.
Keep at it. Just 20 minutes of running a couple of times a week, mixed with walking, will improve your mood and increase your ability to deal with stress.
The RCN has a range of Healthy You resources especially for nursing staff. Use them to develop your own self-care plan.
Words by Susan Embley