"ICU is a very different environment to anywhere else in the hospital," says Amanda. "But when I did my first placement there as a student, I immediately knew it was for me. It's very varied and we have to be able to think on our feet. You're always learning, which I love – I'm a bit of a geek!"

But it's also a highly stressful work environment, where the weight of responsibility hangs heavy.

"People who are the sickest of the sick come to us. If we can't fix them," she hesitates, "well then there's nowhere else to go."

Burnout can be common and it's important to find ways to "keep sane". "I had always managed to keep myself going. I've got my dogs and a few hobbies to de-stress – reading, sewing, embroidery, etc. – things to keep my hands and mind busy."
'There was no control'
Then the pandemic hit and this careful balance was completely rocked.
We could see what was coming but felt powerless
"When we had our first COVID patients, it wasn't being taken seriously enough," Amanda recalls. "We didn't have enough PPE; the right processes weren't in place. The fact that it had spread so quickly across Europe didn't seem to be ringing the bells it should have.

"There was just this overwhelming sense of having no control; we could see what was coming but felt powerless to do anything to contain the situation."

As the pandemic progressed, patient ratios were stretched, redeployed staff were thrown in the deep end, PPE and safety concerns became daily stressors, and nursing staff felt overwhelming worry for colleagues, family and friends.

But for Amanda, it was at the end of a long year of working incessantly under these conditions that COVID hit hardest.
All the grief for all the deaths just came crashing in
Reaching saturation point
Amanda's nephew, who had kidney issues, caught COVID and was taken straight to ICU.

"I knew what that meant. I knew he was incredibly sick and that because of the drugs he was on, the chances of him coming out were small," Amanda says. "And he didn't. He didn't come out."

Receiving the phone call at work to let her know her nephew had died just "pulled the rug out" from under Amanda.

"It was like all the grief for all the deaths over the past year just came crashing in," she says. "The minute it became personal, it crossed the boundary of me being able to keep it all together and I just couldn't do it anymore."

She left work halfway through that shift and didn't go back for 13 weeks.
Finding help through horses
Amanda first came across The Way of the Horse – an equine-assisted therapy centre in Leicestershire – when her daughter, who suffers with anorexia, attended one of their resilience courses. After that, she volunteered there from time to time and had got to know the centre's founder Dina Shale, who suggested Amanda would benefit from taking part in Project Pony.

"I'd been to see my GP," says Amanda. "I'd done all the things I was meant to do. But I'm not the kind of person who can meditate, who can just sit there quietly. I needed to find something that could hold my interest and help take my mind off the things I was obsessively thinking about."

Project Pony offered Amanda a different approach to finding an inner calm and processing the trauma she had experienced. Over the course of 12 weeks, she learnt about the ways in which stress and anxiety manifests in horses – and in humans.
If you're carrying any stress, fear or tension, the horses will pick that up immediately
"It doesn't ask you to relive the trauma, unlike many other therapies," says Amanda. "Sometimes it's good to offload but you don't always want to relive those moments and emotions.

"This therapy asks you to connect with how you're feeling; to recognise what happens in your body when you're stressed and what you can do to cope with that."

Theory lessons on how humans react to stress and hold trauma in different ways, with techniques to cope and reset, are complemented by time spent with the horses. Watching how the animals respond to, process and rid themselves of stress in the body helps to demonstrate the learnings. Horses are also used to help people recognise their own emotional state.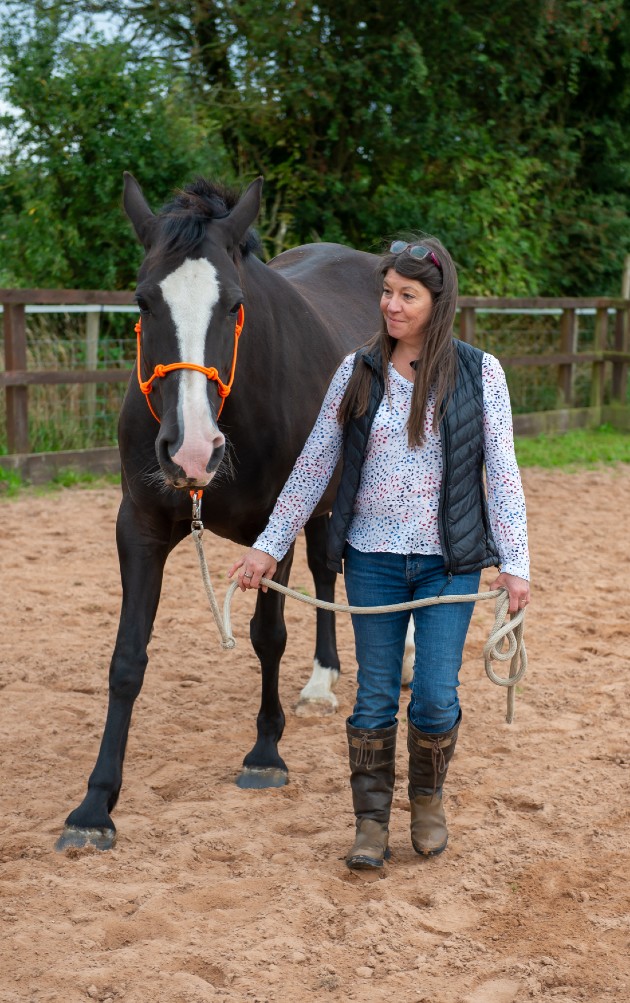 "If you're carrying any stress, fear or tension, the horses will pick that up immediately," Amanda says. "Only by learning to recognise your own emotional state and finding a way to let go will the horses connect with you. When that happens, it's kind of magical.

"I learnt a lot about my own emotions, about human emotions. I've always been good at looking at other people and assessing them, but not necessarily very good at assessing myself."
I learnt a lot about my own emotions
From horses to hospitals
Amanda has been back at work for a couple of months now, and while there is no way to avoid the stress of her job and the pandemic, Project Pony has helped her to be more aware of how she's feeling and take positive steps when needed.

"I'm definitely better at noticing when my stress levels are getting out of control and I'm starting to disassociate. I know that's when I need to take myself out for a minute and concentrate on my breathing."

Practising deep breathing, which stimulates the vagus nerve and helps to calm the sympathetic nervous system, has enabled Amanda to manage rising stress levels and stop them from escalating. She's also been able to implement routines into her working day that give her time to check-in and process.

"For me, demarking the end of a shift is important," Amanda says. "I always have a shower before leaving work now. It's time for me to become aware of how I'm feeling, let my brain come down and let go of what's gone on."
Without this therapy, I think I'd be in a very different place right now
Amanda has also applied coping strategies she's learnt on the course to her everyday life.

"One of the things Project Pony teaches you is to tune into your five senses, be present in the moment and connect with yourself and your surroundings. So now I make sure to do that when I'm out walking the dogs. I also got into photography, which helps me notice nature a bit more."
Having since realised that she'd been perimenopausal, which she feels contributed to her levels of anxiety, Amanda credits horse therapy with helping her to be better in
tune with herself and her body.

"The therapy really helped me get out of that anxiety cycle, to get in touch with myself and to find the confidence and enthusiasm to educate myself more about health and diet and other positive steps I could take as I approach the menopause."

Is this something that other health care staff might benefit from?

"I truly believe so many people, especially those working in health care, could benefit a lot from this therapy," says Amanda. "And you don't have to have spent time with horses, or even like them! But you will learn a lot about them, and about yourself.

"Without this therapy, I think I'd be in a very different place right now. I have to thank Dina for everything she's done. She's fought through a lot to get to where she is and get this off the ground. It's a really good thing that could help a lot of people."
What is equine-assisted therapy?
Dina Shale, founder of The Way of the Horse, tells us a little more about Project Pony and why horses make such good therapeutic assistants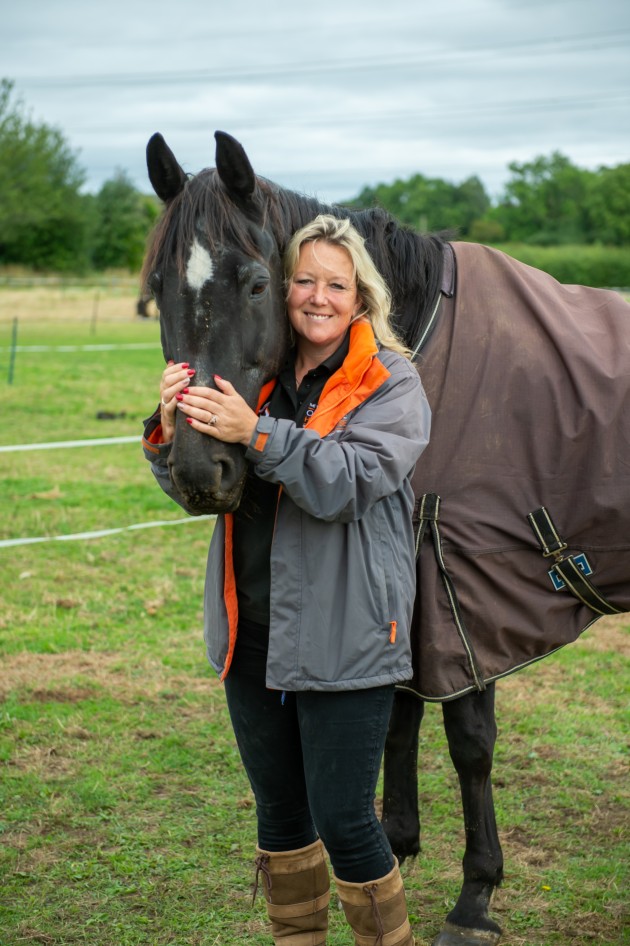 We run a rescue centre for animals. Most of the horses we have are rescue horses, who've experienced mistreatment and trauma. This has allowed us to learn a lot about how the animal brain processes trauma. And it's very similar to how we as humans also process stress and anxiety, because it's the animal brain we use for this.

Our Project Pony programme is so unique in what it teaches. We deliver theory about the brain, the body, and how trauma is processed, and provide strategies to manage that. It's really based in science; and I think that's what particularly appeals to medical staff.

We don't focus on the individual or force anyone to talk about their trauma. What we're teaching are tools they can use in their everyday life.

On the course, we invite people to interact with the horses in an environment that demonstrates what we've just taught them.

Horses are sentient creatures; they sense people's emotions. And they're a prey animal, like us; they use the fight, flight, freeze and fawn responses, which are the same stress responses we use, even if we aren't conscious of it.
We can hold stress and trauma in the body for many years
It can be very helpful for people to watch horses go through this process and to see how they react to a perceived threat. The horses' ears will prick up, they may freeze for a moment, they may run away, but ultimately the tension leaves their body – they may even shake to release it – and they return to grazing as soon as the stress or threat has passed. That's something we don't do very well as humans. We can hold stress and trauma in the body for many years without ever processing it or letting it go.

I first came across this therapy in America when looking for ways to manage my own childhood trauma and it was the best thing that ever happened to me.

It's the most amazing thing to be able to use it to help frontline workers. I can't tell you what an honour it is to be able to teach something that can have a genuine impact on their wellbeing.

Alongside its on-site Project Pony course, The Way of the Horse is now also offering online-only 3-day courses, called Road to Recovery. The first one is taking place 12-14 April 2022. These courses are specifically designed for key workers and are part-funded. Find out more about this and The Way of the Horse.
*Courses run by The Way of the Horse are not accredited or endorsed by the RCN