Living in the Red
The impact of the cost of living crisis on the nursing workforce in the capital
In five years' time 57% of nursing staff say they will either definitely leave London or would like to, with the cost of accommodation and transport being major factors.

This worrying figure (up from 40% from the survey carried out in 2016) is revealed by RCN London in the results of a survey of more than 1400 members working across the capital.
To support nursing staff to stay in the capital in the numbers needed to deliver safe patient care, RCN London has made a series of bold recommendations to tackle the cost of living crisis.
The cost of living in London
Our members gave their views on just what it's like living and working in the capital.  
Take a look at what really matters to nursing staff.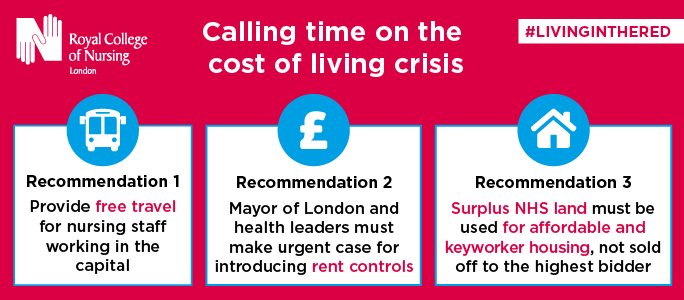 The survey covered a range of subject areas which included those typically associated with cost of living pressures, such as the affordability of accommodation and transport, but also asked questions about debt, financial well-being, and pay at work.
Key findings from the RCN London survey, carried out in 2019, include:

• For those who wish to leave London, the cost of accommodation and transport were way ahead of any other deciding factors with 84% and 60% respectively
• 59% of nursing staff feel less financially stable than a year ago
• 26% are struggling and increasingly worried about their financial situation
• In the past 12 months, 50% of London's nursing staff used credit to pay essential living costs; 38% had to borrow money from family and friends
• In the past 12 months, one in four (27%) have missed credit card or loan payments
The findings from the survey also clearly identify the issues nursing staff want tackled in order to help them stay in the city. When asked to pick from a range of policy measures, the following were the most popular:
Discounted travel tied to their employment
Cheaper rented accommodation provided by council/Local Authority/NHS
Help to buy policies
Rent controls to reduce and cap rents
To tackle the cost of living crisis RCN London has put forward a number of bold recommendations and is urging the Mayor of London and health leaders to urgently review how they can be implemented:
• Introducing free travel for nursing staff in London
• Devolving powers to the Mayor of London's office to introduce a system of private rent controls
• Halting the sale of surplus NHS land and using it to develop key worker, social and genuinely affordable homes
Commenting on the report, RCN London Operational Manager, Mark Farmer, said:

"Nurses are fundamental to the health and success of any city, and where there are shortages patient care suffers. With London's NHS still having the highest number of nurse vacancies in England, the connection between the staffing crisis and the city's cost of living cannot be ignored any longer.
Business as usual won't solve this crisis of affordability in the capital, and failure to think big will threaten the very ability of London's NHS to staff its service safely now and in the future."
For more information please contact John Considine, RCN London Communications Manager, at John.Considine@rcn.org.uk
Page last updated - 17/11/2020