The RCN's cultural ambassador programme aims to make sure nursing staff from black, Asian and minority ethnic (BAME) backgrounds are treated fairly when facing disciplinary action.
One organisation that has embraced the programme is Black Country Healthcare NHS Foundation Trust. The trust's work to train cultural ambassadors and embed the role in HR processes has led them to win this year's HSJ Value Award for People and Organisational Development Initiative of the Year.
The RCN's cultural ambassador programme was first introduced in the West Midlands in 2016 and offers NHS trusts in the area the chance to work with the RCN to recruit staff from BAME backgrounds to become cultural ambassadors. It has since been rolled out across England and will be running in at least one trust in every region by the end of 2020.
Cultural ambassadors are trained to identify and challenge discrimination and cultural bias. They use these skills in their role as a neutral observer within disciplinary processes, formal investigations and grievance hearings involving staff from BAME backgrounds.
With evidence showing that BAME nursing staff in the NHS are over-represented in such processes, and as a result more likely to face sanctions, the role is supporting organisations to make crucial changes and tackle racial discrimination.
"Cultural ambassadors are able to ask open and honest questions to both sides," says Suresh, who was a cultural ambassador at the trust for three years before taking on a new job at another trust earlier this year. "The training we've received means we have a clear understanding of individual cultural needs and nuances, as well as conscious and unconscious biases.
"Therefore we're able to pose questions that others may not have considered and, often, this can prevent proceedings from going further than necessary."
Tara, who is one of the HR leads for the project, says this offers an important pause for thought.
We're able to pose questions that others may not have considered and, often, this can prevent proceedings from going further than necessary
Spotting cultural bias
"The voluntary cultural ambassador role acts in a completely different way to those on the investigating teams and disciplinary or grievance panels," says Tara. "Cultural ambassadors are there to look at these formal processes through a different lens and provide independent advice and guidance.
"If they observe any biases, or they are of the view that there are cultural factors to be taken into account, they 'interrupt the process' and ask teams and panels to review and consider these observations."
Suresh, who is now looking to introduce the initiative at his new trust, adds: "Panels are usually thinking about policies and procedures and what is considered 'right' and 'wrong' but that can limit the way of looking at things."
Suresh also points out how important it is to have cultural ambassadors involved from the outset.
"When these questions aren't asked during the early stages of a process, it can cause so much unnecessary stress and anxiety for the person going through it," says Suresh. "It can even lead to people leaving the organisation or profession."
Vanessa, a cultural ambassador for three years now, says: "We need to hear all the facts from the beginning. I've been involved in cases where there hasn't been a sanction given because we've teased everything out before it got to that stage and realised it was misinterpretation or miscommunication, or the level of accusation was wrong.
"Our findings and opinions are taken seriously and when we raise something, we're listened to."


Pictured below: Tara and Suresh
Ensuring fair treatment
Suresh and Vanessa have found that although their involvement is neutral, their presence in hearings and investigations has had a positive impact on some staff going through such processes.
Vanessa says: "Some people feel better supported when there's someone there whose purpose it is to make sure they're fairly treated. There can be a lot of stigma and some employees from a BAME background may automatically feel they'll be treated in a certain way.
"However, I try to explain to people why I'm there; to ensure a fair process. I also explain that outside of that particular process, they can also contact me to share any issues that they feel need addressing with regards to unconscious bias in the workplace."

Tara and her fellow project lead Emma say that one of the main reasons the trust decided to introduce cultural ambassadors was so that all staff could feel assured that processes were fair and consistent for everyone.
Emma says: "Feedback and testimonials from staff have shown that people do feel more confident in our processes as a result of this programme and not only that but they also indicate that staff have more confidence in raising issues and concerns themselves."
Emma believes the programme has also had a big impact on behaviour.
"Certainly in the HR team, we're approaching our day-to-day work differently, including the way we think, act and behave," says Emma.
"Although Tara and I can't act as cultural ambassadors, we've had the training and we've shared what we've learnt with colleagues. It makes you stop and think. We try to ask those questions that we may not have thought about previously and unpick things in a different way."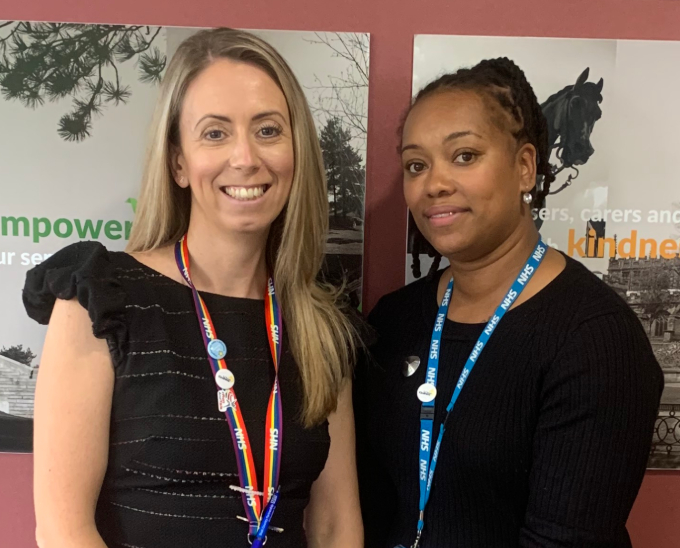 Pictured above: Emma and Vanessa
It makes you stop and think. We try to ask those questions that we may not have thought about previously and unpick things in a different way
Looking at things differently
Suresh says it's about giving everyone the understanding to look at things differently. "We need to give people the tools to be able to verify things in other ways rather than taking drastic action straightaway," says Suresh.
"It's about understanding people's feelings and emotions and recognising something you may not have considered."
Vanessa says she's also noticed a change in behaviour with regards to those staff involved in disciplinary process panels.
"People seem more open to finding out the facts regardless of how in depth we have to go," she says. "For example, we may find out part-way through an investigation into an alleged accusation that there were a number of other people involved that we didn't recognise to begin with and we'll go back and interview them."
Not only has the programme supported staff going through disciplinary processes but it's helped Suresh and Vanessa with their own development and approach to work too.
"My experience and training as a cultural ambassador has allowed me to approach my work as a manager more thoughtfully," says Suresh. "Of course, I've had equality and diversity training and I was very aware of cultural differences.
"But now I have that in-depth knowledge about the little differences, even within the same culture, and how important it is to consider these things."
My experience as a cultural ambassador has allowed me to approach my work as a manager more thoughtfully
Vanessa says: "This experience has given me skills that have helped me to develop in my career and in my personal life. I see things from a very different perspective now. I try to have a neutral approach in all situations until I know the facts."
RCN diversities lead Wendy Irwin adds: "The learning and development provided by the training offers a rare opportunity to understand both the complexities and subtleties of tackling workplace discrimination.
"Many organisations recognise that the issues around tackling discrimination are systemic. This programme helps employers develop trust and confidence in the things they need to do to build inclusion into their processes, structures and operations."

Words by Zara Davies. Pictures of Suresh and Tara by Steve Baker
This article was first published on 30 September 2019
What you need to know
Data provided by trusts taking part in the cultural ambassador programme shows:
a reduction in the level of sanctions imposed. There have been less dismissals, suspensions, first written warnings and final written warnings
a reduction in the number of investigations involving staff from BAME backgrounds
a reduction in staff sickness absence.
The cultural ambassador role is voluntary, with the RCN working in partnership with employers to deliver training to enable cultural ambassadors to sit as part of investigation teams or as members of the decision-making panels for grievances and disciplinary hearings where a BAME member of staff is involved. Cultural ambassadors can also be trained to be a full member of a recruitment and selection panel.
Cultural ambassadors don't have to be RCN members to be eligible for the role and training can be carried out virtually. Find out more and register your interest.