Elaine shares her experiences so far as a senior nurse working in one of London's busiest critical care units
I've been a matron at University College Hospital (UCH) in London since 2011 but had actually been on secondment for six months at The Lister Hospital before COVID. I returned to work at UCH on Monday 2 March, the day we received the letter to intensive care hospitals from Italy saying 'start preparing now' – we haven't stopped since.

We expanded massively within a very short space of time, going first from 35 to 86 critical care beds then creating a further 22 up on one of the wards.
I'm responsible for the '3rd floor' as we call it, which is the critical care area and the theatre area. On our busiest days so far, we've seen up to eight new COVID patients, with around 62 critically ill patients.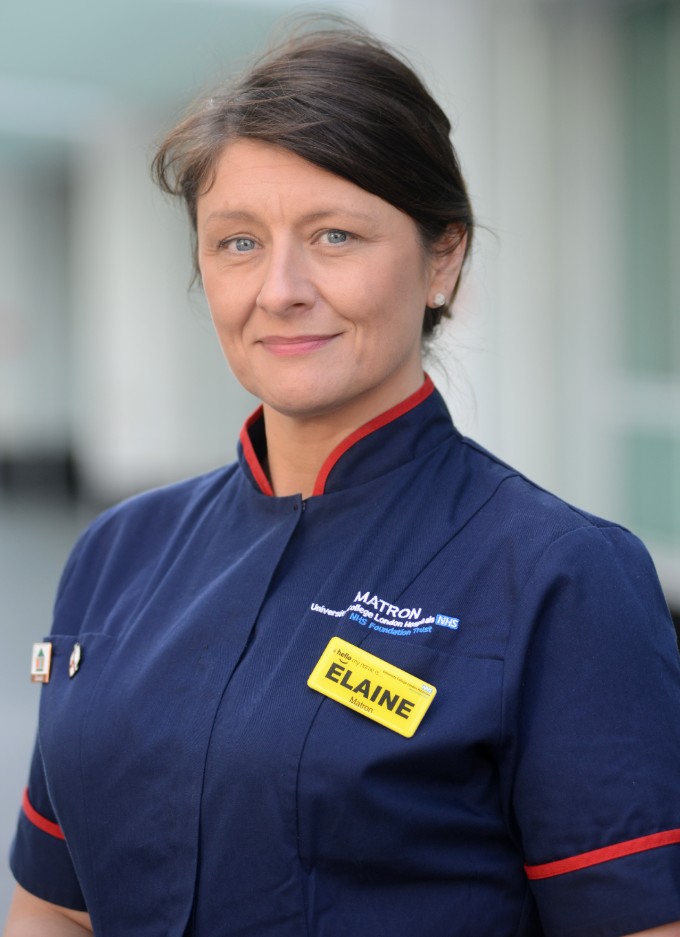 Elaine Thorpe. Pictures by Gareth Harmer
New faces and new ways of working
Obviously, we couldn't cope with that by ourselves, so we've brought in nurses from all other areas alongside theatre staff and medical students; a huge number of health care professionals with different knowledge and experience all coming together.

It's been really challenging and there were of course teething problems, but overall it's been very successful. I can't tell you how amazing all the nursing staff have been. Many of them had never seen an intensive care patient before, let alone 62 very, very sick intensive care patients, and they have just been wonderful.

We looked at how we could work differently to best utilise everyone's skills and moved to a task-based system, so that no one would have to work outside of their remit. It's worked well but has been tough for the intensive care nurses because generally they have a very holistic approach. But everyone has been so adaptable.
I can't tell you how amazing all the nursing staff have been
Ensuring the nursing voice is heard
My focus is always to listen to the nurses and make sure their voices are heard. It's been really rewarding because when we've raised concerns it's had an immediate and obvious impact.

For example, when patients are proned, their eyes get very swollen and sore and the nurses were coming to me to ask what we could do to address this. I raised it with the consultants and by the very next day we had an ophthalmologist doing rounds and now they come in twice a week to take care of patients' eyes.

One positive of all this is that we've seen how quickly we can adapt and respond. Partly this has been helped by the fact that all the red tape and the whole 'we can't do that because…' has just gone away. Now it's 'how can we make this happen?'. And this is something I really hope we can hold onto.

I want to make sure that we take as much learning as we can from this. It will help us to be better prepared for the next time.
It's in their eyes
Listening to and looking out for my staff and patients has always been the most important part of my role, but even more so in this current situation. I'm in a constant state of heightened awareness, watching and listening and learning.
You can tell how someone is doing by their eyes
The fact that everyone is all geared up in PPE has made this more complicated because you can't see people's faces. But you can tell how someone is doing by their eyes. I make sure I look at people's eyes to see how they're coping so I can keep tabs on when someone needs a break and then make sure to catch up with them after and check they're OK.
Adapting to new pressures and emotions
I like to think of myself as a clinical matron anyway, but in this situation I definitely wanted to be as hands on as possible and be in there alongside my staff, experiencing what it's like. And I can tell you, it's been quite devastating.

Even for the most hardened intensive care nurse, walking onto a unit and seeing so many people who are that acutely sick is overwhelming. It's a very emotional response and every one of us has really struggled with it. We don't know the patient, and we don't even know them through their family in this circumstance. We've all found this really tough.

We're also struggling with changes to the level of day-to-day care we're able to provide. One of the things that has bothered my nurses the most is the increase in harms. We almost never see harms on intensive care. We always see very clean eyes, no mouth damage, hardly ever any pressure ulcers. This has changed due to patients having to be proned on their tummy a lot, and because of the stretched nurse to patient ratios; usually we work 1:1, but this has increased to 1:4 at our busiest.

This is out of our control, but I've had many nurses in tears because they're doing their very best in the situation but feel they can't give the standard of care they always normally aspire to.

It's my job to reassure them and say 'we know that you want your patients to be turned every two hours, but we can't do that right now, we know that and it's OK. It's not your fault'.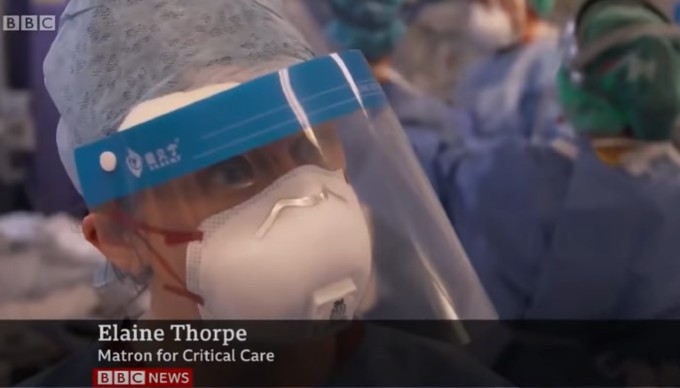 Elaine on a BBC News special COVID-19 programme filmed at UCLH. Watch full video.
Nursing guilt
There's a huge guilt for nurses around all of this, and it almost feels like a no-win situation. There's the guilt of not being here and then the guilt of being here but not being able to do your best.

Then on top of that there's the guilt about your family and loved ones. I was getting home so late that I decided to stay away from home two days a week, and then I felt guilty for not being at home. But when I'm at home I feel guilty for not being at work.

And on top of that, when we were in the thick of it and I was exhausted, both emotionally and physically, I convinced myself, irrationally, that I had COVID and that I was taking it home to my family. I just had it constantly in my mind that I was putting them at risk.
I don't like the word heroes; the nurses battling this crisis are real people who are working incredibly hard in extraordinary circumstances
Real people working really hard
I only dream of COVID. I wake up in the night thinking of COVID. All the nurses are the same, their minds are completely occupied by what's happening.

This is so hard, it's the hardest thing any of us have ever done. But it is a privilege to be there working with these amazing people and caring for patients who are suffering so terribly.

I don't like the word heroes; the nurses battling this crisis are real people who are working incredibly hard day and night in extraordinary circumstances.

I'm glad to be there experiencing it with them, but also to be doing everything I can to try and make things that bit better, for them and for our patients and families.