I currently work as a major trauma clinical practitioner. I helped to create this role and I love it. It involves supporting patients and their relatives following major accidents, many of which result in life-changing injuries.
Not long before the pandemic, in late 2019, I fell ill with a flu-like virus. I'd always been very fit and active – I ran three times a week and was training for a half marathon. I was always on the go, often out meeting friends, and when I was at home I'd be busy with gardening or DIY.
But I struggled to recover from this virus. I was later diagnosed with chronic fatigue syndrome and it took me seven months to return to work.
My long COVID has been unpredictable. My symptoms are different each day
By then, the COVID-19 pandemic had arrived. When I returned to work with an existing health condition, COVID levels were very high and staff were being moved to ICU to help out. I was asked to go to ICU, but I refused. I felt chronic fatigue made me vulnerable and worried how covid would affect me.
A few weeks later, I was on shift alone when a call came in that a patient under major trauma service had tested positive for COVID and the staff on the ward needed my help. My manager advised me I would need to see this patient. A few days later, in December 2020, I tested positive for COVID.
After about five days, chest pains began and by day 10 it felt like there was a huge weight on my chest and I struggled to lie down. As a typical nurse, I didn't want to go into hospital. Looking back, I should have gone.
Lasting symptoms
My symptoms continued. Initially, it was extreme fatigue, mild chest pain, palpitations, muscle aches, joint pain, abdominal pain, severe headaches, eye pain and blurred vision, as well problems with memory and concentration. I rested in my bedroom, as trying to walk upstairs to the toilet felt like I was climbing a mountain. If I had a bath, I would be too exhausted to get dressed and had to rest in my dressing gown until some energy returned.
Luckily, I'd been on a waiting list to access a chronic fatigue service and my first appointment came post-COVID
Luckily, I'd been on a waiting list to access a chronic fatigue service and my first appointment came post-COVID. They explained how I could pace myself, the importance of sleep, and suggested trying a gluten-free diet. They also explained that my symptoms were not a flare-up of chronic fatigue, but that I had long COVID alongside my existing chronic fatigue. This has been confirmed by my GP and the Occupational Health doctor.
I looked online for further help. But as COVID was so new there seemed to be nothing.
Instead, I watched YouTube videos about chronic fatigue. I learned about rating your energy levels in the morning and at night and documenting activities. This helped me pace myself.
I tried walking. My target was two-and-a-half minutes to a lamp post at the bottom of my street. When I reached it, I was so exhausted and my legs felt so heavy that I wasn't sure I'd make it back. I had to lie down for a couple of hours to recover. Gradually, I walked further.
Long COVID clinic
My GP referred me to the long covid clinic. I was still experiencing many symptoms. My muscle pains were so severe that I couldn't sleep through the night. My chest pain and palpitations forced me to A&E. My resting pulse was about 60bpm but would spike to 120-150bpm with activity. My brain fog and memory were very bad too.
My long COVID has been unpredictable. My symptoms are different each day. I pinned my hopes on the long COVID clinic. But I was severely disappointed. I felt they were only interested in breathlessness and fatigue. I was hoping for referrals for chest pain and other symptoms, but was told this was my GP's responsibility. I was told I would need an extended phased return to work. When I asked for letter for occupational health, but they could not provide this.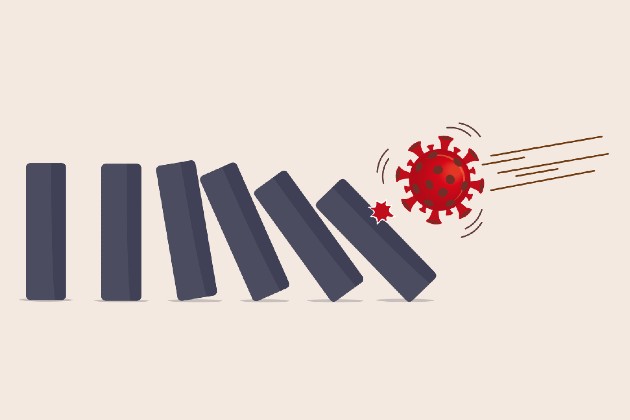 I walked away from that clinic feeling completely and utterly alone. I decided I would have to help myself.
I joined a Facebook support group but quickly realised this wasn't for me. Reading the stories of struggle made me feel hopeless. I knew for my mental health I would need to stay positive. I asked friends and family not to ask me how I was – telling people over and over that I still hadn't recovered was difficult.
Preserving energy
I tried health supplements and brain training games on my phone. At first, I couldn't do one minute before it made my symptoms worse, but gradually I increased the time. I got a cleaner and switched to online food shopping to preserve my energy.
Going from being such an active person to not being able to do basic things has been very difficult. I hate watching my husband struggle as he tries to work full time and do all the household tasks. I feel so guilty. I'm normally the one running round after others. The guilt has led me to do too much sometimes, leading to setbacks in my recovery.
I looked online for further help. But as COVID was so new there seemed to be nothing
My GP referred me to hydrotherapy, which allows you to exercise your muscles without supporting your entire body weight. I felt I was making good progress, but you only get six sessions. I decided I would try swimming and contacted my local gym. To my surprise, they told me they're running a free 12-week long COVID rehabilitation programme, led by a physiotherapist. They only take 10 people at a time but I'm hoping to get onto the next round.
I'm glad I found it, but it's frustrating: why is this not offered by hospitals to help staff recover and get back to work? We are all desperately looking for help.
Desperate to recover
I have now been off work eight months. I have made a lot of progress but I'm still not fit to return. I worry about the future. Work have told me my absence is having a massive impact on the service. They have been talking about redeployment. I love my job so much and the thought of not returning to it is so upsetting.
Feeling stressed about keeping my job is not helping my recovery. I used to run to relieve stress, but I don't even have that outlet anymore. I'm trying to meditate instead.
I am desperate to recover, to get back to being me and enjoying life again. But putting myself under pressure won't help.
Names and details have been changed to protect anonymity.