Health, safety and wellbeing topics
Find out more below about our current campaigns, activity and resources by clicking the boxes below.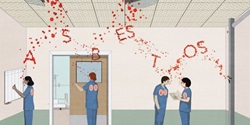 Our position statement on asbestos makes a number of calls on the Government, duty holders and employers including a call for the phased removal of all asbestos in health and social care premises, over a 40 year period.
You can also see our asbestos advice guide.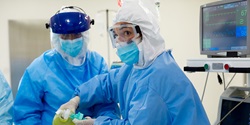 The RCN has developed a suite of resources on supporting members with Long COVID.
We are campaigning for the recognition of COVID-19 and Long COVID as an occupational disease and have developed resources to support members with Long COVID.
In collaboration with CAPA (COVID Airborne Protection Alliance group) and the British Occupational Hygiene Society (BOHS) the RCN has developed a COVID-19 workplace risk assessment toolkit to support members working in all health and care settings.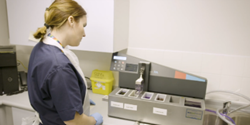 Hazardous medicinal products (HMPs) are used mainly in cancer treatment (e.g. chemotherapy), but also include antivirals, vaccines and immuno-suppressants, for treating such diseases as multiple sclerosis, psoriasis, rheumatoid arthritis, systemic lupus erythematosus (an auto-immune disease) and in organ transplant.
HMPs are medicinal products that can cause carcinogenic, mutagenic or reprotoxic (CMR) and other adverse effects to nursing staff who may be exposed to them in work (occupational exposure).
The RCN is developing guidance for RCN Representatives and members on managing the risks of working with HMPS. We are committed to influencing regulators such as the Health and Safety Executive and the Health and Safety Executive Northern Ireland to ensure UK guidance and information for employers is updated in line with current European legislation and includes clear details on what constitutes best practice.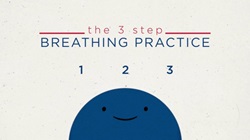 The RCN has developed a created a series of mindfulness based videos, entitled 'Time and Space'.
These videos have been created specifically for nursing staff, and each covers a different stage of your day, from starting your day to arriving home. Each video provides practical techniques which you can put into practice.
You can watch the videos on our Time and Space webpage.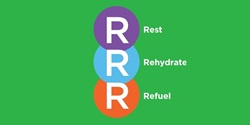 Our rest, rehydrate and refuel campaign encourages health and social care managers to ensure staff are taking their at-work breaks, are well hydrated and have access to nutritional food. We are also encouraging nursing staff to self-care and assert their right to a break.
The resources provide information, advice and tips about breaks at work, keeping hydrated and employers' responsibilities. You can also download posters to support and promote the campaign in your workplace.
Read our advice for RCN members on taking their breaks at work, including information on the employer's responsibility and why it is important to take breaks.
Resource for safety reps and managers
Information about making improvements to the workplace and the legal responsibilities for both employers and employees. It also includes tips and case studies to support the implementation of improvements.
Case studies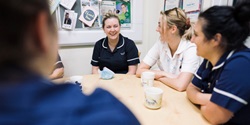 As a nursing professional it is important that you take the time to consider factors that impact upon your own health - this is known as self-care.
Self-care is the power we all hold as individuals to influence our level of wellbeing.
Choosing behaviours to balance the effects of physical and emotional stress supports you to engage positively with family, friends or colleagues, and deliver safe and compassionate care to your patients.
The information below aims to help you manage physical and emotional stress, recognise when you need to seek help and prevent you from reaching crisis point.
Completing the self assessment worksheet will allow you to gauge your current level of self-care. If you have any concerns about a lack of self-care or feel that you resist looking after yourself then we recommend you discuss this with someone you trust, or consult your GP. You can also set up an appointment with the RCN's counselling service if you are an RCN member.
My body
It is important to understand what your body does for you and how it enables you to carry out tasks.
In order to care for your body, you must maintain a balanced diet and healthy weight; hydrate; sleep; exercise regularly; attend to your body in times of ill-health and recognise when a task is too physically demanding.
My mind
Your mind is amazing. Every day it processes thousands of pieces of information and performs complex calculations. A healthy mind enables you to feel capable, confident and able to meet life's challenges.
Many factors can affect your mental health, including staff shortages, time pressures and caring for vulnerable patients. You may also be facing demands in your personal life such as a bereavement or financial problems.
Surviving and thriving is possible, in part, by taking action to care for your own mental health. Taking some time out to reflect on your wellbeing and state of mind can help you to focus on what your needs are and how to build your resilience.
My heart
Understanding our feelings is an essential part of living, so too is sharing them in a healthy way. Differentiating between feelings and naming them appropriately can help us understand ourselves better. The information which comes through feelings and emotions can guide our thinking and help us meet our emotional needs better.
Emotional self-care strategies include spending time with family and friends, giving yourself praise and showing self-compassion. Allow others to support you and confide in someone you trust.
My spirit
Spiritual self-care is very personal. It could be about seeking meaning or purpose in life; connecting with the present, self, others, nature or a higher power.
Your work will expose you to other people's suffering which may evoke sadness, moral distress and grief. Spiritual self-care can provide you with a different perspective on life's experiences, another way to understand suffering as part of a larger picture or a way to cherish optimism and hope.
My work
Work is the cornerstone of many people's lives. How we feel at work can influence our attitude towards the rest of life. If we are challenged to grow, learn and develop our skills then work can fuel a deep sense of fulfilment.
As a health care professional you may be motivated to meet the needs of others before yourself. Failure to recognise your own self-care can cause stress and depression, and ultimately affect the care you are able to provide your patients.
If the demands of work overwhelm you, consider what steps you can take to feel more supported.

My career
Believing that you have some degree of control over your career is one aspect of self-care. Take time to think about what is important to you, what you enjoy doing and what you are good at. Taking these steps can help you to identify want you want from your career.
My balance
Balance can be considered in terms of a flow of energy. Giving and receiving are important parts of that flow. It is important that you look after yourself and keep energy levels up in order to support those around you.
Achieving balance in life helps you to feel calm, clear-headed and motivated.
Take time to identify any areas you are neglecting and find a balance that works for you.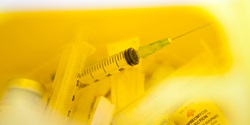 The RCN has a long history of campaigning for a reduction in sharps (needlestick) injuries in nursing staff and led the work that resulted in the Health and Safety (Sharps Injuries in Healthcare) Regulations coming into force.
Read our latest research on sharps injuries to nursing staff.
Our latest guidance on sharps injuries alongside a poster can be accessed here.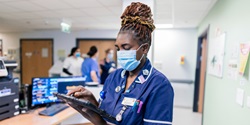 Work related stress, anxiety and depression is high in the nursing workforce. Excessive pressure, unsafe staffing and lack of support are frequently cited as causing work-related stress.
We are actively campaigning for better recognition of work related stress and work related suicide by the workforce safety regulator and for employers to effectively implement the Health and Safety Executive's/Health and Safety Executive Northern Ireland's Management Standards. We have developed resources for individuals, managers and RCN representatives.
We have developed a range of resources for individuals, managers and RCN representatives.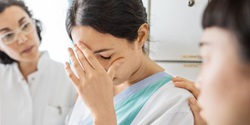 Work Related violence is a significant occupational hazard for nursing staff. Incidences of physical and verbal abuse remain stubbornly high in many settings both in the NHS and independent health and social care.
The RCN's position statement on work related violence sets out what action we want to see to address the risk. We have also developed a supplementary statement on the use of body worn cameras in health and social care settings.
The RCN works closely with external stakeholders system leads, policy makers and employers to address work related violence including the development and promotion of the Violence Reduction Standards.
You can also see our advice guide on violence in the workplace.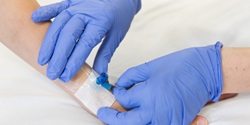 A cocktail of glove use, frequent hand washing and exposure to chemicals can put nursing staff at risk of work related dermatitis. An RCN survey on skin health revealed a high prevalence of skin problems in respondents including frequent dryness and itching.
The RCN's Tools of the Trade guidance and online Skin Health Toolkit provide information and support on tackling work related dermatitis in nursing.
Through our Glove Awareness campaign, the RCN is also calling for the appropriate selection and use of examination gloves in health and social care environments.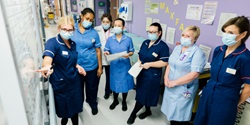 The RCN is a member of the NHS Staff Council's Health, Safety and Wellbeing Group and works in partnership with employers to raise standards of health and safety within the NHS.
The RCN is also a member of the Joint Unions in Prisons Alliance and the Safer Healthcare and Biosafety Network.