Introduction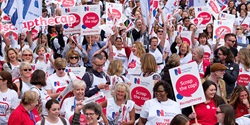 The RCN appreciates that members will have concerns around their professional registration, their employment and patient safety should you choose to take industrial action. Therefore, this guide aims to explain what industrial action involves, how it is initiated and organised, and how you can safely participate.

There is no positive right to strike in the United Kingdom or any of its crown dependencies (Guernsey, the Isle of Man and Jersey,) but there is a freedom to organise and participate in industrial action.

However, industrial action is heavily constrained by the law and new restrictions were introduced by the Trade Union Act 2016. Notwithstanding that, when negotiations with employers break down, industrial action is a last resort to ensure the best outcome for members.

It is vitally important that all your details are up to date in case you are balloted and called upon to take industrial action.

Please note the statutory requirements referred to in this guide are those that are in force in England and Scotland where the legislation is most onerous. The key differences that apply in Guernsey, the Isle of Man, Jersey, Northern Ireland and Wales are set out in Annex D.

Only if all statutory requirements are met, will the RCN be protected from being sued for inducing members to breach their contracts of employment by taking part in industrial action.

You can also download a PDF version of the handbook.
This publication contains information, advice and guidance to help members of the RCN. It is intended for use within the UK but readers are advised that practices may vary in each country and outside the UK. The information in this booklet has been compiled from professional sources, with particular thanks to Denise Kelly and Mike Travis, members of the RCN Trade Union Committee, but its accuracy is not guaranteed.
Whilst every effort has been made to ensure the RCN provides accurate and expert information and guidance, it is impossible to predict all the circumstances in which it may be used. Accordingly, the RCN shall not be liable to any person or entity with respect to any loss or damage caused or alleged to be caused directly or indirectly by what is contained in or left out of this website information and guidance.