It's OK not to be OK
Dissertations, placements and money worries can all take their toll on student nurses' mental health and, in some cases, have fatal consequences. For those struggling, it's important to talk
In May this year nursing student Daniel* took his own life. He was in the final year of his learning disability nursing degree.
The day following Daniel's memorial service, his friend Neil* posted on the RCN Students Facebook group. "He never left a note to explain and he never showed any sign of struggling or needing help," Neil said.
"Please, please, please talk to each other. We all know how tough a nursing degree is and all the added pressure that goes with it. We qualify this year and I'll try to be the nurse he wanted us to be. I'm writing this because I don't want to see other people going through this again."
Tragically, Daniel is not the only nursing student to feel he couldn't go on. In February last year, Liz de Oliveira's daughter Lucy, a second-year student nurse, took her own life following a period of depression.
Liz is now calling for universities, the NHS, the NMC and government to work together to help avoid more nursing students getting to crisis point.
"Lucy was working 12-hour shifts on placements in the NHS and also had a job in a restaurant and as a health care assistant in a care home to earn extra money," Liz says.
If she hadn't been so tired, she may have coped
"She would get back from the restaurant at 1am and wake up at 5am to go in on a shift. I know the students are trainees but they are still doing a job, an emotionally and physically exhausting job. They can be helping to care for patients in the aftermath of road traffic accidents, nursing babies on life-support and having to deal with the death of a patient.
"They should be able to study, work on paid placements, and that's it. We all know that when you're exhausted, as Lucy must have been when juggling three jobs, things can seem really hard. If she hadn't been so tired she may have coped."
Too scared to seek help
There needs to be a change in attitude towards mental health difficulties among nursing staff, Liz believes. Since Lucy's death, almost 100 people have contacted her saying they're afraid to speak to their managers or mentors about having anxiety and depression.
"They fear losing their jobs or being reprimanded by their bosses and then the professional regulator," says Liz. "We must move away from this outdated way of thinking about mental health. People who enter a caring profession may be prone to depression precisely because they do care and empathise, which is what makes them good at their job."
Breaking the silence is the first, crucial step
If you're struggling to cope, the RCN's counselling service can help arrange free, confidential telephone sessions.
"It's completely normal to have suicidal thoughts during times of stress," says counsellor Tanja Koch. "But if someone having these thoughts doesn't reach out then nobody can help. It's so important to talk about what you're feeling. There's support out there. But breaking that silence is the first, crucial step. It can be the difference between life and death."
*Some names have been changed
Lucy's story was shared by her mother, brother and best friends as part of a BBC3 documentary Death on Campus: Our Stories.
Get support from the RCN
Call 0345 772 6100 to make an appointment with the RCN Counselling Service. Lines are open between 8.30am and 8.30pm, seven days a week, 365 days a year. For urgent support outside these times, call the Samaritans on 116 123 or go to a GP out of hours service or A&E if you don't feel safe.
How to help students cope
Dr Debra Porteous
Senior nursing lecturer, Northumbria University
The student population is increasingly at risk of suicide. Data shared last autumn by the Institute for Public Policy Research found that a record 134 students killed themselves in 2015. Female students in particular have seen a striking rise with figures doubling between 2012 and 2016.
So, what is actually happening here? And what can we do about it?
We need to really look after our students as they come into higher education and ultimately move into the nursing profession – transitions that many really struggle with. There needs to be much more awareness of the challenges encountered and recognition of the support that students require.
Personal tutors and established peer support systems need to be in place to enable students to discuss concerns they may have. Higher education institutions need to develop clearer guidelines for staff concerning definitions and expectation of the role and duties of the academic staff.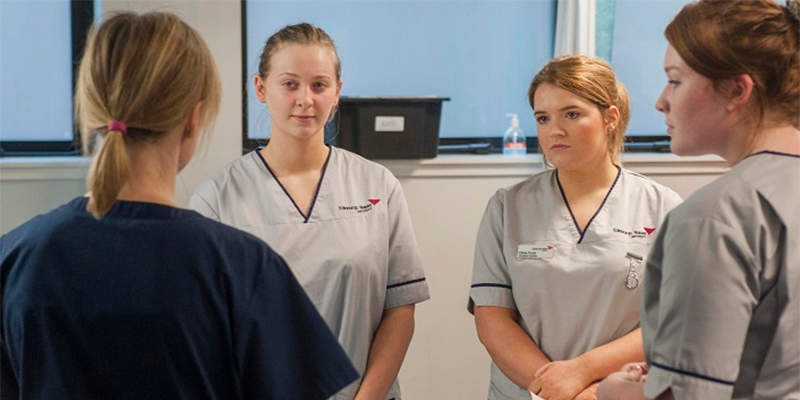 Every member of staff working in education and nursing practice has a responsibility to be acutely aware of and look out for early warning signs. If you notice a student demonstrating any signs of mental health issues then please make sure you raise it with the universities and personal tutors.
These infrastructures within higher education exist precisely to support students through difficulties. Making use of them to speak up about mental health concerns could ultimately save a life. Students also need to be aware of the support services that are available and how to access them.
If universities embrace a philosophy where inclusion and support is paramount, instigate a raft of support services available to students and provide education and training to academics to better support students, there is a high likelihood that emotionally vulnerable students will be able to achieve their academic goals.