Career planning might not come naturally to some nursing staff, but a new online resource hopes to inspire you to consider all the options
"We know many nursing staff approach their career progression in an ad hoc way, pursuing something because they happen to be there at the time," says Gill Coverdale, the RCN's Education, Learning and Development Lead.
"Not many sit down and create a two, five and 10-year plan. They're more likely to respond to opportunities as they arise. They might have a clear view that one day they want to be a ward manager, but may never have contemplated switching to a role in research or education."

This trend was noted by Lord Willis is his 2015 report, Raising the Bar, which called for a national career framework for the profession, including health care support workers.
"There was a view that we were losing people because they weren't seeing nursing as a lifelong career," explains Gill. "It was felt that a national career framework, similar to that within medicine, would help retention."

To address this, the RCN began working on a careers resource to support nursing staff thinking about their next moves, encouraging them to consider the full range of possibilities, including clinical, research, educational and leadership roles. After discussions with Health Education England (HEE), the two organisations joined forces to create a successful collaboration.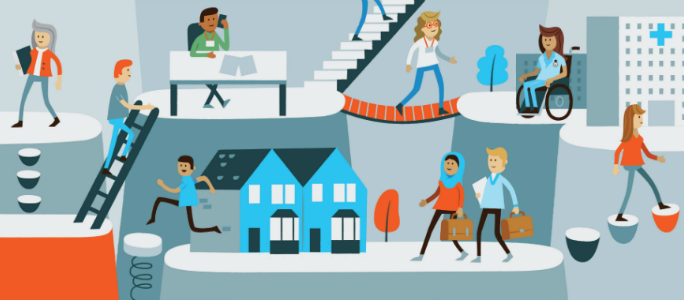 Finding what's right for you
Launched at RCN Congress in May, the interactive, online and UK-wide resource has been built around seven themes and includes case studies, podcasts and links to further information.
"Your personal characteristics inform choices presented to you," says Gill. "For instance, if you're thinking of a role in the community, it points out that you need to feel happy working independently, travelling to visit people in their own homes. But if you prefer working alongside others, a hospital setting may be a better option for you. It gives people an idea of what to expect."
There is also guidance for the clinical support workforce, including a scenario of a care assistant moving into a nursing associate role. "The resource helps individuals think about the different opportunities that are available and where they might go next," says Gill. This includes staying in a clinical role but possibly changing setting or field; moving into education - whether a university or within practice; research - whether clinical or academic; or leadership.

"It's encouraging people to think that staying in a hospital setting doing 12-hour shifts isn't their only choice, if they're not happy there," Gill says. "We know that people become tired and there's not always enough flexibility in clinical roles. But there are many other options that mean they don't have to leave nursing. We hope it inspires people to think differently."
Inspiring and informing
What makes the resource unique is the breadth of opportunities it presents, alongside the many routes to achieving them. "You don't have to know where you want to move or progress to, to use this resource," says senior nurse in professional development Danielle Fullwood, who led the project at HEE. "It allows you to peruse a number of career routes."
She believes the resource's many films and podcasts, which illustrate people in different roles and detail how they got there, will prove inspirational. "I'm a senior nurse with 20 years' experience, but there are many roles I don't have experience of and wouldn't know how to develop into," says Danielle.

So far, the resource includes 18 personas, depicting the most commonly searched items on career advice sites. "It's the first phase of a much bigger project," explains Danielle. "There are so many other roles and career journeys to illustrate and we'll be focusing on these in the future."
To watch this video and the many others available, visit the Nursing Careers Resource pages.
A useful resource for everyone
Among those who have been involved in piloting the resource is Monica Jose, who responded to an RCN tweet asking for volunteers.

"I'm a very active RCN member and I try and keep up to date with everything that's happening," says Monica, who qualified as a nurse in the Philippines and now works on a ward caring for older people at the Queen's Medical Centre in Nottingham.
One of the big career problems is getting stuck in a role that doesn't satisfy you anymore
Overall, her verdict is that it's a very useful resource for everyone at all stages of their nursing career, whether just starting out as a student or with many years of experience, but looking for the next move.

"It's very easy and straightforward to use and there's no jargon," says Monica. "It's also quick to find out exactly what you need."

She will be recommending it to students, colleagues and anyone who is interested in finding out more about becoming a nurse.

"It's a decision-making tool that will help you plan your future steps," she says. "One of the big career problems is getting stuck in a role that doesn't satisfy you anymore. If you're happy where you are that's fine, but sometimes you need to have your eyes opened to what other opportunities are available."
Find out more
Look through the careers resource and start planning your career progression.

RCN members also have access to up to three telephone career coaching sessions in a six-month period. Coaches can help you reflect on your current situation; identify your talents, strengths, values and priorities; and discuss your next steps. Find out more about the RCN's career coaching.

For more information and guidance regarding your career, including details of forthcoming RCN Bulletin jobs fairs, visit the RCN's careers pages.
Words by Lynne Pearce