How one care home manager has kept her residents clear of coronavirus
As cases of COVID-19 surge across the UK, care homes continue to face huge challenges as they strive to keep residents safe. Despite this, there are still what you might cautiously call success stories – those of care homes that have managed to remain free of the deathly virus.

One of these is Harborne Lane Specialist Care Centre, a 68-bed nursing home in Selly Oak, Birmingham, which has so far reported no cases of COVID-19 among its residents.

Nurse Alison Mulligan is the care home manager. "The home has three units," she explains. "A memory suite for dementia patients, a general nursing unit, and a younger adults unit for residents with acquired brain injuries and some mental health issues.

"There are some residents who present with behaviours that can challenge, which makes infection control especially difficult. But we've tried to stay one step ahead all the time, and we're not taking anything for granted or letting our guard down."
When news broke of a new SARS-type virus, I was immediately thinking about the potential issues from an infection control perspective

It's that anticipatory approach that has been instrumental in the home's response to the virus, which makes sense when you learn what Alison did before moving into care home nursing.

"I spent two years working as an infection control nurse specialist at Worcestershire Acute Hospitals NHS Trust and studied leadership in infection control at Warwick University between 2008 and 2010," she explains.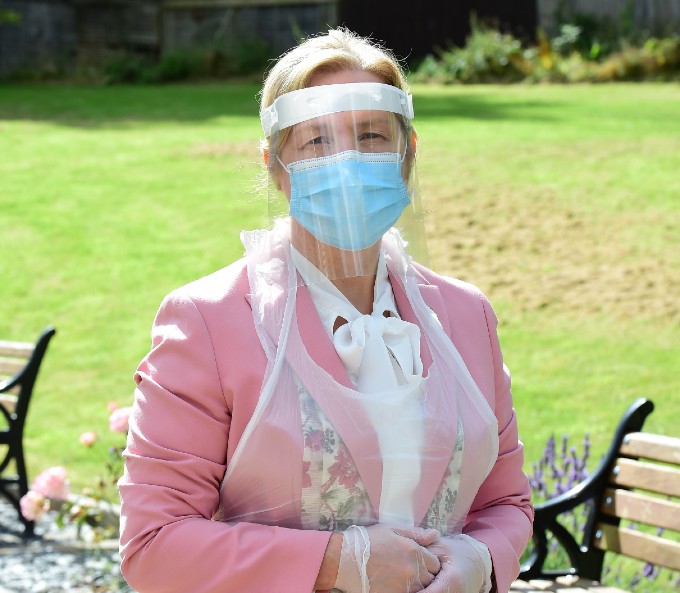 Above: Alison quickly brought in thorough infection control measures to protect residents and staff
"When news broke of a new SARS-type virus appearing in China, I was immediately thinking about the potential issues from an infection control perspective. When the first cases began appearing in the UK in January, my primary thought was about what we needed to do to keep the residents safe.

"I followed the basic principles I had learnt from my time working in infection control, which really helped me look at, and understand, the bigger picture and wider implications. I used my understanding of pathogens and how they spread to develop a plan of action."
Bold decisions
Way before any official guidance was issued to care homes, Alison provided additional training to staff at the home to improve their knowledge base around infections and infection control. In February, she took the bold decision to suspend visiting and lock down the home.

"That was the hardest point, but we wrote to all the relatives to explain the situation and why we were making the decisions we were making," she says. "Initially, some relatives would still turn up to visit but eventually they came to understand our reasoning, especially as the virus spread more rapidly across the country."
It felt like the home was moving faster than the government, but what they did has proven to be the right decision

Relatives get regular updates and are allowed in to visit for end-of-life circumstances, and on the whole have been supportive of the actions taken by the home.

Les Evans-Flavell's wife Valerie, who is living with dementia, is a resident at Harborne Lane. "Initially, it was a bit of a shock when they closed the home, but I had a sense of what was coming," he says.

"It felt like the home was moving faster than the government, but what they did has proven to be the right decision. If it wasn't for Alison's actions, I don't know what would have happened."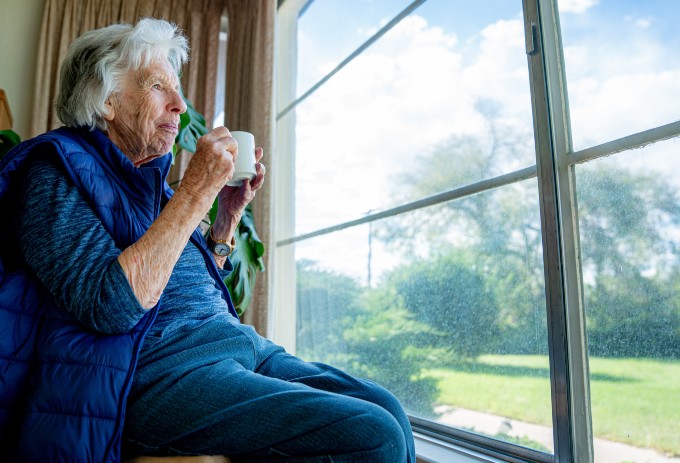 Above: stock image of care home resident during lockdown
Nevertheless, being separated from Valerie hasn't been easy. "It's been hard, but I would rather that than the possible alternative. Infection control is vital, and I'm prepared to follow what they're doing to keep her and everyone else safe," Les says.
"The residents themselves have obviously been sad about not being able to see their loved ones," adds Alison, "but they have put their trust in us to keep them safe."

The home did allow outdoor visits structured in line with government guidelines for around six weeks, but after a sharp increase in infection rates in the local community, Alison closed the home to visitors on 3 August. A week later, the local authority issued official guidance to close care homes to visitors, and that guidance is still in place.

The home is still exploring all options to enable visits and has been asking some nursing unit residents if they want to move downstairs, which would allow them to see visitors through the windows eventually.
Taking nothing for granted
Alison, who moved into the home for a couple of months with a few other members of staff, puts the home's achievements down to improving staff knowledge and training, introducing and implementing clear plans and systems, and making sure everyone works together as a team.

"There are action plans for everything, which we're constantly evolving and updating," says Alison. "We started implementing new infection control processes for staff back in March. When staff enter the home, they leave their outdoor shoes in a designated area in reception, where they also wash their hands. They then have their temperature taken and put their mask on before they go into the home proper.
"The home has two lifts, one of which has been designated 'dirty' for infection control purposes and is used when staff come into the home to go to the changing rooms and get into their uniforms, and when they have finished their shift and are leaving. The 'clean' lift is used for the transfer of food and clean linen to go to their designated unit.

"Uniforms are washed on site and clean scrubs are always available, as are staff showers. Cleaning has been increased and we've also socially distanced the residents as best we can."
The residents have been sad about not being able to see their loved ones, but they have put their trust in us to keep them safe

While before COVID-19 staff would move from unit to unit as required, each member of staff is now allocated to one unit where they stay for the entirety of their shift.

Alison says: "We've established a 'safe' area for staff who have been assessed as at high risk of suffering severe health issues if they contract coronavirus, and have moved staff around if they're high risk or don't want to work in any of the units. It has been challenging for them, but once they saw it was working, they have been happy to adhere to the new systems.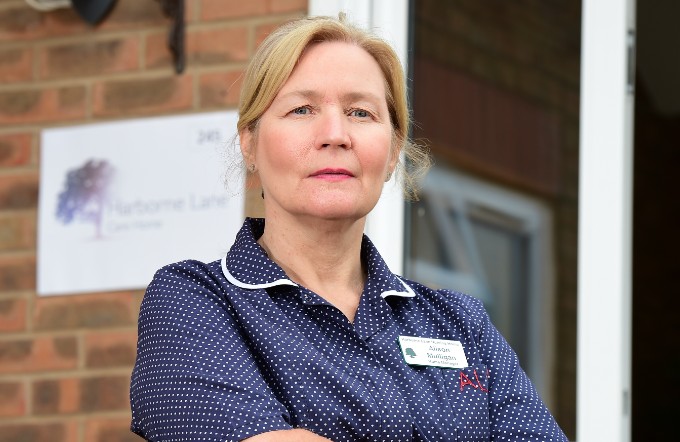 Above: Alison stands at the entrance to Harborne Lane
"The team has adapted brilliantly. Thankfully we've managed to keep our sense of humour and fun, which has really kept us going. If I was to give any advice to care home managers, it would be to work closely with your team and to get them to buy into what you're doing, because you've got to take them with you. You can't do it without them."

But Alison is rightly cautious: "We're constantly working to improve and have used the government grant to install a handwashing area in reception and a bio-secure sign-in system for staff to minimise infection risk.

"We are keeping to the guidelines and being consistent with staff and residents about the rules. It has been a success in that we have managed to achieve our goal so far. But this isn't over."
Words by Matthew Thorpe. Pictures by Steve Baker.