Nurse of the Year Winners 2019
Congratulations to all our winners and runners up at the 2019 RCN Wales Nurse of the Year Awards.      In our eighth year we have once again seen the best and brightest talents in the Welsh nursing family!
In a glittering award ceremony at City Hall, Cardiff, on Wednesday 13 November 2019, we celebrated the outstanding achievements of our award finalists, including their positive influence on best nursing practice and improving the care given to individuals and communities in Wales. Read on to find out about the inspiring work our 2019 winners and runners up were nominated for.
RCN Wales Nurse of the Year 2019
Sponsored by Velindre University NHS Trust

Jean Saunders is named RCN Wales Nurse of the Year 2019!

Jean, who is employed by Swansea Bay University Health Board, supports and enables asylum seekers in her care. She is their advocate and fights passionately for their rights; her determination has made a significant difference to individuals, improving their care and ability to have a positive and safe life by enabling them to make informed choices and decisions. She has raised the profile and plight of asylum seekers and fights for equality in their care.

Jean carried out research and collected statistics in order to evaluate services for asylum seekers then used the data to influence health policy and improve services for this client group.

Through effective leadership, Jean has been able to build a strong, competent, autonomous team to support and empower asylum seekers to become more confident and resilient. One of the many asylum seekers whose life was changed by Jean said, "I ran away to find freedom, to a country I did not know and a system I did not understand. You need someone like Jean to guide and help you. Wales is my home now. Thank you."

Helen Whyley, Director, RCN Wales, said: "Jean is a great role model for nurses and nursing in Wales. She advocates for asylum seekers and has been extremely effective in improving services for them. Jean exudes passion, commitment and dedication within a challenging area of practice and overcomes any challenges by thinking of alternatives to improve their experience and quality of life. She is an inspiring leader to her team and all nurses. We are so pleased to have such a passionate, dedicated and skilled nurse as RCN Wales Nurse of the Year 2019."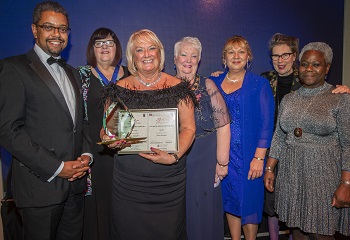 Jean Saunders (third from left), pictured with (from left), Vaughan Gething AM, Minister for Health and Social Services, Professor Donna Mead OBE, CStJ, FRCN, Chair of Velindre University NHS Trust, Gaynor Jones MBE, Chair of RCN Wales Board (pictured right of Jean), Helen Whyley, Director, RCN Wales, Professor Anne Marie Rafferty CBE, FRCN, RCN President, and Dame Donna Kinnair, Chief Executive and General Secretary, Royal College of Nursing.
Check out some of the photos from the 2019 award ceremony by downloading our Commemorative Booklet here
Page last updated - 08/11/2020