The Voice of Nursing: How
Over the last one hundred years the RCN has played an essential role in nursing education, improving standards and providing ongoing training.
By the 1930s more than 6,000 nurses were attending our courses and lectures each year.
However reforms were still needed in the education of new nurses; at this time only 50 out of every 100 completed their training. There were suggestions that Victorian style discipline and restrictions such as being fined for staying out late were off-putting. Trainees also worked long hours and were often treated as cheap labour.

"The Preliminary Training School [of] Birmingham General Hospital was an old convent. We all had our own room but they were cells and there was just room enough for a bed, no bedside table or anything like that. A little tiny dressing table at the far end on which there was a notice 'no more than six items to be placed on this furniture'. The bed was horsehair and it had got a great lump in the middle where countless other nurses had slept. I'll never forget it."

Christine Chapman
Started her training in 1946; taken from interview 26 March 2008
The RCN's first degree programmes, a BSc in Nursing Studies and a BA in Nursing Education, were offered in 1987.
These followed degree programmes at the Universities of Edinburgh and Manchester, established by 1970. As the health service expanded, a new caring role emerged to work alongside nurses: the Health Care Assistant (HCA). From 2001 they became a part of our membership.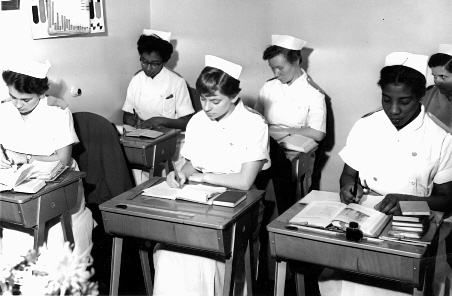 In 1976 the RCN became a Trade Union following significant work to improve pay and working conditions.
Between 1955 and 1960 nurses' wages had fallen to 60 per cent of the national average salary. In 1969 the Raise the Roof Campaign led to the largest single increase in salary in the history of nursing: 20 per cent a year.

"I have made no secret of my objective: bring nurses and nursing more openly into politics. It is only by fighting and winning battles over resources, organisation and policy in the public arena that we can avoid those conflicts intruding into the private and personal relationships that individual nurses must have with the people they serve."

Trevor Clay
Nurses: Power and Politics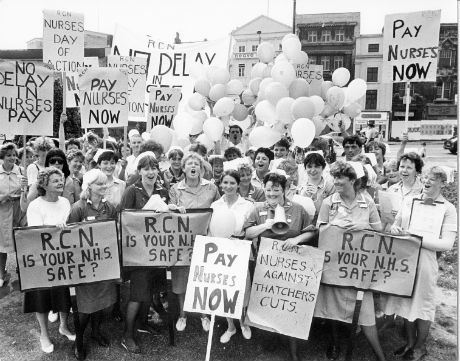 Nurses campaigning for better pay and working conditions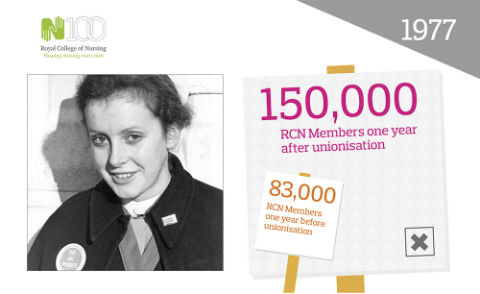 Page last updated - 03/08/2019