The Voice of Nursing: Now
Since we were set up by a group of hospital matrons, the Royal College of Nursing has seen great changes. Today we are an influential nursing community where equality, diversity, human rights and inclusion and fundamental to nursing care.
Now in 2016, we have more than 425,000 RCN members living and working across the UK.
As early as 1919, the RCN made a significant impact on government policy with the passing of the Nurses' Act, which established a register for nurses for the first time. Today our parliamentary work continues to raise awareness among politicians about our members' concerns. We influence political decision-making and legislation, striving to get a better deal for health care professionals and to improve patient care.
Recent campaigns include RCN Scotland's Nursing at the Edge
Nursing at the Edge is tackling inequalities in health care. Meanwhile RCN Wales' campaign Time to Care 2016 demands that patients are given a high quality of care and treated with dignity.
"For me, it's a clear and fundamental truth that high-quality safe patient care is primarily achieved through collectively securing better working conditions for nurses and health care support workers. Our role as the RCN is to amplify the Voice of Nursing."
Cecilia Anim
RCN President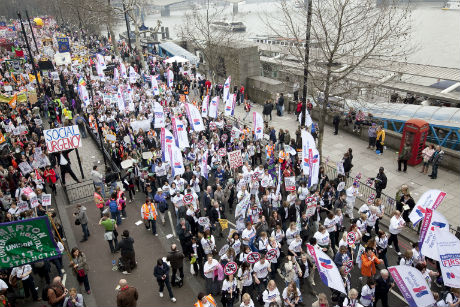 March for the Alternative, 2011
It takes a remarkable person to be a nurse.
Our members deliver babies, nurse the sick and wounded and look after those nearing the end of their lives. They work in the most challenging environments imaginable from disaster zones and battlegrounds to the unpredictability of the accident and emergency department. Whatever the circumstances, ensuring the wellbeing of patients is their priority.

"I'm looking forward to building on the strengths of the RCN, which are our members, of course - they are our greatest strength. There is so much expertise out there. I'd like to see more getting involved in the work we do in all areas of nursing - be it our professional forums, clinical research or becoming active as a trade unionist. We are strong in numbers but I want us to be strong in actions."

Janet Davies
RCN Chief Executive and General Secretary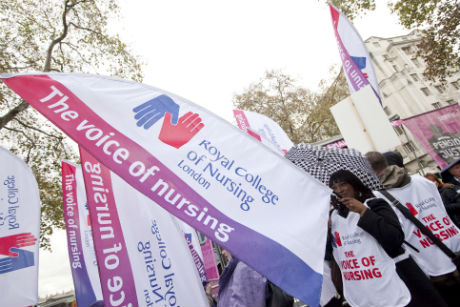 Day of Action, 2011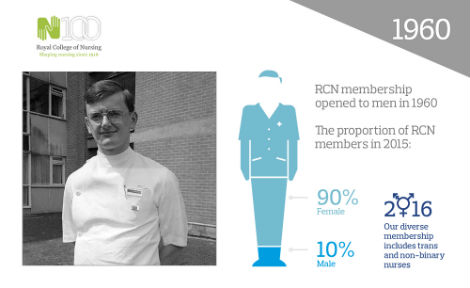 Page last updated - 03/08/2019