The Voice of Nursing: Then
The First World War led to a hugely increased demand for nurses. At this time nursing training was unregulated and any hospital could establish a training school and set its own standards. In addition, thousands of ordinary women volunteered to help the war effort in the Voluntary Aid Detachments (VADs).
The lack of standards meant there was a lot of uncertainty about the future of nursing after the war.
Many trained nurses were concerned for their profession. Sarah Swift, the most senior nurse in charge of deploying the wartime nursing workforce, decided to take action and joined forces with politician Arthur Stanley to propose a College for Nurses. It was a shrewd move to make the demand during wartime when nurses had the full support of a grateful nation.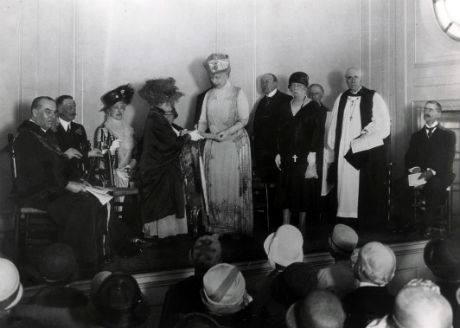 Patron Queen Mary was a keen supporter of the professional status of women and opened the new College building on 31 May 1926. She is shown here handing a scroll to founder Dame Sarah Swift.
In 1916 the College of Nursing was established.
Education and training were at the heart of our activities. We also had other important goals: to speak up for nurses to protect their interests and well-being and to provide nursing with professional status through registration.
Despite the key role of men on the council, male nurses couldn't join the College until 1960.
Over time our College has become more inclusive, to ultimately become the Voice of Nursing.

"Oh yes, we (men) were still sort of, to some degree, prejudiced against because I mean discrimination has evolved. Then when the GNC put us on the supplementary register so that was the beginning and the Royal College of Nursing ultimately allowed us into the College… Being a nurse made me a better person, this made me a better father, a better husband, I hope, a better person all round."

Mr Elwyn Jones

"I was amazed to see trees didn't have any leaves because I thought oh my god, I thought they were all dead but obviously I was told it was winter. I had never seen snow on the ground apart from the top of Mount Kenya when I was a boy. There wasn't a single Kenyan in the hospital, I was the only Kenyan."

Steve Kimatta, 1965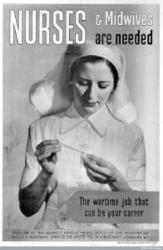 'Nurses & Midwives are needed' Second World War nursing recruitment poster
Image: Wellcome Library London
By the summer of 1916, the RCN had created offices in London and Edinburgh and had members across Britain and Ireland.
Targeted overseas recruitment of nurses began in the 1930s but demands for health workers were significantly increased when the National Health Service was formed in 1948.
Page last updated - 03/08/2019