Children and Young People: Medicines Management
Use this guide to find information resources related to medicines management in children and young people including books, reports and journal articles.
Key Resources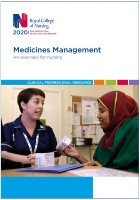 Royal College of Nursing (2020) Medicines management: an overview for nursing. London: RCN.
BNF for children
Department of Health and Department for Education and Skills (2004) National Service Framework for Children, Young People and Maternity Services: medicines for children and young people. London: DH.
Royal Pharmaceutical Society (2018) Professional guidance on the safe and secure handling of medicines (SSHM). London: RPS.
We would like to thank the RCN CYP Professional Issues member community for their input into the development of this subject guide.
Books
Book subject searches
Journal articles
Use these links for details of journal articles on each topic.
Journals
Journals of interest for children and young people medicines optimisation. Use these links to see details of availability.
This subject guide relates to:
Upcoming events relating to this subject guide
15 Jul 2022

Online

This morning seminar aims to increase awareness of ACE's and the related trauma and impact, immediate, short term and across a life time, develop skills to recognise ACE's, and develop your knowledge of support services available. This event is suitable for all members of the nursing team: registered nurses, Health Care Support Workers/ Health Care Assistants, and nursing students working in the NHS or Independent Health & Social Care Sector.  

17 Aug 2022

London

The popular RCN School Nurses Conference returns this August. Book today to secure your place. 
Page last updated - 06/06/2022