"Diabetes is a common condition affecting all aspects of an individual's life. Associated complications can be costly and have a significant effect on the person's quality of life. With the help and support of nursing staff the condition can be managed. Self-management skills are an essential part of diabetes care for every patient." (RCN, 2012, Diabetes essentials). Use this guide to find information resources about diabetes including books, reports and journal articles.
Key Resources
Royal College of Nursing (2021) Advanced preparation of insulin syringes for adult patients to administer at home. London: RCN.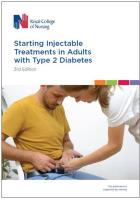 Royal College of Nursing (2019) Starting injectable treatments in adults with type 2 diabetes. 3rd edn. London: RCN.
RCN and RCNi Diabetes essentials
This resource is designed to provide an overview of the core concepts of diabetes, diagnosis and current treatments, your role and responsibilities in regard to treating people living with diabetes.
View page
Diabetes UK: resources to improve care
Resources and tools to help healthcare professionals and commissioners improve diabetes care.
View page
Hawkes R E, Cameron E, Cotterill S, Bower P and French D P (2020) The NHS diabetes prevention programme: an observational study of service delivery and patient experience, BMC health services research, 20(1), pp. 1098-1098.
International Diabetes Foundation: IDF Diabetes Atlas
Detailed information on the estimated and projected prevalence of diabetes, globally, by region, country and territory.
View page
Scottish Government (2021) Diabetes care: diabetes improvement plan. Edinburgh: Scottish Government.
Scottish Government (2018) A healthier future; framework for the prevention, early detection and early Intervention of type 2 diabetes. Edinburgh: Scottish Government
Valabhji J, Barron E, Bradley D and others (2020) Early outcomes from the English National Health Service diabetes prevention programme, Diabetes Care, 43(1), pp. 152-160.
World Health Organization: Diabetes
We would like to thank the RCN Diabetes member community for their input into the development of this subject guide.
Books
Book subject searches
Journal articles
Use these links for details of journal articles on each topic.

Journals
Journals of interest for diabetes. Use these links to see details of availability.
This subject guide relates to:

Alan Chalkley
Editor of this guide
RCN Library and Archive Service
Page last updated - 14/06/2022