For Queen and Country: Nursing, Trauma and War
Traumatic injuries and disease are an inevitable threat in war. Over the centuries, each conflict has provided a unique injury pattern and nursing the wounded has been shaped by the evolution of weaponry. Yet throughout history more military personnel have been admitted to hospital due to disease than trauma.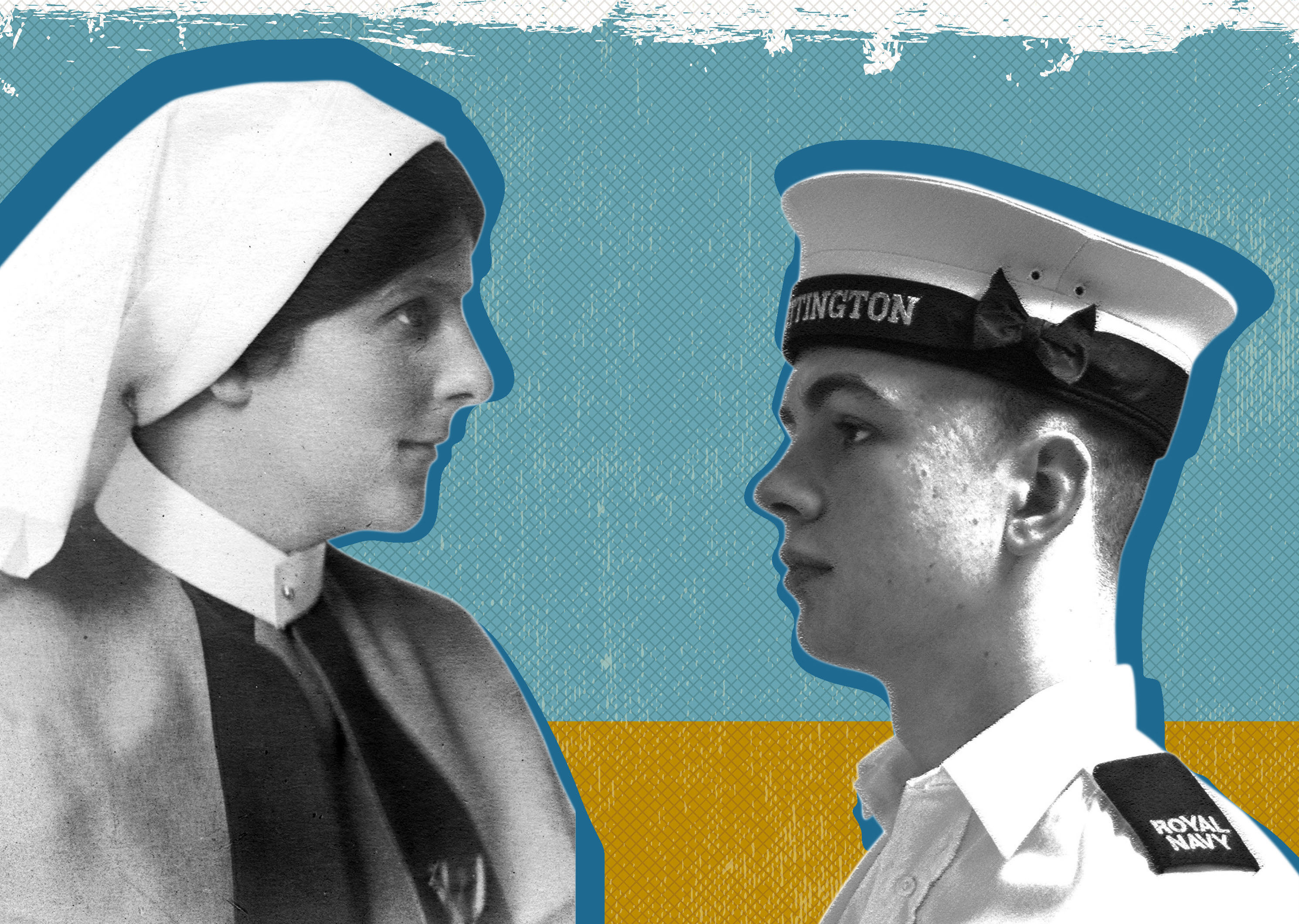 Nurse Ruth Robinson, QAIMNS (Reserve), 1914 - 1918 and Naval Nursing Student Jonah Bateson, 2016.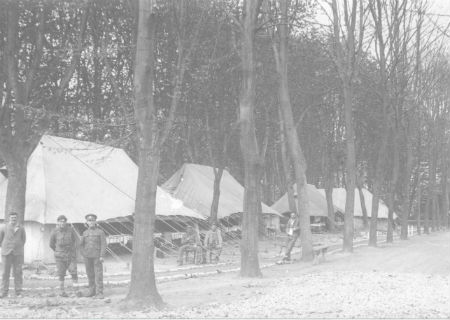 Casualty clearing station, c1917. Nurse Hilda Hand took this photograph during the First World War. The location is unknown, however Hilda worked in France and Belgium at this time.

First World War nursing care began at casualty clearing stations, before the wounded were sent through a lengthy evacuation chain. The journey from the battlefield to base hospitals and back to Britain resulted in large numbers of avoidable deaths and injuries, and it was soon learned that early intervention could save lives.
By the Second World War, nurses of the British Armed Forces were sent into battle zones to provide expert care for troops. By the time of the Iraq and Afghanistan conflicts, nurses, medics and advanced surgical teams were posted close to areas of operation. Rapid aeromedical evacuation has sped up the nursing care for reconstructive surgical procedures, prosthesis and rehabilitation.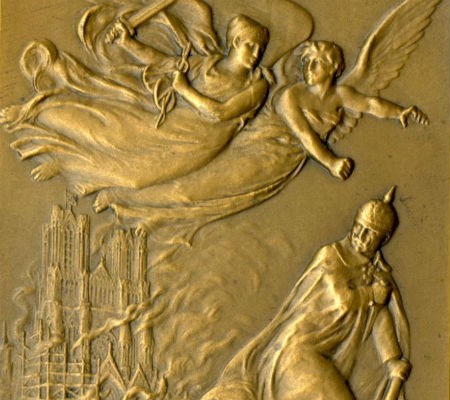 Detail of plaque awarded to Nurse Cathlin DuSautoy, 1921. This unusual brass plaque was awarded to Cathlin for her organisation of a District Nursing Service in Reims, France. It shows the figures of Justice and Marianne pursuing a German soldier, with Reims Cathedral engulfed in flames.
Protection from global disease is central to defence nursing, from the Crimean War in the 1850s when troops died from cholera, typhoid, dysentery and exposure, to the Ebola outbreak in Sierra Leone in 2014. It was Florence Nightingale who discovered that diet and poor hygiene killed more soldiers than the battles themselves.
More recently, norovirus outbreaks in the Gulf War in 1991 and Afghanistan in 2002 and gastroenteritis in Iraq 2003 all led to sick and debilitated troops. Disease prevention and health promotion is a key role undertaken by nurses.
For military patients evacuated from Afghanistan to the UK, often their last memory on waking was prior to their injury. Nurses initiated a patient diary to help them understand what happened whilst they were unwell. The diary was started in Camp Bastion hospital by the bedside nurse and followed the patient through their critical care journey. The nurses wrote directly to the patient and encouraged families and friends to contribute. Once the patient was well enough, they could read the diary and gain an understanding of their critical care experiences.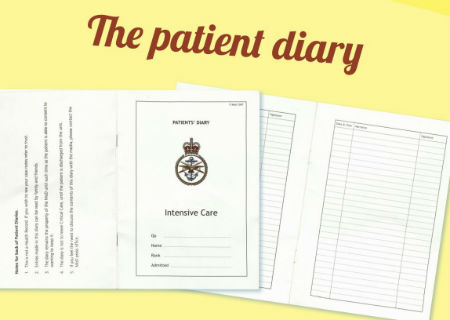 The patient diary initiative has been shown to reduce the incidence of depression, anxiety and PTSD in injured service personnel.


Pain is a complex phenomenon. It is can be felt physically, psychologically and socially. Understanding military culture, injury patterns and innovative pain management strategies are central to the work of the defence nurse. Nurses specialising in pain management have only been in acute hospital settings since 1990, yet the understanding and skill set of these teams has led to award-winning nurse-led pain management services within Defence nursing.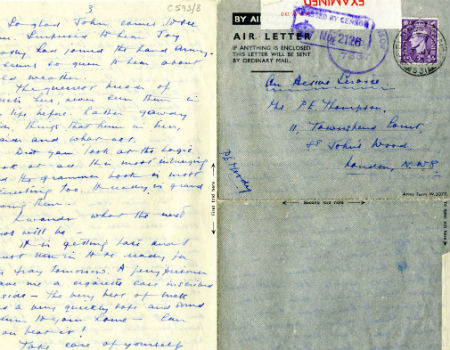 Blueys sent by Pat Moody, c1943. In her letters to friends and family, Pat talks openly and comically about her wartime nursing experiences. Her descriptive writing tells us a lot about what it was like to be a nurse in the Mediterranean at that time.
Interview quote, 2015
When you're working and living in such close proximity to people, you form strong friendships very quickly but you can also fall out. There's an unspoken memorandum of understanding though. We all know why we're there. We all volunteered for it. You don't complain.
Living and working on operational duty is unique. During operations nurses have limited contact with the outside world, including families and friends. Receiving a letter or parcel, or communicating back home is a precious contact with the outside world. Families and friends of serving personnel have contacted their loved ones via 'air letters', later known as 'Blueys', since the Second World War.
Laughter and comradery is an important way to relieve the realities of war. Healthcare professionals are often said to have a 'black humour' used to relieve stress and raise spirits. Maintaining cheerfulness in the face of war has long been an important part of care during conflict. Through the First and Second World Wars, nurses were in a unique position to be able to boost patient morale, by reading letters to them and helping them write to their loved ones.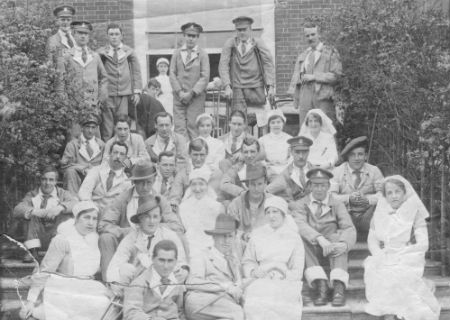 Nursing staff and patients outside Clandon Park Hospital, 1916. This auxiliary military hospital began life as a stately home in Surrey. It was converted for use as a hospital to receive casualties direct from ports during the First World War.
Rehabilitation is a vital component of the patient journey. Many conflict injuries are rarely seen in civilian practice and provide a challenge for nurses and medical teams to innovate novel medical interventions, particularly within the field of rehabilitation. Modern facilities such as the Royal Centre for Defence Medicine at the Queen Elizabeth Hospital Birmingham continue to innovate. Advancements in prosthetics have also given service personnel new chances in life.
Physical and mental health injuries caused during conflict can have lasting impacts that endure for many years. As the evolution of warfare presents new health challenges, nursing teams have advanced to deliver specialised and innovative care for troops. Nurses working in the military, NHS and charities continue to provide care long after the operation is over.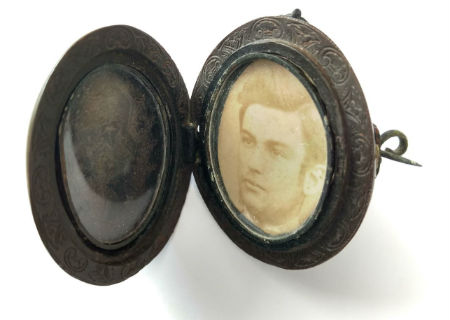 Wooden locket made by a patient for Nurse Evelyn Clemow, c1916. It was not uncommon for patients to thank their nurses by way of a gift. This locket made for Evelyn contains a photo of an unknown acquaintance; the locket maker himself perhaps, or a family member or lover.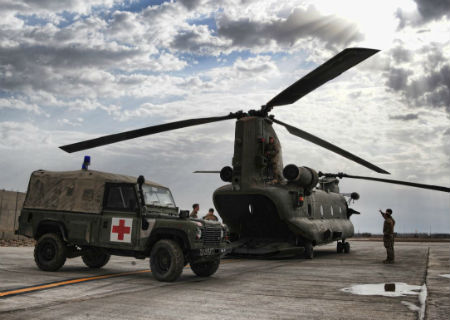 An ambulance waits to receive a casualty from a Chinook helicopter at Camp Bastion, Afghanistan, 2012. Image Crown Copyright 2016.