Explore
RCN Events video on demand: Exploring quality of life for patients with leg ulcers: are we missing a vital piece of the jigsaw?
Dr Julie Green, Chair of the RCN District and Community Nursing Forum, focusses on person-centred care linked to chronic venous leg ulcer care. The principles presented can be applied to all person-centred care. Register online for free access to this video.
Open RCNevents.tv
Nursing History Collection
Baly M (1987) A history of the Queen's Nursing Institute, London: Croom Helm.
Cohen S (2010) The district nurse, Oxford: Shire.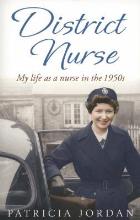 Jordan P (2012) District nurse: my life as a nurse in the 1950s, London: Orion.
Morrison C (2017) Hebridean heroines: twentieth century Queen's Nurses (1940s-1970s), Laxay, Isle of Lewis: Islands Book Trust.

Sweet H (2012) Community nursing and primary healthcare in twentieth-century Britain, London: Routledge.
Special collections
Our Permanent Collection consists of nursing specific core items and rare items. It is viewable by appointment at the RCN Library and Heritage Centre. Here is a small selection of items from our collection.
Baly M, Robottom B and Clark J (1987) District nursing (2nd edition), London: Heinemann.
Handbook for Queen's Nurses (1924), London: The Scientific Press.
Loane M (1905) Outlines of routine in district nursing, London: The Scientific Press.
Stocks M (1960) A hundred years of district nursing, London: Allen and Unwin.
Archives
The RCN Archive contains some of the most important collections dedicated to the history of the nursing profession in the UK. Visitors by appointment in Edinburgh.
QNIS
The RCN Archives hold the organisational records of the Queen Victoria's Institute of District Nursing Scottish branch, which subsequently became the Queens Nursing Institute, Scotland (QNIS). These range from 1889-2015 and extend to almost 8m of records. (Collection reference: QNI).
Oral histories
Dr Rona Dougall, Perceptions of change: an oral history of District Nursing in Scotland, 1940-1999, (reference T/QNI).

Dr Catherine Morrison, for her PhD thesis of 2013, District Nursing on the Isle of Lewis covering the 1930s to 80s in 20 interviews (reference T/IOL).

Frances Trees project (reference T/EUR), The History of Nursing in an English Urban Region from 1919.

Dr Helen Sweet, 28 interviews with district nurses from England and Wales (references from T/219-378).

The oral archives of the RCN also contain many other district nurse interviews (reference T).
Photographs
Our photographic collections include district nursing (reference P/26) and show nurses at work visiting all areas by different means of transport. The collection focuses mainly on the twentieth century up to the 1980s.