Key Resources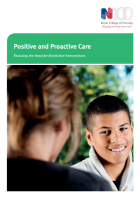 Royal College of Nursing (2016) Positive and proactive care: reducing the need for restrictive interventions, London: RCN.
Royal College of Nursing (2017) Supporting nursing staff caring for patients from places of detention, London: RCN.
National Offender Management Service (2014) Prisons and probation guidance. Healthcare for offenders. How offender healthcare is managed in prisons and in the community.
National Offender Management Service and NHS England (2015) Working with personality disordered offenders: a practitioner's guide.
Nursing in Justice
HM Chief Inspector of Prisons for England and Wales (2017) The Annual report of HM Chief Inspector of prisons from 1 April 2016 to 31 March 2017, London: HMIP

Howard League for Penal Reform (2017) Preventing prison suicide: staff perspectives, London: The Howard League

Prison Reform Trust: Bromley briefings fact file Autumn 2017

Forensic Health Care
Joint Commissioning Panel for Mental Health (2013) Guidance for commissioners of forensic mental health services, London: JCPMH
NHS Scotland: Forensic mental health services managed care network
Northern Ireland Assembly (2011) Prisoners and mental health, Belfast: Northern Ireland Assembly
NHS Evidence guidance search: Forensic nursing
Please check that guidance is applicable for your country.
View page
Royal College of Psychiatrists Quality Network for Forensic Mental Health Services (2015) See think act. Your guide to relational security (2nd edition), London: RCP.
We would like to thank the RCN Nursing in Justice and Forensic Health Care member community for their input into the development of this subject guide.