"Mental health is defined as a state of well-being in which every individual realises his or her own potential, can cope with the normal stresses of life, can work productively and fruitfully, and is able to make a contribution to her or his community." (WHO, 2014, Mental health: a state of well-being). Use this guide to find information resources about mental health including books, reports and journal articles.
RCN Publications
Legislation and statutory guidance
Reviews and reports
Other resources and guidance
We would like to thank the RCN Mental Health member community for their input into the development of this subject guide.
Books
Book subject searches
Journal articles
Use these links to see details of journal articles on each topic.
Journals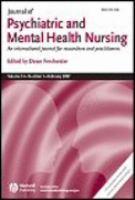 Journal titles of interest for mental health. Use these links to see details of availability.
The Mental Elf
Reading Well - Books on Prescription
Events and Exhibitions
Nursing History Collection
Special Collections
Historical Journals