Orthopaedic and Trauma Nursing
Orthopaedic nursing focuses on the prevention and treatment of musculoskeletal disorders and associated traumatic conditions. Use this guide to find information resources related to orthopaedic and trauma nursing including books, reports and journal articles.
Key Resources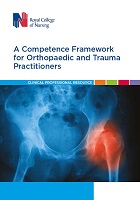 Royal College of Nursing (2019) Competences: a competence framework for orthopaedic and trauma practitioners, London: RCN.
Royal College of Nursing (2021) Traction: principles and application. RCN guidance, London: RCN.
We would like to thank the RCN Orthopaedics and Trauma Nursing member community for their input into the development of this subject guide.
Books
Book subject searches
Journal articles
Use these links for details of journal articles on each topic.
Journals
Journals of interest for orthopaedic and trauma nursing. Use these links to see details of availability.
This subject guide relates to:

Andrew Temple-Mabe
Editor of this guide
RCN Library and Archive Service
Page last updated - 03/09/2021