"I talked to staff every day and heard how stressed they felt because of staffing shortages," says June Ramsay, a patient flow facilitator and RCN steward.
"We had people taking time off for stress, and staff who were exhausted, and this led to arguments with each other. People were struggling to do their own shifts, let alone work overtime."
A lot of people find the pressures of short staffing a real struggle
June, along with the nurse managers at the Queen Elizabeth University Hospital Glasgow, helped develop a "staffing bundle", a series of strategies to support frontline staff when escalating safe staffing concerns. The bundle contains practical suggestions which would make recording incidents caused as a result of short staffing easier.
"No one was coming to save us, so the staffing bundle was our way of trying to make the situation slightly better," she says.
Listening to concerns
June, who works with colleagues on an elderly ward, made sure to promote her health board's guiding principles, which advise staff on how to provide basic care when staffing levels are low.
She made sure staff knew who their reps were, and how to contact them, and she made information readily available on noticeboards.
However, the principles also raised more significant staffing questions. "Staff are naturally very uncomfortable about these principles," she says.
"When staffing levels are low, they're expected to carry out very basic care. But as nursing staff, we're not trained with that ethic in mind, so a lot of people find the pressures of short staffing a real struggle.
"The principles weren't what we were looking for, we were looking for more staff."
Taking action
An important part of June's role is to be visible and available to nursing staff.
"Staff felt like they weren't being listened to, and that's when we put together the safe staffing bundle," she says.
The bundle looks across all areas – from agency staff to vacancies and rotas.
"It takes into consideration the skills mix, what vacancies there are, and what information we need to provide staff alongside basic nursing care guidance," she adds.
The staffing bundle was our way of trying to make the situation slightly better
This includes initiatives to recruit a range of nursing staff, encouragement to get people involved in recruitment processes, and guidance on how to present their department as a desirable place to work.
"We might not have the thrills of a major trauma ward or A&E, so we try and show that elderly care wards are an exciting place to work in their own way," says June.
"We focus on the training that might be available, what career opportunities we can offer, and what our staff enjoy most about their roles."
Finding solutions
June noticed how substantial the staffing shortages had become, especially during peaks of COVID-19 infection, and care was being compromised as a result.
When she advised staff to raise concerns, they often told her they didn't have time to file a report on DATIX, the trust's electronic incident reporting system.
"But if you don't log it on DATIX, there is no record of it happening," she adds. "This showed me just how short staffed we were.
"Often it was impossible to do. Nursing staff might have to make a choice between sitting down and completing a DATIX report or caring for a patient. There's only one choice in that scenario."
June has since rallied her hospital to trial a drop-down option on DATIX forms specifically for short staffing concerns, with questions that help managers keep a record of these issues.
It all adds up
"Management can sometimes surprise you – in my health board, they've been very receptive to our ideas, and they listen to what we've got to say," says June.
"There aren't enough beds, and there's real pressure on us to get patients in and out as fast and safely as possible.
"This puts more pressure on nursing staff. If the work you do from first thing in the morning to last thing at night is high pressure, it's a difficult place to work. It's like constant firefighting."
If you don't log it on DATIX, there is no record of it happening
June advises staff to think about their communication with upper management and how to present ideas as also beneficial to the wider workplace.
"Our health board actually underspent its nursing budget this year – and the vacancies are high, but we're not getting enough staff interested in joining us.
"So, investing in our existing staff and their role in encouraging recruitment is a more convincing argument."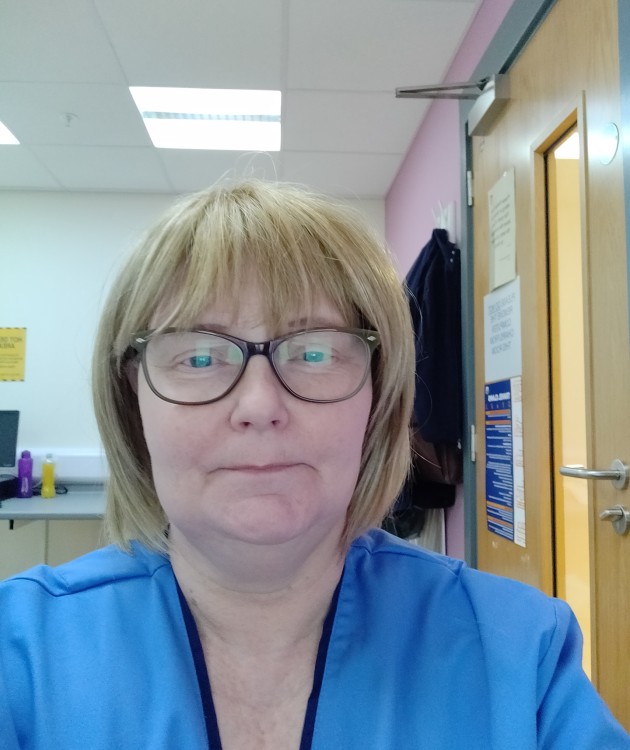 Above: June Ramsay
Timeline of action
June recognised that staff shortages made staff feel like they couldn't provide their patients with the best possible care.
She decided to find ways to help staff save time and escalate staffing concerns more easily.
Staff felt that they did not always have time to complete a DATIX form, so June trialled a "drop down" option to make filling the form easier and more effective at collecting information about shortages.
Staff feel that it has helped. A lead nurse reviewed it and found that it provides a bigger picture of events and allows for a more factual and transparent record.
Useful resources
We have several handy resources for reps and members.
Our Unsustainable Pressures page offers support both in delivering safe and effective care and with the difficult decisions staff make every day.
You can read our Nursing Workforce Standards, which is the first national blueprint for tackling nursing staff shortage levels across the UK.
We also created a Raising Concerns Toolkit, a guide to help nurses, nursing associates, students and health care support workers based in the NHS and independent sector. It includes a decision making tree to help staff decide whether to raise a concern and when to escalate a concern.