What is the plan?
The UK government's long-awaited NHS workforce plan for England was published at the end of June. It outlines a vision to increase the number of nursing staff in England over the next 15 years, with a promise of 170,000 more nurses by 2036/37.

There's a pledge to increase the number of nursing degree students by more than a third over the next five years and increase nursing associate training places by 40% over the same period.

It's a hugely ambitious plan that's been met with some scepticism by the RCN and others. It's light on detail and fails to acknowledge the investment needed in the existing workforce to make the ambition a reality.

It also doesn't address the financial support nursing students need to attract and keep them in the profession. Responding to its initial release, RCN General Secretary & Chief Executive Pat Cullen said: "You can't recruit your way out of a retention crisis."
What are the key proposals affecting nursing staff?
More training places will be offered through degree apprenticeships so staff can "earn while they learn".
Nursing students could take up jobs as soon as they graduate, rather than waiting until September.
A potential reduction in clinical placement hours for nursing degree students with simulated learning providing the flexibility to achieve this.
Investment in occupational health and wellbeing services for staff.
Flexible working options will be considered for every job.
An intention to reduce reliance on international recruitment from nearly a quarter of staff to about 10% of the workforce.
Reform the NHS pension from this year to make it easier to partially retire or return to work.
A potential ban on substantive staff working agency shifts.
What's the RCN's view?
We have serious concerns about how realistic the plan is without proper investment in the existing nursing workforce and more financial support for those seeking to join the profession.

We want to see more information. The plan doesn't provide the detail on how nursing staff numbers will be increased, for example. Although the plan sets out intended outcomes for recruitment, retention and reform, there are no specific actions or funding. An overall figure of an additional £2.4 billion is given, but the use for this funding isn't specified.

The plan has been drafted on the assumption that there will be stability within the social care sector, with access to care services either remaining at current levels or improving. However, it's unlikely that these factors will improve without significant government funding and intervention.

We'll work in partnership with the government and NHS England to learn more about the plan, its implementation and funding. But in the immediate term, the government must address how the severe shortage of nursing staff is contributing to working conditions and burnout, and capture data on safe staffing levels. Patient safety must be the guiding principle for any reform.
Targets alone will not deliver the staff the NHS needs to care for patients now
How will the plan have an impact on students?
Financial support for university nursing students isn't addressed in the plan and it's not clear when universities will begin educating the proposed 10,000 extra would-be nurses each year.

Increasing the number of places available is essential but as it currently stands, employers struggle to find enough clinical placement opportunities for nursing students because there aren't enough experienced nurses to support and guide them during their education.
There aren't enough educators in universities for the current number of nursing students, let alone another 10,000.

We're also seeking clarity on how the intention for nursing students to take up employment three months earlier will work.
What about apprenticeships?
The plan sets out an ambition to increase the number of registered nurses training through a degree apprenticeship route from 9% to 28% by 2031/32. However, it doesn't mention any new measures to enable employers to backfill the staff who choose to undertake an apprenticeship.
The plan also doesn't recognise that apprenticeships rely on the same pool of clinical placements as students taking the university route.
There must be enough experienced nursing staff to guide, support and mentor trainees, no matter the route they enter the profession. This is a real challenge, currently, given there are more than 40,000 registered nurse vacancies in the NHS in England.
What about nursing associates?
There are proposals in the plan for more than 64,000 nursing associates to be working in the NHS by 2036/37, compared to 4,600 today. There's no reference to understanding the scope of the role.
We have concerns that this will have significant implications for patient care and could risk inappropriate substitution where anybody who is not a registered nurse is used to replace a registered nurse. This will be particularly felt in social care. Evidence shows this presents a risk to patient mortality.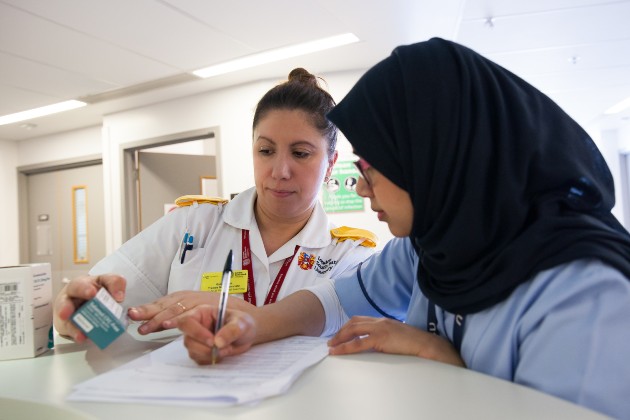 What about pay?
The plan is focused on non-pay retention measures, which we see as a failure to address one of the greatest barriers to entering and staying in the nursing profession.
What are the proposed pension changes?
There's an intention to reform the NHS pension from this year to make it easier to partially retire or return to work. Doing this will keep 130,000 more staff in the NHS over the next 15 years, the government hopes. We expect to have the opportunity to be consulted on any changes to pensions so that we can assess the impact on staff.
Work for an agency?
The plan includes a potential ban on substantive staff working agency shifts. The implications of this have not been fully worked through. Nursing staff are likely to seek greater flexibility and better pay than their contracted role alone provides.
Is training and development addressed?
The plan doesn't address reform of training and development of the NHS workforce. There's no new funding beyond programmes of work already underway.
Is NMC reform in the plan?
Yes. The government is committed to reforming the system of regulation for health care professionals, including professions regulated by the NMC.

The plan specifically references the need for nursing education to meet NMC standards, and a preference for clinical placement hours to be reduced to 1,800 hours, indicating that simulated learning provides flexibility to achieve this.

Dual registration courses in children and young people and learning disability nursing are also mentioned.
Can we rely on the workforce figures in the plan?
The figures used to inform staffing projections in the plan have been independently assessed, and there's a promise to update projections every two years. This is welcome.
However, we believe government accountability for nursing workforce planning and supply should be enshrined in law. This is needed so there are enough staff, with the right skills, in the right place at the right time, to meet the population's health needs.
How will it be funded?
There's £2.4 billion in extra funding for the NHS from the Treasury over the next five years to pay for the planned increase in health professionals. In addition, investment in education and training is planned to increase from £5.5 billion to £6.1 billion over the next two years.

It's expected that the proposals will generate some savings too, for instance by reducing spending on temporary agency staff by £10 billion.

There will be additional funding for Northern Ireland, Scotland and Wales as the new funding will be subject to Barnett Formula consequentials. This means the devolved nations will get a proportionate amount of money to that available in England.