News
NHS pay deal for England: RCN to ballot members on industrial action
We'll consult members on what action they want to take in response to the below-inflation pay deal.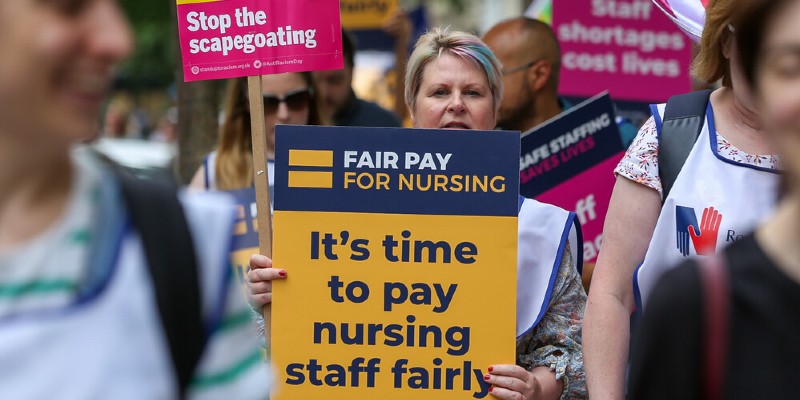 Connect with us:
The UK government has announced that NHS staff in England will get a pay increase of at least £1,400 for 2022-23. It said this will be a consolidated uplift to full-time equivalent salaries, enhanced for the top of bands 6 and all points of bands 7 so it is equal to a 4% uplift. Read more about it on the UK parliament website.

Tonight, in an emergency session, your elected members of RCN Council voted to ballot members on Agenda for Change contracts in England on whether they want to take industrial action.
Pay award details
The pay award is a real-terms pay cut given that RPI inflation is currently at 11.7%.

We've been campaigning for an NHS pay rise of 5% above that level of inflation, to help address the cost-of-living crisis, encourage people to join and stay in the nursing profession and begin to restore a decade of underpayment.

The pay award announced today will be backdated to 1 April and paid regardless of what we do next. However, that doesn't mean our fight for fair pay is over.
We'll be holding an event tomorrow evening, Wednesday 20 July at 6pm, to help you learn more about the pay award, what it means for you and what happens now.
RCN General Secretary & Chief Executive Pat Cullen said: "This is a grave misstep by ministers. With this low award, the government is misjudging the mood of nursing staff and the public too.
"There are tens of thousands of unfilled nursing jobs and today ministers have taken the NHS even further from safe patient care.
"Living costs are rising and yet they have enforced another real-terms pay cut on nursing staff. It will push more nurses and nursing support workers out of the profession.
"Our members will vote and tell us what they want to do next. We are grateful for the growing public support, including over strike action.
"The award must be fully funded with additional money. There can be no question of money being taken out of existing NHS budgets."
Chair of RCN Council Carol Popplestone said: "Our members are being failed by government and we will not stand for it. Today's pay announcement makes it harder, not easier, for them to cope with the rising cost of living.

"It won't do anything to recruit or retain the nursing staff our NHS desperately needs. It doesn't recognise the skill and responsibility of the job we do. It won't keep patients safe.

"Your elected Council will listen as much as lead in the months to come. We need to hear from you all – how this decision makes you feel and what you want to do as a result."

Chronic staff shortages have blighted the NHS for years. The NHS entered the pandemic short of more than 40,000 registered nurses and COVID-19 has exacerbated pressures on nursing staff. Fair pay is needed to help encourage them to stay in the profession this year and beyond.
RCN members to be balloted
Chair of the RCN Trade Union Committee Denise Kelly said: "You, our members, will decide our next steps. This is your union, and you must use your voice. The outcome of the ballot that you'll be called to vote in will direct our future action. Please have your say. We must fight for our patients and fight to be valued. That starts with a decent pay award."
To have your say in our upcoming ballot, it's important we have your home address, job title and employer details. Check these now at MyRCN.

The NHS pay deal announced by the UK government has an impact on the money available for NHS pay in Northern Ireland, Scotland and Wales. It is for the devolved governments in those countries to decide what pay rise to offer staff working there.

The Scottish government recently offered NHS staff a 5% pay increase and an announcement by the Welsh government is expected soon.

The situation in Northern Ireland is complex as a government hasn't been formed following elections in May. We continue to demand the immediate restoration of the Northern Ireland government to address the escalating nursing crisis.