When I took this job, it was completely out of my comfort zone. It wasn't something I'd ever thought about doing before and I'd never had any first-hand experience of death.

Now, working for a hospice as a senior health care assistant in the community, I'm caring for people in their final weeks of life.

People often ask me why, especially at a young age, I'm in a job where I have to face death all the time; why I would want "such a depressing" job. But I don't think my job is depressing at all. We always describe the hospice as a happy place where sad things happen.
Offering people who have suffered so much the best care possible is hugely rewarding
It is of course difficult – heartbreaking at times – knowing that every patient you care for is going to die. No matter what you do, you know you can't make them better.

It goes against our instincts as humans and especially as health care professionals. We want to fix things, to save people. But although the focus of palliative and end of life care isn't about curing people, it's just as important. We help to improve the quality of life of our patients, and support their families, during what is otherwise a hugely distressing time.
Holding their hand
The first two patients I ever cared for in this role took their last breaths as I held their hand. It was of course really difficult. I didn't quite know how to feel. On the one hand it felt quite shocking, but at the same time there was a real sense of privilege to share in this intimate moment.

Being able to offer people who have suffered so much the best care and the best death possible under the circumstances is hugely rewarding.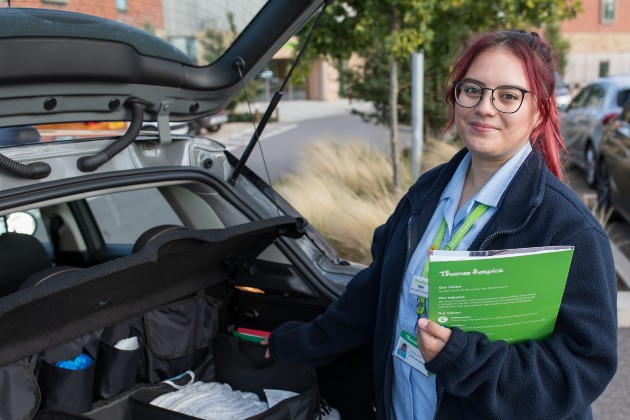 I'm part of Thames Hospice's 'Hospice at Home' team, which provides care to patients in the comfort of their own surroundings. As a team of health care assistants, during the six weeks a patient is under our care we'll visit them every day to provide personal care and comfort.

We're also supported by a fantastic multi-disciplinary team of nurses and doctors who are specialists in palliative and end of life medicine. They come out and provide all the specialist clinical care that our medical team in the hospice would do but in somebody's home instead.

This enables people to have that choice of how and where they're cared for. When so much has been taken away from them, through their condition and their life, having this choice is important.
Death is a part of life
Death was always a taboo topic when I was growing up and I think generally as a society we shy away from it. It's understandable, it scares people. But one thing I've learnt in this role is that it's important to talk about death. It's something that will happen to all of us and talking about it allows people to express their wishes and to come to terms with it.

We look after people from all backgrounds, religions and cultures. It's so interesting to see the different ways people deal with death and how they process grief. When there is more conversation about death, the death can be made as natural as possible. We can make sure things are put in place to avoid a situation where death is imminent and no one knows what to do or what that person wanted. That can create a lot more panic and unsettlement at an already difficult time.
We support not only the patients but their families as well
We never force the conversation of course. But if people want to open up and talk, we're there to listen. It's nice to be able to be there to support not only the patients but their families as well.

We can't give them definitive answers and we certainly can't take away the pain they experience when losing a loved one. We do what we can to reassure them and help them through this time. Through anticipatory care and advanced planning, we try to make their loved one's final weeks as pain free as possible, meeting end of life needs to ensure an optimally managed death is achieved.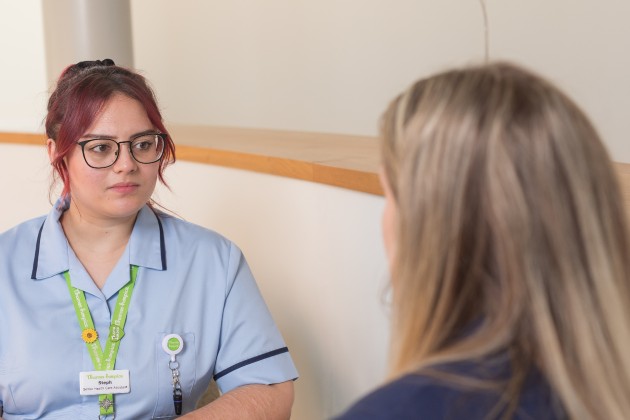 Time to care
One of the things I love most about this job is that we're able to make time and space for the people we care for and their families. Part of the reason I left my last care job was that it broke my heart to know people needed a bit more time and patience, and you just couldn't give it to them.

At the hospice they're very mindful of that when setting our caseload. In this role, you need flexibility to spend more time with someone who may be having a particularly bad day or be in a lot of pain. Or perhaps their family is really struggling and needs some extra support, someone to talk to. In these situations, being able to spend an extra 5 or 10 minutes reassuring them makes such a big difference.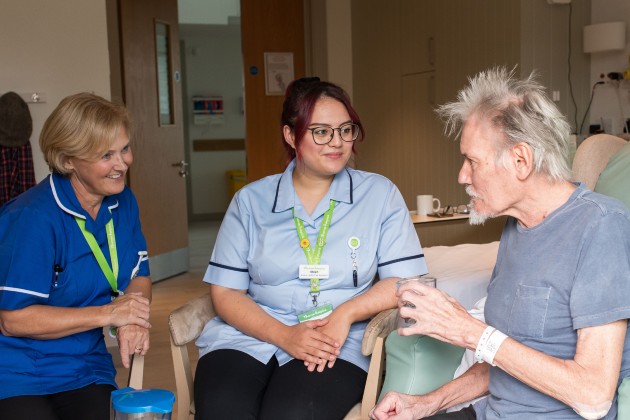 There's a quote by Dame Cicely Saunders, who started the modern hospice movement: "How people die remains in the memory of those who live on." That's so important, because making sure that people die with dignity and with their own choice also helps the people around them come to terms with it.

I'm honoured to play a part in helping people have the best death possible, and hopefully it will ease their suffering and the suffering of those left behind.
Images by Rob Anderman.