At first you might think retail and health care don't have much in common, but the skills I developed as a bra fitter have proved essential to my success as a health care assistant.

I enjoyed my former role but when the pandemic hit I was furloughed and colleagues were made redundant.
Then, towards the end of last year, I became ill and was stuck in bed for months. I lost so much of my independence, but the illness taught me patience and what it means to be a patient.

I had time to think and I knew I wanted to do something more fulfilling with my life – something that would really make a difference.
I started looking around the NHS website, and with a new awareness of how patients might feel when they're being cared for, an HCA role caught my eye.
I did some research into what was involved and decided this was the role for me.
Transferable skills
Getting a bra fitted is a personal and private experience and it's important to make sure people feel comfortable. Some of the young adults I worked with were very shy. A few were even scared.
Other women knew exactly what they wanted, and they weren't afraid to tell me! I had to adapt the way I communicated with people so they had a positive experience, and this is something that's now central to the way I work with patients.
My experience as a bra fitter is useful when I help people with washing now too – respecting a person's dignity is second nature to me.

Sensitivity to how people feel is essential – there's no room for judgement in my former role or as an HCA.
Respecting a person's dignity is second nature to me
I'm careful about what I say and consider my facial expressions. Any kind of negative reaction will be seen, and while in retail this might mean I lose a sale, far more importantly, in both roles, you lose trust.
Seeing the person as an individual is important too. Everyone has their own preferences about how they like to be communicated with.
Your tone of voice, the way you enunciate your words, using simple, easy-to-understand language, can make a huge difference. Being prepared to think on your feet and change the way you're talking is essential too.
I like helping people, especially when they're nervous. In my old role, it felt good to see customers leave with a smile on their faces and feeling more comfortable.
I enjoy talking to people, finding out their stories. Talking to women who'd had a mastectomy made me realise how important it is to listen and understand – after all, this isn't something you usually talk about with strangers – but by responding appropriately and with kindness you can build trust.
Life as an HCA
I started work as an HCA in February and I haven't looked back. I love working on a female respiratory ward because everything I do is centred around patient care.
It's very demanding work on an incredibly busy ward but, whenever I can, I find time to talk to patients, especially if I think they're feeling emotional.
Not being able to have visitors in the last few months has been hard for patients. They're lonely and scared so sometimes just need someone to talk to.
Some patients need practical support too – for example, helping them set up technology so they can chat online with their families.
I put myself in their shoes – it's hard enough when you're worried about your health, what the clinical staff are going to do next, and missing your loved ones, without having the pressure of trying to work out new apps and websites too.
I also support registered nurses – we work closely as a nursing team. They might ask me to remove a cannula before a patient is discharged or monitor oxygen levels. As long as I've had the training, it's great to get involved with this.
Making a difference
Knowing I've done my best for so many people can absolutely make my day, especially when someone says: "I don't know what I would have done without your help."
It's a job that can really make a positive difference
It concerns me that some people misunderstand the HCA role – because it's a lower band, they think it's an easy job. It's not. It's a job that can really make a positive difference in people's lives.
The biggest challenge I face is that I want to be there more for patients. I often feel I don't have the time to do the things that aren't expected but make the difference.
Care is my priority – but I'd talk to patients all day if I could. I don't like going home after a busy shift thinking "I didn't do that and I know they like it."
My advice to other new HCAs is to be empathetic, understanding, patient and never be afraid to ask if you don't know something.
I would never have imagined I'd be doing this even two years ago. I thought I'd be in retail for ever. But here I am, in a great nursing team with colleagues who motivate and support me, doing a job I love.
Grace Greenwood is an HCA at Milton Keynes University Hospital.
A voice for HCAs
Sharon Mitchel is responsible for facilitating and delivering training and education for HCAs in the trust and worked with Grace during her induction week. She tells us how she speaks up for nursing support workers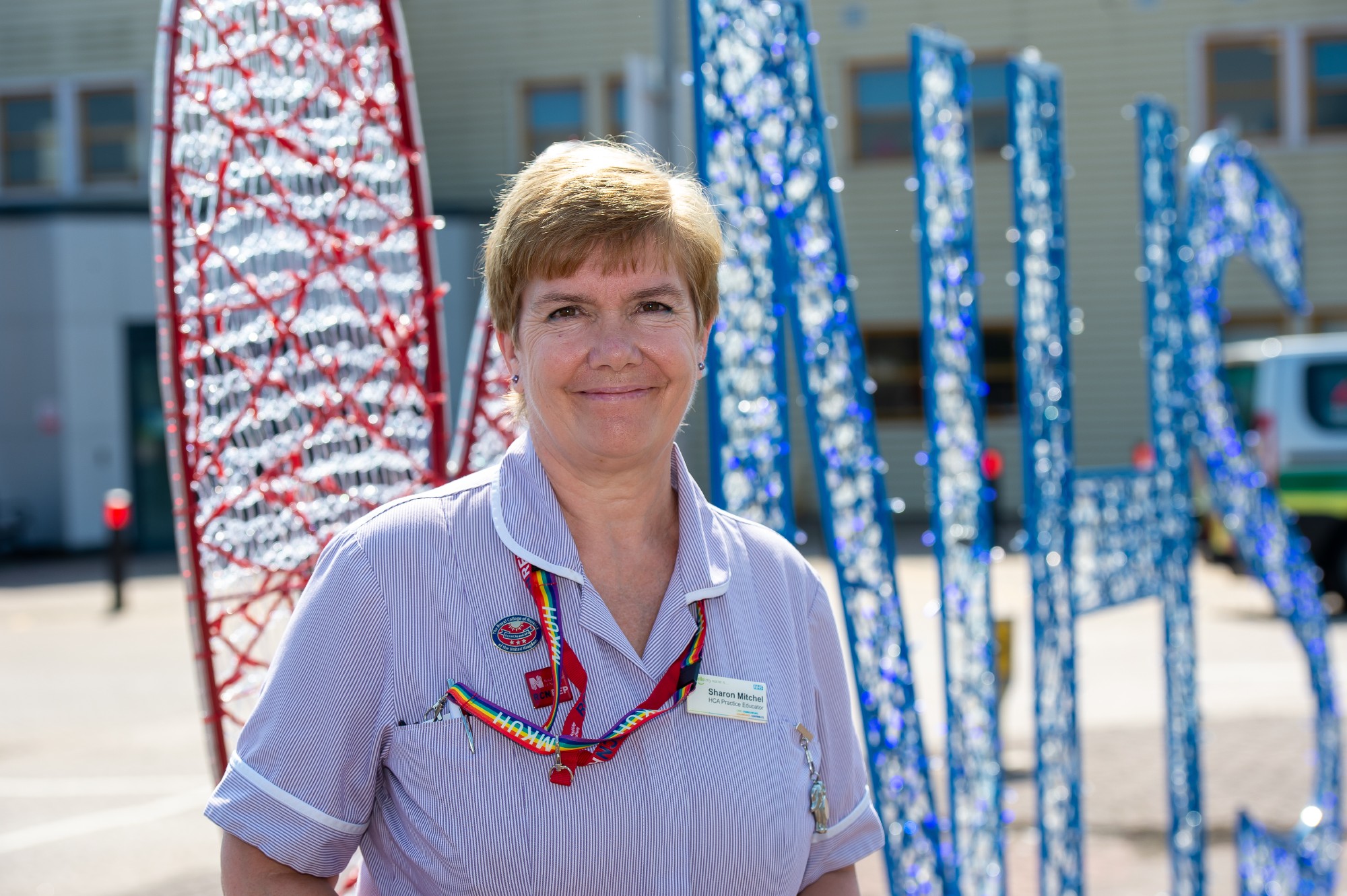 In the last four months we've recruited many HCAs who've never worked in health care including a post office manager, cabin crew, a chef, a civil engineer and of course, a bra fitter.
Of the 62 HCAs we've taken on recently, only three have left, and that was through circumstances that couldn't be helped.

I was delighted to interview them alongside the workforce matron, and see first-hand the skills they were able to bring to the role.
Some had lost their jobs during the pandemic, others had decided they wanted a job where they could help people and some felt life was too short and this was the time to do what they actually wanted to do.
Getting the training right
I'm happy to be the "voice for HCAs" in our trust, and in my lilac striped uniform I'm very visible.
I get to know HCAs when they first start with us, organising their week-long fundamentals of care induction programme which takes place in the classroom and in simulated wards.
We cover communication with patients, nutrition, hydration, manual handling, infection control, care of the dying, last offices, understanding handovers and patient boards.

There's a follow-up day after 12 weeks when we look at vital signs, and a catch up with the senior team after six months, nine months, and a year.
My door is always open to HCAs in the trust
My door is always open to HCAs in the trust and they can chat with me any time in-between.

I also organise drop-in sessions and study days in ward areas where we can focus on the extended skills needed for different settings.
The whole programme takes 12 months to complete, and I ensure that bank HCAs are included too. I've also set up a newsletter and forum within the trust.
Challenging in a positive way
I have had resistance from some other colleagues to my work. Not everyone understands the HCA role.
I've come across situations where registered nurses ask HCAs to report on vital signs before they've had my training on it. By running a two-hour session on challenging in a positive way,
I give new HCAs the confidence to say no and to be able to explain that to do this they need to be trained and fully competent.


All too often HCAs are the forgotten profession
HCAs in our trust know they have back-up from the senior team to do this because they also attend my sessions – the CEO comes to the fundamentals of care course on a Wednesday every time I run it.
All too often HCAs are the forgotten profession and I'm determined to make us feel valued, supported, confident and competent.
This helps the trust with retention of course, but importantly it helps HCAs to do their jobs with confidence.
Sharon Mitchel is an HCA practice educator at Milton Keynes University Hospital, Milton Keynes branch chair and an RCN learning rep.
More information
Photographs by Steve Baker.