I started out as a health care assistant. In 2000, I began my nurse training as part of one of the very first D/deaf nursing cohorts.

Looking back on it, the experience was just amazing. The group, a mix of hearing and D/deaf students, worked really well together. We learnt a lot from each other and about each other's culture.

I'm really proud of what we did. We were pioneers really, showing that we could do it and encouraging others to do it as well. But the main reason I'm so happy I became a nurse is because I know what a benefit it is to the patients.
D/deaf patients are so relieved to find out they'll be able to communicate with me in their first language
When I work with D/deaf patients, they're so surprised and relieved to find out that they will be able to communicate with me in their first language. They immediately relax. They're so reassured knowing that they're going to fully understand me and be understood.

They may have been having conversations with hearing staff and not necessarily getting that. So they open up and will tell me a lot more. Establishing a relationship through language and culture has such a positive impact and I'm sure leads to quicker recovery times.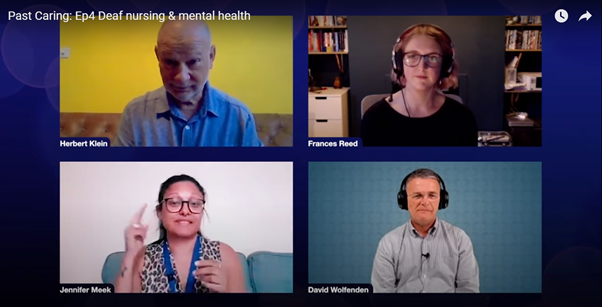 Jennifer (bottom left) on the RCN Library Past Caring vodcast
It all comes down to the crux of communication. Often, I'll see clients come out of a meeting with their consultant looking a bit emotional and they'll say something like, "What does schizophrenia mean?" Consultants don't often have the time or the understanding to give a full explanation in a visual way, or a way that D/deaf patients can fully grasp.

We have a number of D/deaf friendly leaflets that they can read and we can then translate to them in their first language. It's so important to do this, especially when it comes to mental health where a lot of the medical vocabulary doesn't necessarily translate or have meaning for D/deaf people.

We need to make sure we're taking time to make the diagnosis, yes, but also to explain what it means in language they can understand. D/deaf patients are often left not having that understanding, then feeling upset, which can in turn lead to an episode of behaviour.
It all comes down to the crux of communication
Passing information back and forth isn't going to lead to a good outcome. You need that inference, that deeper awareness of what people mean. This is why I think it's so important to encourage more D/deaf nursing staff to train and to put systems in place to enable this to happen.

Unfortunately, I'm currently the only qualified D/deaf nurse in Birmingham. A lot of medical training doesn't attract D/deaf applicants and Health Education England (HEE) is trying to change their policy to actually enable D/deaf applicants to apply. Anything that can be done by hearing people, nursing included, can be done by D/deaf people, it just needs the right attitude.

Jennifer Meek is a deaf recovery community nurse based in Birmingham. She appeared on the RCN Library's Past Caring podcast to discuss the importance of D/deaf nursing in mental health care
It's so important to encourage more D/deaf nursing staff to train and to put systems in place to enable this to happen
Big 'D' Deaf
Used for people who are born Deaf or became Deaf before spoken language is acquired and regard their deafness as part of their identity and culture rather than as a disability. They form the Deaf Community and are predominantly British Sign Language (BSL) users.
Small 'd' deaf
Used for those who may have become deaf, deafened or hard of hearing after they have acquired a spoken language, any time in life. Lower case d is more often used to define hearing loss.
'English is like a foreign language for some D/deaf people'
Herbert Klein, independent deaf advisor in mental health, also featured on the Past Caring podcast. He says:

Lots of D/deaf people grow up having someone else speaking for them, being encouraged to lip read, and not receiving education in their own language. So when it comes to filling out something like the General Health Questionnaire (GHQ), intent and understanding can easily get lost.

That's why it's so important to have someone like Jennifer going through the questionnaire with people. They can really relax, knowing that someone is going to help them understand and will understand them. Jennifer can explain and adjust the questions as needed and help patients give the information the questionnaire is actually after.

For a question about food, for example, the type of food they don't want isn't relevant. What we need to know are their eating habits, the times they eat, what they eat, etc. To have a D/deaf person asking that, in your own language, brings the important information out which can inform interventions and diagnoses. But to have it provided in what is often essentially a foreign language for D/deaf people – English – doesn't enable the data to be gathered.

A D/deaf nurse will understand the adjustments and explanations required and be able to really communicate the intent behind such questions. That's good communication, which is so vital in mental health settings.
Past Caring podcast
Past Caring is a new podcast from the RCN Library and Archive team exploring nursing and its history through conversations with historians, artists, and nurses working today. This latest episode – Deaf Nursing and Mental Health – was done as both a podcast and vodcast to ensure it was as accessible to British Sign Language users as possible.

Listen to the podcast or watch the vodcast online.
Main image: Getty