Good medicines management is an important part of most nursing and midwifery practice. It includes the administration of medicines, prescribing and supporting people to take their medicines correctly. Use this guide to find information resources related to medicines optimisation including books, reports and journal articles.
Books
Book subject searches
Journal articles
Use these links for details of journal articles on each topic.
Journals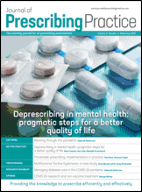 Journals of interest for medicines optimisation. Use these links to see details of availability.
This subject guide relates to:

Ellen Cropley
Editor of this guide
RCN Library and Archive staff
Page last updated - 02/08/2022