Children and Young People: Mental Health Promotion
"There is increasing expectation that nurses will assess the needs as well as the presenting concerns of children and young people. They are in the right place to promote the psychological and emotional well-being of children and families and to prevent the development of mental health problems by being aware of the factors that can put children and young people at risk." (RCN, 2014, Children and young people's mental health: every nurse's business). Use this guide to find information resources about mental health promotion, including books, reports and journal articles.
Key Resources
We would like to thank the RCN CYP Staying Healthy member community for their input into the development of this subject guide.
Books
Book subject searches
Journal articles
Use these links for details of journal articles on each topic.
Journals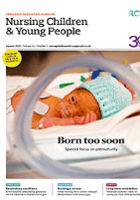 Journals of interest for children and young people mental health promotion. Use these links to see details of availability.
This subject guide relates to:

Kat Black
Editor of this guide
RCN Library and Archive Service
Upcoming events relating to this subject guide
17 Aug 2022

London

Unfortunately the decision has been taken to cancel this event. If you have already booked a place you will be contacted directly by the RCN Events Team with further information.
Page last updated - 14/06/2022