Nursing in Justice and Forensic Health
The guide is designed primarily for nurses, health care assistants and other health care practitioners who are working in, or want to work in, health care in Criminal Justice Services (CJS) providing care to people in a broad range of environments, from police custody to high security prisons. Forensic nurses work in caring for people with mental illnesses who have committed a criminal offence and are receiving services in the community or secure settings. Use this guide to find information resources about nursing in justice and forensic nursing including books, reports and journal articles.
Key Resources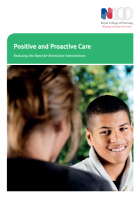 Royal College of Nursing (2016) Positive and proactive care: reducing the need for restrictive interventions. London: RCN.
National Offender Management Service and NHS England (2015) Working with personality disordered offenders: a practitioner's guide.
Nursing in Justice
HM Chief Inspector of Prisons for England and Wales (2019) The Annual report of HM Chief Inspector of prisons from 1 April 2018 to 31 March 2019. London: HMIP
Ministry of Justice (2016) Prison Safety and Reform. London: HMSO
Betts N (2015) Equal access, equal care: guidance for prison healthcare staff treating patients with learning disabilities. London: NHS England.
Howard League for Penal Reform (2017) Preventing prison suicide: staff perspectives. London: The Howard League

Prison Reform Trust (2019) Bromley briefings: prison factfile summer 2019. London: Prison Reform Trust
Forensic Health Care
Georgiou M, Oultram M and Haque D Q (eds.) (2019) Standards for forensic mental health services: low and medium secure care. 3rd edn. London: Royal College of Psychiatrists.
Joint Commissioning Panel for Mental Health (2013) Guidance for commissioners of forensic mental health services. London: JCPMH
Scottish Government: Forensic mental health
NHS Scotland: Forensic mental health services managed care network
Royal College of Psychiatrists (2018) Prison mental health in Northern Ireland (CR219). RCP: London.
NHS Evidence guidance search: Forensic nursing
Please check that guidance is applicable for your country.
View page
We would like to thank the RCN Nursing in Justice and Forensic Health Care member community for their input into the development of this subject guide.
Nursing in Justice
Forensic Health books
Book subject searches
Nursing in Justice journal articles
Forensic Health journal articles
Nursing in Justice journals
Forensic Health journals
Nursing History Collection
Finzsch N and R Jutte (2003) Institutions of confinement hospitals, asylums and prisons in Western Europe and North America, 1500-1950. Cambridge: Cambridge University Press.
Special collections
Our Permanent Collection consists of nursing specific core items and rare items, and as such is viewable by appointment only. Here is a small selection of items from our collection.
NACRO (1975) Health visitors and the prevention of crime. London: Barry Rose.
Rowe J (1927) John Howard: prison reformer and philanthropist. London: The Epworth Press.
Smalley H (1902) Prison hospital nursing: being a manual of first aid and nursing for the prison hospital staff. London: HMSO.
Historical journals
Nursing Record/British Journal of Nursing (1888-1956)
Events and Exhibitions
RCN public lecture: nursing at the edge
This subject guide relates to:

Lee Kattenhorn
Editor of this guide
RCN Library and Archive Service
Page last updated - 23/02/2021