Use this guide to find information resources related to the care of older people including books, reports and journal articles.
Key Resources
We would like to thank the RCN Older People's member community for their input into the development of this subject guide.
Books
Book subject searches
Journal articles
Use these links for details of journal articles on each topic.
Journals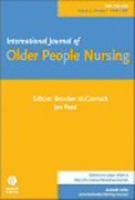 Journals of interest for the care of older people. Use these links to see details of availability.
Events and Exhibitions

RCN exhibition: Aspects of age
Explore the shift from institutional to home care over two centuries of older people's nursing, from the workhouses of the Victorian era to the hospital, care home and beyond. In an ageing population, we ask how nursing can improve the lives of those over 75.
View online exhibition
RCN Events video on demand: What is osteoporosis?
Alison Doyle describes osteoporosis and fracture risk and how relevant these are to frailty and ageing well, particularly in the primary health care setting.
Open RCNevents.tv
This subject guide relates to:

Alan Chalkley
Editor of this guide
RCN Library and Archive Service
Page last updated - 06/06/2022