The term dementia is used to describe a range of conditions which affect the brain and result in an overall impairment of the person's function. (RCN, 2013, Dementia: commitment to the care of people with dementia in hospital settings). Use this guide to find information resources about dementia including books, reports and journal articles.
Books
Book subject searches
Journal articles
Use these links for details of journal articles on each topic

Journals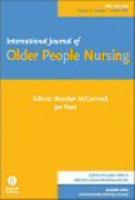 Journals of interest for dementia. Use these links to see details of availability.